Team Adams/Eschete Wins IFA Lucas Oil Redfish Open at Houma, Louisiana
Winning team takes home more than $15,000
NEW SMYRNA BEACH, Fla. – Eddie Adams, of Metairie, Louisiana, and Dwayne Eschete, of Madisonville, Louisiana, weighed a two-day limit that totaled 33.38 pounds to win the first IFA Lucas Oil Redfish Open presented by Cabela's on April 16 at Houma, Louisiana. The premier team event paid out over $49,000 in total winnings and will be featured on multiple television networks early next year.
Adams and Eschete names have topped the IFA Redfish Tour leaderboard many times over the years. The anglers contributed their success to consistency, good equipment and slowing down the pace.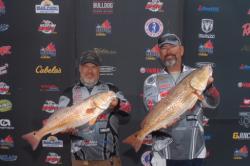 "We try to focus on the type of fishing we are good at and not worry about trying something else just because what we are doing is not working." said Eschete. "I try to go out each day and have fun and catch fish. I don't worry about what others are doing and try to remain focused."
During pre-fishing, the area they had planned to fish did not produce so the decision was made to fish in a familiar area 15 miles from the launch site.
"I grew up in the area and it was close," said Eschete. "These were my old stomping grounds, so I knew there would be fish there."
They caught 10 to 12 fish by sight-fishing glow chartreuse Berkley Gulp! ripple mullets attached to a quarter-ounce jig head in shallow water and heavy cover.
"I thought the bad weather played in our favor because it changed how everybody else fished," said Eschete. "Even though there were other boats where we wanted to fish, they fished quick and left. We concentrated on being in the right spot when the sun came out."
Along with their Angler's Advantage cash earnings, the anglers won a total of $15,920.
Second-place finishers Nick Drangle, of Tampa, Florida, and Kris Howell, of Land O' Lakes Florida, brought in a two-day total of 32.84 pounds to win a total of $7,939, including $1,050 in Anglers Advantage cash. The anglers ran 15 miles to Lost Lake and sight-fished the grass with chatterbaits and soft plastics.
Joseph (Bubby) Lamy and Sidney Cantelli, both of Slidell, Louisiana, weighed 32.65 pounds over two days and took home $8,855 in winnings. The team's winnings included the $750 Berkley Gulp! Big Fish Award for their 10.24-pound redfish and $2,000 for participating in the Ranger Cup program. The anglers ran almost two hours to the Point-Aux-Chenes area to throw Berkley Gulp! shrimp in the New Penny color.
Twenty-first-place finishing team Swick/Engle and 22nd-place finishing team Stevens/Johnson each won the $100 BoatUS Contingency Award for being members of BoatUS.
The IFA Redfish Tour would like to thank the Houma Area Convention & Visitors Bureau, Quality Hotel of Houma, and Falgout Canal Marina for their local support.
IFA events are made possible through the sponsorship and continued support of these well-respected brands: Hobie Fishing, Ranger Boats, Cabela's, Lucas Oil, Yamaha Outboards, RAM, Berkley Gulp!, Berkley Gulp! Alive!, PENN Reels, Spiderwire, Minn Kota, Humminbird, Power-Pole, BoatU.S., Amphibia, Arctic Ice, Protect the Harvest, General Tire, SuperClean, Valley Fashions, ENGEL Coolers, T-H Marine, ATLAS, G-Juice Powertex Group, Audubon Aquarium of the Americas, Houma Area Convention & Visitors Bureau, Quality Hotel of Houma and Falgout Canal Marina.
For more information or to become a member of the IFA, visit www.ifatours.com.
IFA Lucas Oil Redfish Open
Houma, La. (Top 10)
Eddie Adams/Dwayne Eschete– 33.38 lbs.
Nick Drangle/Kris Howell – 32.84 lbs.
Joseph (Bubby) Lamy/Sidney Cantelli – 32.65 lbs.
Justin Collison/Danny Sheldon – 31.19 lbs.
Paul Dufrene/Nicky Savoie – 30.65 lbs.
Rusty Jewett/Tim Jacobson – 30.32 lbs.
Chandler Altman/Matt Booker – 29.14 lbs.
Casey Brunning/Ty Hibbs – 29.00 lbs.
Raymond Reiser/Brian Wiggins – 28.87 lbs.
Stephen Sierra/Scott Benoit – 28.85 lbs.
https://americanaoutdoors.com/wp-content/uploads/2017/01/Americana-Outdoors-Garmin-Hunting-Fishing_Featured.jpg
333
400
Shelley Giesecke
https://americanaoutdoors.com/wp-content/uploads/2023/06/cropped-AO-Logo_512x512.png
Shelley Giesecke
2016-04-21 16:07:07
2017-02-07 16:41:14
Team Adams/Eschete Wins IFA Lucas Oil Redfish Open at Houma, Louisiana