College Anglers Schroeder & Heigley school 350-boat field
INSIDER REPORT: College Anglers Schroeder & Heigley school 350-boat field 
by Brett Carlson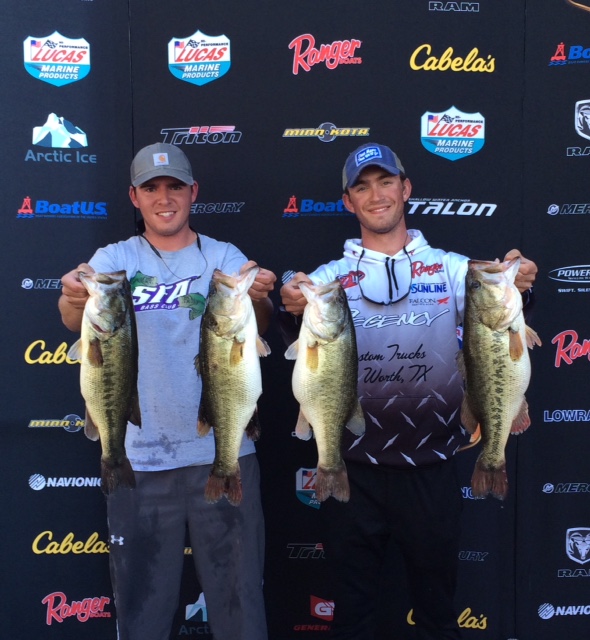 Easton Heigley and Blake Schroeder pictured above
JASPER, Texas – Sam Rayburn is known as one of the premier big-bass factories in the Lone Star State. However, during the prespawn, it can be fickle as the hefty largemouths often school up in tight, mid-depth locales. While the search process is laborious, once a staging spot is found, the fishing can be lights out. College anglers Blake Schroeder and Easton Heigley did their homework, put in extra practice time and located a handful of sweet spots with their electronics. While they knew these areas had potential, they had no idea they would produce 27 pounds, more than enough weight to win the 2016 season opening Texas Team Trail event, presented by Cabela's.
While Schroeder and Heigley are young in terms of age, they possess ample Sam Rayburn experience. Both anglers are students at Stephen F. Austin, a powerhouse college fishing team, located just north of Rayburn. Furthermore, Heigley grew up in Brookeland, Texas, and has been fishing Rayburn for most of his life.
"We had some areas where fish normally hold this time of year," said Schroeder. "We've been on them for a couple weeks and we just continued to check on them. These are classic prespawn areas. Last year, we kind of fell behind the curve and were too late to adjust. This year we stayed on top of what the fish were doing."
Schroeder and Heigley's main areas were located in water 15 to 20 feet deep. They did catch one of their five weigh fish up shallow.
"It was a rotation of about five spots," added Schroeder. "We just stuck to it and ran our stuff."
Within the first five minutes of the tournament, Schroeder and Heigley caught a solid keeper, which ended up being the smallest one they weighed. Then they caught a big one weighing about 5 or 6 pounds and left that first area with three in the box. They then moved to their next area and filled out a five-bass limit.
"We went back to our primary area and caught another decent fish. Then we caught another 5- or 6-pounder. We left again, and went to another spot. Our third cast there produced about a 7-pounder, our biggest fish of the day."
The young duo then went shallow, thinking there could be a few quality fish up as Rayburn's water level remains above full pool.
"We fished the bushes for a bit and caught another 4-pounder and that was pretty much it. We caught everything we had by about 12:30 p.m. We thought we had about 23 or 24 pounds, but they were fat and full of eggs."
The offshore pattern was Carolina rigging a Strike King Game Hawg. When they flipped the bushes, they used a black-and-blue Beaver. They described their staging areas as bare and almost void of structure.
"They're just flats basically – places they live in the prespawn and postspawn. Some are timing orientated, some are just resident fish. We caught about 20 fish throughout the day. We fished really cleaned and capitalized on everything that bit."
At ages 20 and 19, Schroeder, a finance major, and Heigley, a marketing major, aren't even old enough to legally enjoy a celebratory alcoholic beverage. But they will return to college having won a new boat and motor package – a Triton 189TRX with a 150-horsepower Mercury outboard and $3,525 of Anglers Advantage cash.
"It's an honor to beat those guys. We've seen a lot of them on TV growing up. We knew we had the talent to compete, but we had to execute. It feel greats to be No. 1 in a 350-boat field.
"It's funny. Last Sunday morning my alarm went off for another day of practice. I was debating do I get up early or not. I decided I would do it for the $30,000. I guess that paid off."
Wilson and Bebber second
Kris Wilson of Montgomery, Texas, and Charles Bebber of Willis, Texas, finished second with a five-bass limit weighing 24.68 pounds. The two started out shallow – throwing spinnerbaits and crankbaits in and around the bushes.
"We caught three early," said Wilson. "Then we moved another 10 miles up the lake. We caught one more up shallow there. Then we went deep and fished small, pinpoint structures – running all over place. We caught a limit and then culled one here, one there. We probably caught more deep, but three of the five that rode to weigh-in came from up shallow."
When Wilson and Bebber were offshore, they used a combination of Carolina rigs, football jigs and big crankbaits.
"Overall, we fished clean. We're happy with second place. We never did feel like we had enough to win. We knew it would take at least one more big fish. It usually takes a lot more weight than that."
Wilson and Bebber earned a total paycheck of $11,301.
Rowe and Pate third
Kyle Rowe and Ted Pate took third with a 22.63-pound stringer, earning $7,615.
"We had a really good practice," said Rowe. "We found them sitting in about 10 or 12 feet of water going into the mouths of creeks. Once we figured out that depth, we basically ran a pattern and had about 10 different places."
Rowe and Pate caught their fish on a Carolina rig with either a Brush Hog or a Lizard and a DD-22 crankbait.
"We started off with the Carolina rig. Later in the day the fish came off the bottom a bit and we switched to the crankbait. The water temperature was really warming up and really making the fish move.
"We caught a lot of bass – probably 10 limits of keeper fish. We had a good sack. We just had a couple of 3-pounders we couldn't get rid of."
Brower-Blankenship fourth, Campise-Vice fifth
In fourth place with 21.29 pounds was Jamin Brower and Ricky Blakenship. Behind them was James Campise and Bobby Vice with 21.18 pounds. Both teams brought five-bass limits to the scale. Campise and Vice caught their fish cranking on main-lake points in 12 to 15 feet of water.
11.31lb Big Fish of the tournament Michael Roger & Josh Williams
Rest of the best
Rounding out the top 10 teams at the 2016 Texas Team Trail event on Sam Rayburn:
6th: Craig May and Johnny Franks, 20.95
7th: Matthew McArdle and Josh Bensema, 20.80
8th: Rusty Harvey and Chris Harvey, 20.50
9th: Phil Marks and Tim Reneau, 20.44
10th: Stephen Johnston and John Iles, 20.39
Up next
The second qualifier of the 2016 Texas Team Trail season is slated for Feb. 20 on Toledo Bend.   Get registered online 
NOW
!
Click HERE for Full Results
https://americanaoutdoors.com/wp-content/uploads/2016/09/Americana-Outdoors-Garmin-Hunting-Fishing_CollegiateBassFishing_Featured.png
333
400
Shelley Giesecke
https://americanaoutdoors.com/wp-content/uploads/2023/06/cropped-AO-Logo_512x512.png
Shelley Giesecke
2016-02-01 16:58:01
2017-03-07 14:12:54
College Anglers Schroeder & Heigley school 350-boat field