Team DeMoux/Hill Wins IFA Redfish Tour Event at Georgetown, South Carolina
Winning team takes home more than $26,000
NEW SMYRNA BEACH, Fla. Andre DeMoux, of Jacksonville, North Carolina, and Daniel Hill, of Hampstead, North Carolina, weighed a two-redfish limit of 9.74 pounds to win the first regular-season event for the Atlantic Division of the IFA Redfish Tour presented by Cabela's on April 30 at Georgetown, South Carolina. The team took home more than $26,000 in winnings.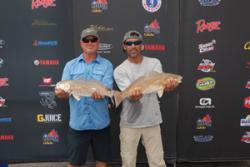 DeMoux and Hill have previously fished just two IFA Redfish Tour events before, both in Georgetown. Coming from out of state and not being too familiar with the area, the anglers used technology to help with scouting.
"Georgetown is a huge area," said DeMoux. "We did a bunch of research off of Google Earth. Once you know redfish, you can shrink the area. We've only fished down here twice but we were able to build off of those trips. We had a game plan and stuck to it."
The team fished the grass lines of the islands in the bay with Berkley Gulp!. With the tides yet to come in, the team waited for their moment.
"The last couple of times down here the tides came in right of the bat," said DeMoux. "We had to wait a bit because the tide hadn't switched. Low tide was at 8:30."
With 7.75 pounds in the livewell and plenty of time left, the anglers felt good about their chances to land in the money.
"We caught them all within 80 yards of each other," said DeMoux. "Once we got the first one, we immediately slowed down. We kept at it and that's when we caught the 5.27-pounder."
Not wanting to take any chances, the team packed up and headed to the weigh-in. Their 4.47- and 5.27-pound redfish edged out the second-place weight of 9.33. The team's kicker fish won the $500 Berkley Gulp! Big Fish Award and a $250 credit from Berkley for catching the largest fish on Berkley Gulp!.
JD Nobles, of St. Johns, Florida, and Kyle Craven, of Macclenny, Florida, weighed a 4.68- and 4.65-pound redfish to take the $2,780 second-place prize. The anglers ran 23 miles south of the launch and reported lots of fish. The team caught their limit with Berkley Gulp! mantis shrimp on a jig. Adding $2,535 in Anglers Advantage cash brought the team's total winnings to $5,315.
Third-place finishers Ernest Wallace and Bryan Mims, both of Georgetown, South Carolina, weighed a combined total of 9.13 pounds. The anglers felt they did better than expected with high winds and dirty waters. The team ran 10 miles, looking for schools of fish and throwing artificial grubs. The team won a combined $2,745 for their bag of fish.
Elliot Stevens and Bob Mathis finished in 29th place but won both the $250 Run and Win with Lucas Oil contingency award and the $100 BoatUS contingency award.
The next stop for the IFA Redfish Tour is at Lafitte, Louisiana, May 14. All teams that enter a minimum of two events and competed in at least one event will qualify for the 2016 IFA Redfish Tour championship.
IFA events are made possible through the sponsorship and continued support of these well-respected brands: Hobie Fishing, Ranger Boats, Cabela's, Lucas Oil, Yamaha Outboards, RAM, Berkley Gulp!, Berkley Gulp! Alive!, PENN Reels, Spiderwire, Minn Kota, Humminbird, Power-Pole, BoatU.S., Amphibia, Arctic Ice, Protect the Harvest, General Tire, SuperClean, Valley Fashions, ENGEL Coolers, T-H Marine, ATLAS, G-Juice Powertex Group, Audubon Aquarium of the Americas, Houma Area Convention & Visitors Bureau, Quality Hotel of Houma and Campbell Marine Complex.
For more information or to become a member of the IFA, visit www.ifatours.com.
IFA Redfish Tour – Atlantic Division
Georgetown, S.C. (Top 10)
Andre DeMoux/Daniel Hill – 9.74 lbs.
JD Nobles/Kyle Craven – 9.33 lbs.
Ernest Wallace/Bryan Mims – 9.13 lbs.
Rob Beglin/Eric Gobbett – 8.94 lbs.
Glenn Finley/Dodd Wood – 8.86 lbs.
Jason Dail/Allen Jernigan – 8.77 lbs.
Mike Dotson/Lynn Dotson – 8.40 lbs.
Ricky Maldonado/Bruce Draper – 7.95 lbs.
Rigoberto Lomeli/David Remensnyder – 7.76 lbs.
Stuart Ricks/Michael Dorman – 7.75 lbs.
https://americanaoutdoors.com/wp-content/uploads/2017/02/unnamed.jpg
333
400
Shelley Giesecke
https://americanaoutdoors.com/wp-content/uploads/2023/06/cropped-AO-Logo_512x512.png
Shelley Giesecke
2016-05-05 19:06:13
2017-02-06 19:13:32
Team DeMoux/Hill Wins IFA Redfish Tour Event at Georgetown, South Carolina