The IFA Kayak Fishing Tour Presented By Hobie Kayaks Preps for the 2016 Season
When you think of kayak fishing, Hobie Kayaks come to mind when it comes to how the exponential growth of the sport has truly been set off. Known as a leading force in kayak fishing, Hobie Kayaks and the IFA Kayak Fishing Tour Presented by Hobie have given anglers across the nation an opportunity to compete on more than just a grassroots event. The IFA Kayak Fishing Tour Presented by Hobie offers anglers huge cash and prize payouts while competing at trophy fishing destinations across the country.
Each of the 10 regular season events will feature a catch-photograph-release tournament format. The IFA Kayak Fishing Tour will continue to offer over 100 percent payout, plus contingency opportunities for anglers at every event. Also, for an additional $50, anglers can sign up for the Angler's Advantage program, which allows participants to compete in an even higher payout bracket.
The fastest-growing kayak fishing tournament trail in the country, the IFA Kayak Fishing Tour Presented by Hobie Fishing offers inshore kayak anglers from a multitude of states the opportunity to participate in competitive fishing tournaments. With low entry fees and minimal travel requirements, kayak anglers competing in the catch-photograph-release tournaments can take advantage of the rich prize structure awarded to competitors.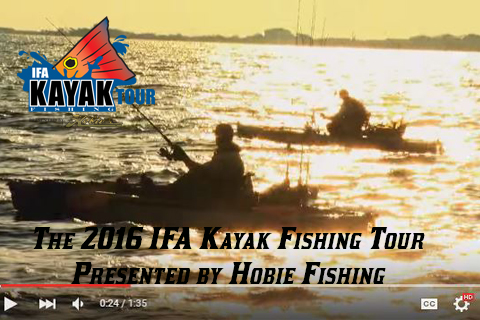 Whether you compete out of Hobie Paddle Kayak or a Hobie Mirage Pro Angler 14, join the fun in 2016 and register for one of the following events of the 2016 IFA Kayak Fishing Tour Presented by Hobie Events!
2016 IFA Redfish Tour Schedule
Atlantic Division
May 1 – Georgetown, S.C.
Sept. 25 – Georgetown, S.C.
Florida East Division
March 20 – Fernandina, Fla.
Aug. 28 – New Smyrna Beach, Fla.
Florida West Division
March 6 – Punta Gorda, Fla.
Sept. 11 – Sarasota, Fla.
Louisiana Division
May 15 – Lafitte, La.
Aug. 7 – Houma, La.
Texas Division
April 3 – Port Aransas, Texas
Aug. 14 – Aransas Pass, Texas
Championship
Dates and location TBD
For more information or to become a member of the IFA, the fastest-growing inshore fishing tournament series in the United States, go online to www.ifatours.com. To discover more about kayaking and Hobie Fishing go to www.hobiefishing.com.
https://americanaoutdoors.com/wp-content/uploads/2017/02/Americana-Outdoors-IFA_Redfish_Tour.png
333
400
Shelley Giesecke
https://americanaoutdoors.com/wp-content/uploads/2023/06/cropped-AO-Logo_512x512.png
Shelley Giesecke
2016-03-10 14:19:44
2017-02-27 17:30:00
The IFA Kayak Fishing Tour Presented By Hobie Kayaks Preps for the 2016 Season