Team Rain/Jaramillo Wins IFA Redfish Tour Event at Fernandina, Florida
Event pays out more than $50,000 in winnings
NEW SMYRNA BEACH, Fla. – Jesse Rain and Luis Jaramillo, both of Jacksonville, Florida, weighed a two-redfish limit that totaled 14.52 pounds to win the first regular-season event for the Florida East Division of the IFA Redfish Tour presented by Cabela's on March 19 at Fernandina, Florida. The team took home a fully rigged Ranger 1862 with a Yamaha outboard, valued at $25,999.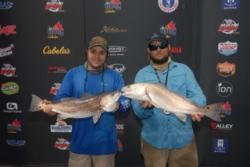 Rain and Jaramillo live in nearby Jacksonville and regularly fish the Fernandina Beach waters. Their local knowledge and understanding of the tides was key to the win.
"Our game plan was centered around the tide," explained Rain. "In northeast Florida the fish are all about the tide. We pre-fished two weeks before so we knew where the fish would be in the same tide as the tournament. We knew what the tide was doing and hit it perfectly to catch our fish."
The anglers started their day by making a run south and fished near Sister and Hannah Mills Creeks. The long run quickly paid off as they caught both fish in the morning using Gulp! Shrimp exactly where they were expecting them to be.
"We caught both fish first thing in the morning using a natural colored Gulp! Shrimp on a grass flat," said Rain. "The fish would wait for the right tide and move up to the grass to feed. We caught both fish out of a big group in the same area only a few minutes apart. The first was a 7.42 pounds and the second was a 7.1-pounder. "
Rain attributes their success to good teamwork. The duo has fished every IFA tournament together and believes that solid teamwork is vital to winning redfish tournaments.
"In red-fishing everyone thinks it is simply about the fish, the tide and the lure," said Rain. "In reality, it is all about finding a good partner that you fish well with. All of the successful teams have been fishing as partners for a long time or at least work well with each other."
Both anglers have been fishing tournaments for years and said the IFA sets the bar for redfish competition.
"We have been fishing the IFA for two years and have cashed a check almost every tournament," said Rain. "We have fished a lot of different tours, but the IFA stands out as a first-class organization."
Second-place finishers Bill Stuermer, of Naples, Florida, and Carl Rauer, of Fernandina Beach, Florida, weighed 14.05 pounds to win $3,713.
Chris Rosengart, of Beaufort, South Carolina, and TJ Cheek, of Brunswick, Georgia, won third place for their 13.96 pounds of redfish. The duo's technique of dead-sticking Berkley Gulp! Shrimp was good enough to take home $5,180 in winnings.
The next stop for the IFA Redfish Tour is at Port Aransas, Texas, on April 2. All teams that entered a minimum of two events and competed in at least one event will qualify for the 2016 IFA Redfish Tour championship.
IFA events are made possible through the sponsorship and continued support of these well-respected brands: Hobie Fishing, Ranger Boats, Cabela's, Lucas Oil, Yamaha Outboards, RAM, Berkley Gulp!, Berkley Gulp! Alive!, PENN Reels, Spiderwire, Minn Kota, Humminbird, Power-Pole, BoatU.S., Amphibia, Arctic Ice, Protect the Harvest, General Tire, SuperClean, Valley Fashions, ENGEL Coolers, T-H Marine, ATLAS, G-Juice Powertex Group and Audubon Aquarium of the Americas.
For more information or to become a member of the IFA, visit www.ifatours.com.
IFA Redfish Tour – Florida East Division
Fernandina, Fla. (Top 10)
Jesse Rain/ Luis Jaramillo – 14.52 lbs.
Bill Stuermer/ Carl Rauer – 14.05 lbs.
Chris Rosengart/TJ Cheek – 13.96 lbs.
Ricky Maldonad/Bruce Draper – 13.85 lbs.
Scott Owens/Rob Aldridge – 13.79 lbs.
Greg King/Troy Ray – 13.63 lbs.
Terry Lacoss/TD Lacoss – 13.28 lbs.
Chad Smith/Zachary Skipper – 13.24 lbs.
Patrick Rood/Terry Smith – 13.19 lbs.
10. Eddie Marsh/Matt Davis – 12.92 lbs.
https://americanaoutdoors.com/wp-content/uploads/2017/02/Americana-Outdoors-IFA_Redfish_Tour.png
333
400
Shelley Giesecke
https://americanaoutdoors.com/wp-content/uploads/2023/06/cropped-AO-Logo_512x512.png
Shelley Giesecke
2016-03-24 15:13:43
2017-03-02 16:40:28
Team Rain/Jaramillo Wins IFA Redfish Tour Event at Fernandina, Florida