Nelson Wins IFA Kayak Fishing Tour Event at Punta Gorda, Florida
NEW SMYRNA BEACH, Fla. – Ty Nelson, of North Fort Myers, Florida, measured a combined limit of 54.00 inches to win the first regular-season event for the Florida West Division of the IFA Kayak Fishing Tour presented by Hobie Fishing on March 6 at Punta Gorda, Florida. The angler won a total of $2,257, including a Power-Pole Micro Anchor for his first-place finish.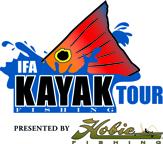 Nelson adds this win to an impressive competitive resume. A win last year at Titusville complements a string of top-five finishes in his three years of fishing the IFA Kayak Tour. Nelson traveled 10 miles to fish in Pine Island Sound and was surprised at the amount of wind he encountered.
"Today was a little more windy than I expected," said Nelson. "It made it tough for the whole field, which I like, but persistence paid off for me in the end."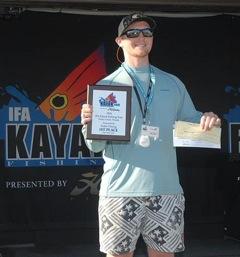 The angler fished potholes to land an early trout and then concentrated on tailing redfish with top-water baits, artificial shrimp and paddletails. In the past, Nelson prepared for upcoming events. Without the opportunity to scout early, Nelson felt lucky to have done well in this event.
"I did not have a chance to pre-fish and won anyways," said Nelson. "When does that ever happen? I felt that I did really well given the circumstances."
Justin Ritchey, of Ocoee, Florida, measured a 34-inch redfish and a 19-inch speckled sea trout to win the $1,000 second-place prize. Ritchey's 34-inch red won the $100 Berkley Gulp! Big Redfish Award. The angler caught his lunker on a PENN Reel and added $400 in contingency winnings from PENN Reels.
Ritchey fought 20 to 30 mph winds but enjoyed clear skies. Fishing in the Pine Island area, the angler threw imitation shrimp and twitch baits with long casts down wind and drifted his kayak.
Ritchey has a ritual where he asks himself, "What kind of damage can I do if I gave it 100 percent?" At the end of the day, his all-out strategy showed on the leaderboard.
"I'm proud to have placed giving my best effort," Ritchey added.
Longtime IFA Kayak Tour veteran Tony Lai, of Seminole, Florida, measured a combined 50.00 inches to take third place. The angler targeted his fish with top-water baits and soft plastics. Lai won a total of $451 for his limit and gained 198 points in the Angler-of-the-Year race.
The next stop for the IFA Kayak Tour is March 20 at Fernandina, Florida. Anglers who enter a minimum of two events and compete in at least one event will be qualified for the 2016 IFA Kayak Tour championship.
The fastest-growing kayak fishing tournament trail in the country, the IFA Kayak Fishing Tour Presented by Hobie Fishing events are catch-photograph-release tournaments, offering inshore kayak anglers from a multitude of states the opportunity to participate in competitive fishing tournaments with low entry fees and minimal travel requirements.
For more information or to become a member of the IFA, visit www.ifatours.com. To discover more about kayaking and Hobie Fishing go to www.hobiefishing.com.
IFA events are made possible through the sponsorship and continued support of these well-respected brands: Hobie Fishing, Ranger Boats, Cabela's, Lucas Oil, Yamaha Outboards, RAM, Berkley Gulp!, Berkley Gulp! Alive!, PENN Reels, Spiderwire, Minn Kota, Humminbird, Power-Pole, BoatU.S., Amphibia, Arctic Ice, Protect the Harvest, General Tire, SuperClean, Valley Fashions, ENGEL Coolers, T-H Marine, ATLAS, G-Juice Powertex Group and Audubon Aquarium of the Americas and Laishley Park Marina.
IFA Kayak Tour – Florida West Division
Punta Gorda, Fla. (Top 10)
Ty Nelson – 54.00 inches
Justin Ritchey – 53.00 inches
Tony Lai – 50.00 inches
Jason Stock – 47.88 inches
Eric Henson – 45.75 inches
Granger Hieronymus – 44.50 inches
David Driscoll – 44.00 inches
Joe Henary – 42.75 inches
Derek Engle – 42.25 inches
Darren Frost – 38.50 inches
https://americanaoutdoors.com/wp-content/uploads/2017/02/Americana-Outdoors-IFA_Redfish_Tour.png
333
400
Shelley Giesecke
https://americanaoutdoors.com/wp-content/uploads/2023/06/cropped-AO-Logo_512x512.png
Shelley Giesecke
2016-03-09 15:10:33
2017-02-27 17:30:37
Nelson Wins IFA Kayak Fishing Tour Event at Punta Gorda, Florida