University of Alabama Anglers Win Ranger Cup University Fish-Off
Teammates take home $2,000 and other prizes in winner-take-all challenge between FLW and BoatUS collegiate qualifiers.
FLIPPIN, ARK. – John Davis and Payton McGinnis, collegiate anglers from the University of Alabama, won the Ranger Cup University Fish-Off with 12 keeper fish weighing more than 37 pounds in a winner-take-all, made-for-TV event on Florida's famed Bienville Plantation. The tournament, which utilized a rules format where all legal fish are weighed and released from the boat, pitted the Alabama anglers against a team from Liberty University.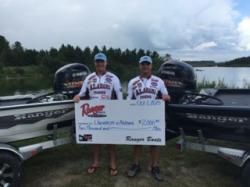 Davis and McGinnis qualified for the expense-paid competition by being the highest-finishing Ranger Cup University-qualified team in the BoatU.S. Collegiate Bass Fishing Championship. The duo topped Liberty University anglers Caleb Eppler and Skye Riggleman, who qualified for the event by having the highest place of finish for a Ranger Cup University-qualified team at the FLW College Fishing National Championship. Riggleman served as an alternate to Eppler's original partner, Travis Rulle, who could not attend.
Both teams received a grand-prize package that included travel, lodging and meals, as well as the opportunity to compete in a new, fully rigged Ranger RT188. The made-for-TV fish off will be televised nationally on future episodes of "Americana Outdoors" and the "Cabela's Collegiate Bass Fishing Series" with the winners taking home $2,000 in prize money as well as bragging rights for their school.
"This was one of the most unique events I've ever been a part of," said Davis, a senior at the University of Alabama. "Just getting to fish Beinville Plantation was huge and definitely something I'll remember for the rest of my life. The whole experience was awesome."
Added McGinnis, "For us, the Ranger Cup University program has been a big deal. We've won a bunch of extra money and qualified for this event just by signing up – which was free to begin with. It's crazy more anglers aren't taking advantage of it."
Modeled after the most lucrative contingency program in the industry, the Ranger Cup, Ranger Cup University is open to collegiate anglers fishing in either FLW- or Boat US-affiliated competitions. Signup for Ranger Cup University is free and exclusively for collegiate anglers, regardless of which brand of boat they own. To remain qualified in the program, anglers need only adhere to clothing and decal requirements. The program also allows anglers to reap the rewards of a professionally run contingency program regardless of tournament results. As part of the Ranger Cup University program, participants will be able to receive discounts on already-discounted tournament jerseys through Gemini Custom Apparel, with no artwork or set-up fees. Through Gemini, anglers can purchase fully customized jerseys for as low as $48.
For more information on Ranger Cup University, to register and read all about the program guidelines, go online to RangerBoats.com.
About Ranger Boats
Headquartered in Flippin, Ark., Ranger Boats is the nation's premier manufacturer of legendary fiberglass and aluminum fishing boats, which include series of bass, multi-species, fish 'n play, waterfowl utility and saltwater boats. Founded in 1968 by Forrest L. Wood, Ranger Boats continues its commitment to building the highest-quality, strongest-performing boats on the water. For more information, go to www.RangerBoats.com.
https://americanaoutdoors.com/wp-content/uploads/2016/09/Americana-Outdoors-Garmin-Hunting-Fishing_CollegiateBassFishing_Featured.png
333
400
Shelley Giesecke
https://americanaoutdoors.com/wp-content/uploads/2023/06/cropped-AO-Logo_512x512.png
Shelley Giesecke
2015-10-07 18:24:47
2017-03-07 14:14:20
University of Alabama Anglers Win Ranger Cup University Fish-Off