Bass Fishing in the Winter Tips from the Pros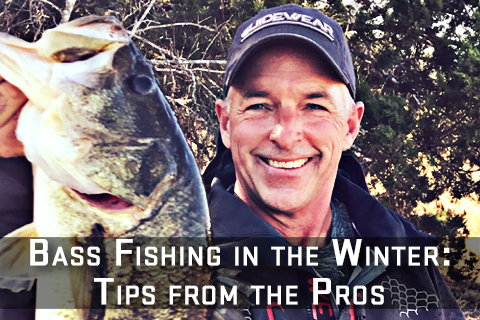 Pro-Angler, Jeff Reynolds: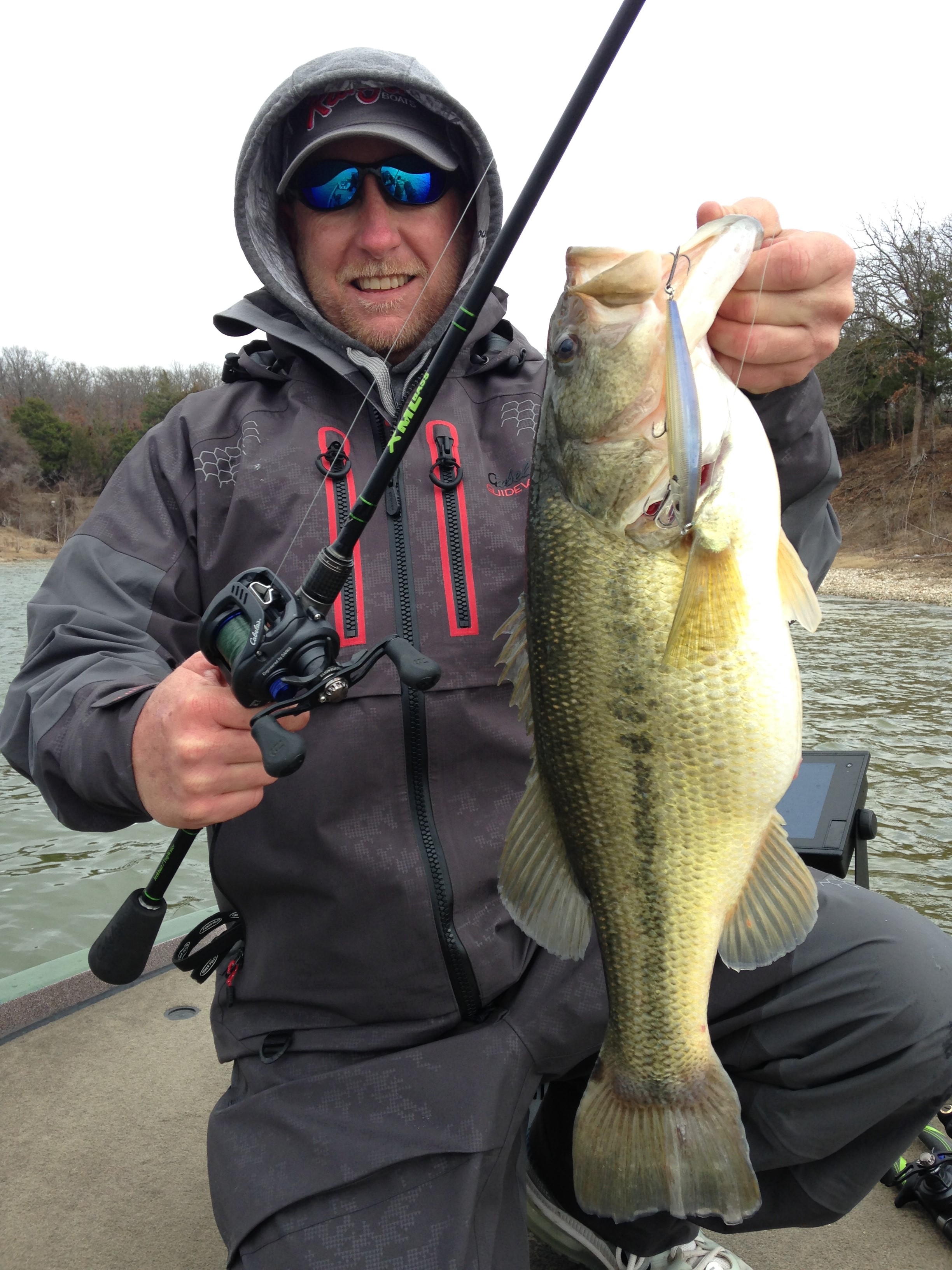 From 1999 to 2009, Jeff Reynolds was a fixture at the top level of the sport, fishing the Bassmaster Invitationals, Opens, Tour, Elite 50 and Elite Series over the decade long span. He qualified for a total of four Bassmaster Classics, including three consecutive Classic appearances in 2005, 2006, and 2007. Since then he fishes, mainly, regional tournaments but his main passion is working for CarecoTV. He produces and runs camera for the hunting and fishing television programs. 
"When the water temps are in the 50's it's time to be throwing jerkbaits.  When I am fishing a jerkbait it's all about the shad.  I will start out running around, utilizing my Garmin electronics, looking for shad to determine whether they are in the back of creeks, on the main lake, bluff ends, ditches, etc. Once I determine where the shad are at I will decide which jerkbait I will use.  My favorite is the Spro Mcstick.  My 3 favorite colors are Blue Bandit, Clear Chartreuse, and Norman Flake.  If the shad are in shallow water I will use the Mcstick 115 because it will not get as deep, and I always want my bait to be a little above where the fish are at, never below them. If the fish are deeper I will go to the Mcstick 115 or McRip 85.  I like to fish bluff ends or points that have a sharp drop because thats a good place for fish to pull up, feed and back off to deeper water during a cold front… and not have to move far. Just remember, find the bait and you will find the fish.  As for my rod and reel setup I use a Cabelas Arachnid reel and a Cabelas XML 6'7″ medium action jerkbait/top water rod.  It's very important to be able to make long casts at times to get your bait down to the fish. This is the best setup I have found."
Pro-Angler, Clark Wendlandt: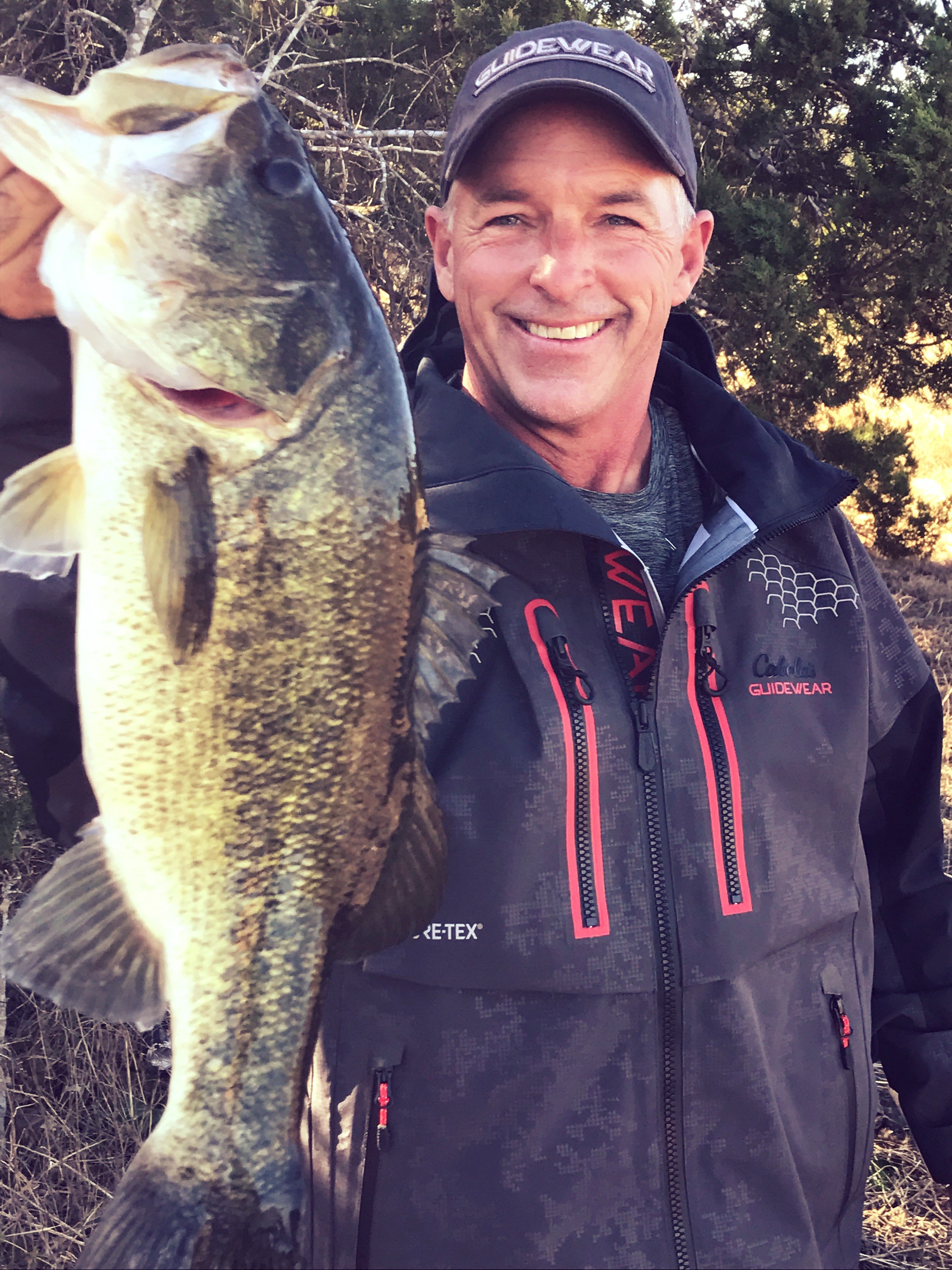 Clark Wendlandt, three time FLW Angler of the Year, is one of the most successful and widely recognized bass anglers in the history of the sport. Collecting over $2.5 million in tournament earnings, Wendlandt has successfully competed in both the FLW and Bassmaster national tournament circuits. In addition to fishing the FLW tour annually, Clark hosts nationally syndicated television shows Fishing and Hunting Texas and Americana Outdoors presented by Garmin.
"When Water temperatures are in the mid-50s, determining the best way to fish for bass can be challenging – What types of areas? What baits? What depths? How fast/slow? While tuning in to the most effective patterns may take some tweaking under these conditions, your efforts will definitely pay off."
"The type of area I focus on first with water temperature in the mid-50s is deeper water near shallow spawning flats. To prepare for the spawn, bass usually gorge themselves on shad and crawfish, so I like to focus on channel swings and deep water that comes up near spawning flats – where the bass have easy access to schools of shad and crawfish on the rocky channel swings."
"Three of my favorite baits to use when bass set up this way are shallow-running crankbaits like a Strike King Lucky Shad in crawfish pattern, a Strike King ½ ounce Jig or a suspending jerkbait. When the water is fairly cold, bass are feeding but not necessarily chasing bait over long distances. All three of these baits can be fished slowly and kept in the strike zone for a long period of time, giving your bait more time in front of these relatively stationary bass."
"Since determining the depth of suspending bait is an important element under these conditions, one of the first things I do is turn on my Garmin sonar. It's really pretty simple. Bait can suspend at various depths, but oftentimes, if you really pay attention to the location of most of the bait balls, you can easily decipher the best fishing depth. When fishing these channel swings and deep places near spawning flats, I also like to look for individual fish, which I can usually see on my traditional sonar. The ones that are fairly close to the bottom can sometimes even be very easy to catch."
"Bass fishing when the water temperatures hover in the mid-50s can be challenging, but it's a challenge worth accepting. It can reap big rewards. Next time you're in that situation, focus on deep water that comes up near spawning flats using baits that can be fished slowly, look for the depth of suspending bait using your Garmin sonar, and go catch 'em!"
SIGN UP TO STAY IN TOUCH:
Sign up at Americana Outdoors to get interesting news from the field and updates delivered to your inbox.

FOLLOW US ON:
Twitter- https://twitter.com/Live_Americana
Instagram- https://www.instagram.com/americana_outdoors/?hl=en
Facebook- https://www.facebook.com/AmericanaOutdoors/
https://americanaoutdoors.com/wp-content/uploads/2017/02/BassFishingInTheWinter.jpg
600
1000
Shelley Giesecke
https://americanaoutdoors.com/wp-content/uploads/2023/06/cropped-AO-Logo_512x512.png
Shelley Giesecke
2017-02-13 20:55:26
2018-05-15 16:49:23
Bass Fishing in the Winter Tips from the Pros