Blackened Smoked Salmon with Avocado/ Mango Salsa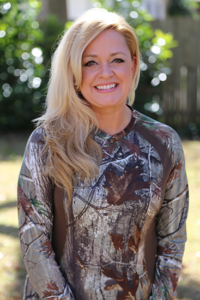 Ingredients for Salsa:  
1 mango – peeled, seeded, and chopped
1/4 cup finely chopped red bell pepper
1 ripe avocado
1 tomato diced
1/4 cup cilantro
1 jalapeno chile pepper diced
1 green onion, finely chopped
2 tablespoons lime juice
1 tablespoon lemon juice
Mix all ingredients together, cover, and refrigerate for atleast an hour before serving.
Ingredients for Smoked Salmon:

2 large fillets of salmon (yields 8-10 tacos)
1 cup of blackened seasoning mix. (I use Old Bay)
Ingredients for Tacos:
8-10 flour or corn tortillas. I use a mixture of both corn and wheat with green chiles for an added kick. La Tortilla Factory makes the best.
1 cup of serrano pepper ranch dressing or your favorite fish taco dressing.
ADD SOME BRADLEY TO YOUR COOKOUTS
I eat salmon just about every day. It's my favorite fish to eat. My husband and I started smoking our foods about 3 years ago when we received our first Bradley Smoker. Since then I've started smoking my favorite sockeye in so many different ways and experimenting with different flavored bisquettes. I've come up with a dozen recipes using salmon. The blackened smoked salmon tacos with avocado and mango salsa is my absolute favorite. In fact, my husband, Wade, has never liked salmon until now. I hope you enjoy this recipe as much as we did and if you don't already have a smoker I highly recommend the
Bradley Smokers
 brands.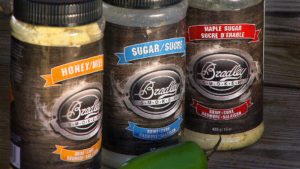 Bradley Smoker Brines
First off, I like to brine my salmon fillets overnight to ensure the absolute best flavors. Bradley Smoker offers some of the best dry brines I've ever tried. So, for my salmon I use a combination of the maple and honey brines. I coat the fillets with the combination of brines, place in a ziplock bag and refrigerate for about 12 hours before smoking.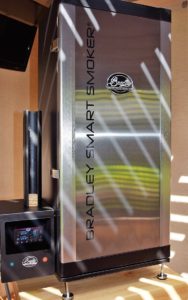 Directions:
Heat smoker to 225 degrees. I use the mesquite flavored bisquettes for this recipe. Rinse any remaining brine off the fish and pat dry. Lay fillets on Bradley rack (I use the non-stick Bradley Smoker Magic Mats, as well, to prevent sticking) and cover the fish with the blackened seasonings. Place in smoker once temp reads 225 or close to. It usually takes 1 hour to smoke to perfection. I like my fish to be cooked medium or when its pink and flaky. Smoke accordingly to how well you like your fish. There's no rules here.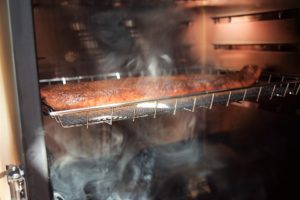 The Bradley Smart Smoker
While my fish is in the smoker I like to fix side dishes for my taco meal. I love to serve my tacos with black beans, and garlic buttered rice pilaf. It's all about what you prefer. I like to use chicken stock instead of water, and add corn to my rice. My husband will have 3 servings if not more of the rice. It goes so well with the fish. Rice and beans is a South Texas staple that goes great with any kind of tacos, as well as margaritas. My husband, who never has liked salmon, has now requested this dish a couple times since trying this out.  Whip up a batch of margaritas, kick back and enjoy your blackened smoked tacos with avocado & mango salsa.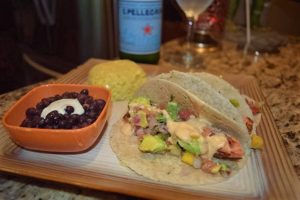 For more information about Bradley Smoker products go to
Follow Bradley Smoker on Facebook:
On Twitter:
Instagram:
https://americanaoutdoors.com/wp-content/uploads/2017/02/salmon-tacos-2.jpg
465
697
Shelley Giesecke
https://americanaoutdoors.com/wp-content/uploads/2023/06/cropped-AO-Logo_512x512.png
Shelley Giesecke
2016-07-17 15:53:06
2017-03-27 13:49:27
Blackened Smoked Salmon with Avocado/ Mango Salsa