Hobie Introduces MirageDrive 180 Forward-Reverse System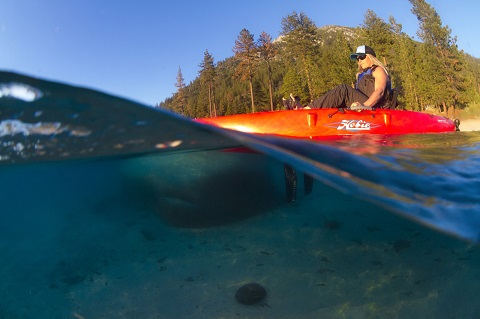 Hobie Introduces MirageDrive 180 Forward-Reverse System
Jul. 13, 2016 by Hobie Cat Worldwide
Hobie's bioengineered MirageDrive propulsion system for kayaks was revolutionary in its inception in 1997 and has been evolving ever since. Now comes the biggest evolution – so far. Introducing the patent-pending Hobie MirageDrive 180 forward-reverse propulsion system that will be integrated into all 2017 model year Mirage kayaks.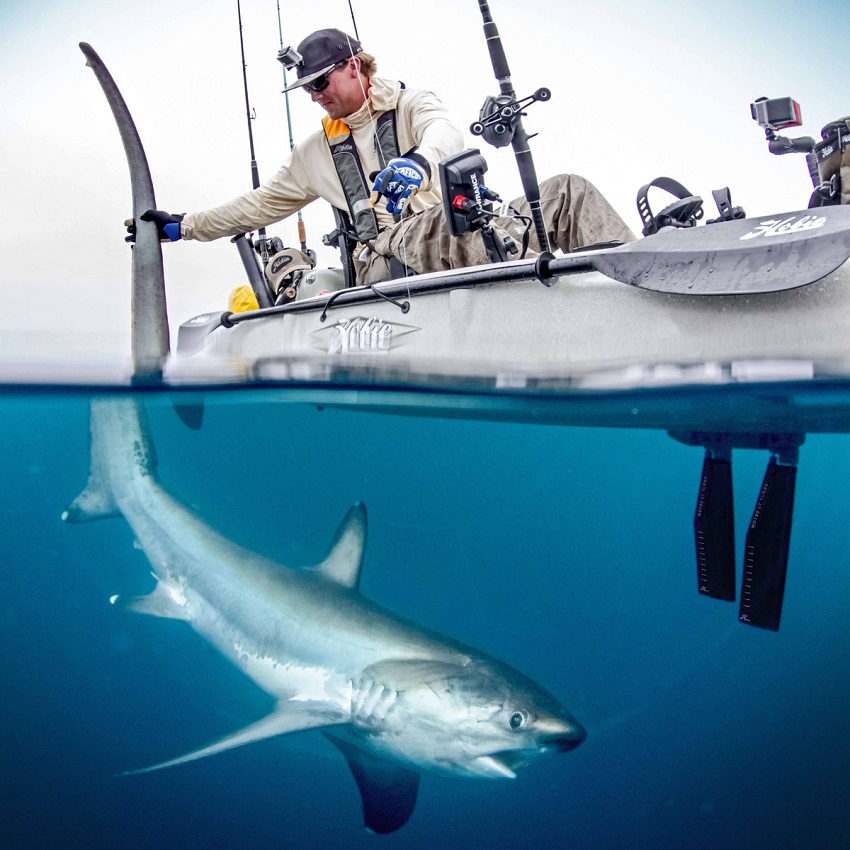 Weighing in at under eight pounds, the MirageDrive 180 produces full power in both directions and offers unprecedented maneuverability. The user can pull one of two shift cables to direct propulsion 180 degrees almost instantly from forward to reverse and back again.
Imagine the possibilities: backing fish out of cover; safely fishing closer to obstructions; or fishing downstream while holding in current. Hands-free propulsion in any direction means better control: to cast, to present baits, and to concentrate on landing bigger fish. And then pictures can be snapped or cold beverage enjoyed on the way back in without ever stopping.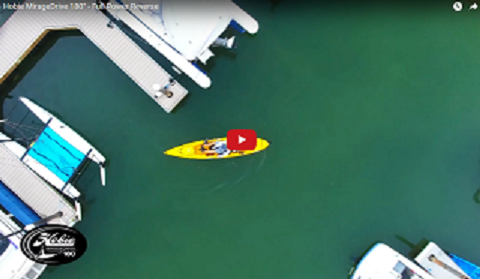 There are two shifters, one marked in green for forward and a longer one in red for reverse, making them easy to identify. Pulling the appropriate cable pivots both MirageDrive fins 180 degrees, reversing the direction of the power output.
Although the forward-reverse capability is the most noticeable improvement to this new generation of the time-tested MirageDrive, it's not the only significant advancement. The new fins are even more durable, with high strength nylon on the leading and trailing edges. Adjusting fin resistance has also been improved via an easy-access knob. The fin shape, altered to allow the fins to rotate from forward to reverse, provides the same efficient power as past models of ST Fins and ST Turbo fins respectively.
Can the MirageDrive 180 go shallow? Absolutely. Use partial pedal strokes to "flutter" the fins or push one crank arm forward so that both fins automatically fold up flat against the bottom of the hull. This same wing-like action excels for dodging obstacles, shedding weeds and gliding through the water with minimal resistance. It also facilitates landing on the beach or at the boat ramp. The MirageDrive 180 installs in seconds thanks to the Click and Go Mounting System, which also makes removing a snap.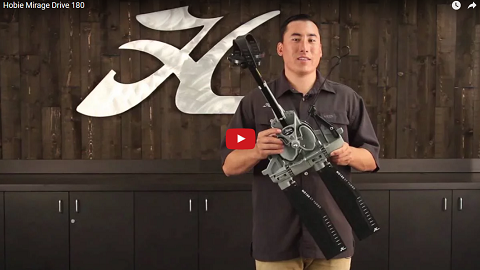 The MirageDrive 180's cranks adjust to comfortably fit the user's height, from tall to child-size. Cleaning and maintenance is simple. A quick rinse at the end of the day and an occasional spray with Hobie Multi-Lube is all it takes.
Fishing Product Manager, Morgan Promnitz, took the MirageDrive 180 to remote and demanding Cedros Island in Baja, Mexico for intensive testing. "The shifters really shine. I found myself using them constantly," Promnitz says.
Promnitz fished nose-in to a breakwall for powerful grouper. Every time he hooked up, he'd throw the MirageDrive 180 into reverse and back the fish out of the rocks. He also used the shifters while taking photos of friends connected with big fish, to get just close enough, backing away if the fish ran. But the most surprising use was trolling in reverse with live bait in front of him, where he could watch its every move.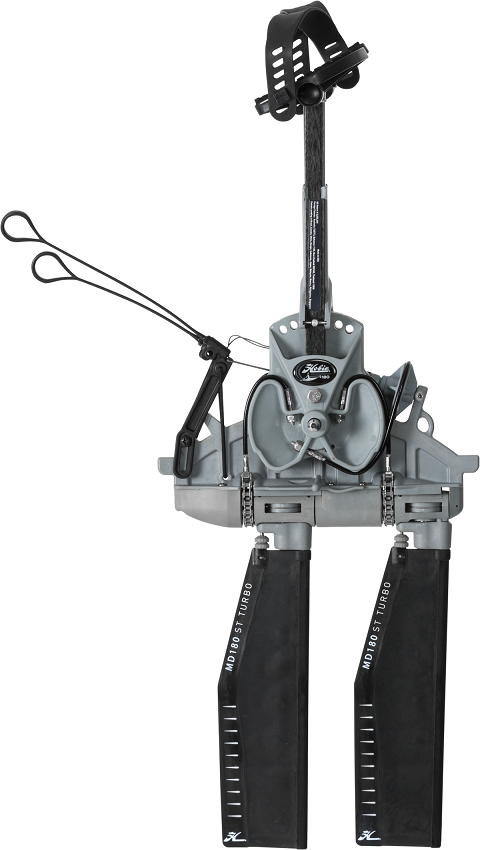 Hobie Mirage Drive 180
"A bonito school came up chasing the live mackerel I had on for bait. I subtly guided it towards them to entice a bite. It was cool watching the action go down," he says.
The uses of the shifters are endless. They are helpful, for instance, when you suddenly realize your Mirage Tandem Island mast isn't going to clear a bridge. "I quickly pulled the reverse cable and backed my Island to safety," Hobie engineer Jim Czarnowski recalls of his close call in the grueling Everglades Challenge endurance race.
When pinpoint navigation is necessary, Czarnowski shifts from forward to reverse and back again. When coming into or leaving a dock, he backs the Tandem Island in and out of its parking bay, just like a car in a parking lot.
The two shift cables are composed of braided Spectra line connected to high strength, snag-free nylon handles. They tuck into a Bungee® retainer when not needed.
The MirageDrive 180 will be standard with all 2017 model year Mirage kayaks, including the legendary Outback and award-winning Pro Anglers. 2017 model year kayaks are slated to begin shipping in October 2016. The MirageDrive 180 is retrofitable to existing MirageDrive kayaks and is expected to be available as a stand-alone accessory by mid-year 2017.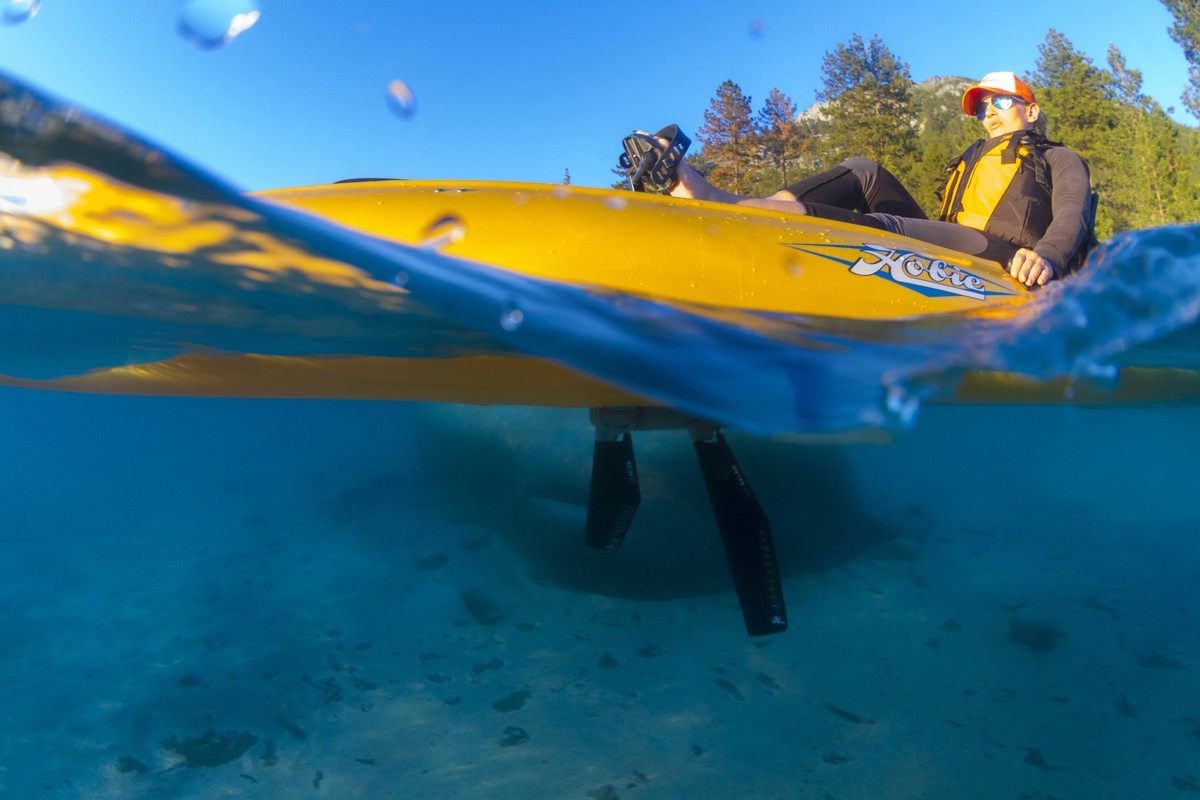 https://americanaoutdoors.com/wp-content/uploads/2017/02/hobie-new-mirage-2016-3.jpg
800
1200
Shelley Giesecke
https://americanaoutdoors.com/wp-content/uploads/2023/06/cropped-AO-Logo_512x512.png
Shelley Giesecke
2016-07-15 16:06:24
2017-02-24 17:19:36
Hobie Introduces MirageDrive 180 Forward-Reverse System