Mustang Survival Debuts Spring 2017 Flotation at ICAST Trade Show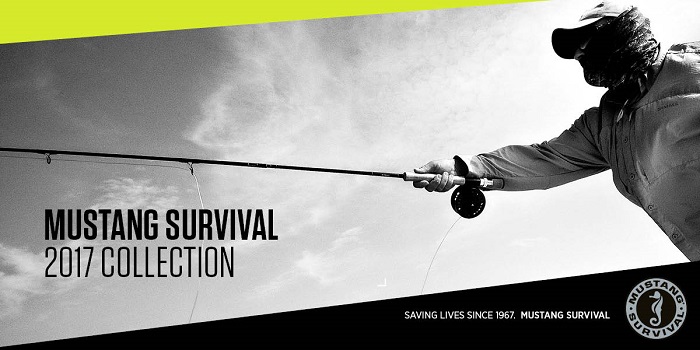 Mustang Survival Debuts Spring 2017 Flotation at ICAST Trade Show
New and improved performance‐focused PFDs for fishermen
Bellingham, WA – Mustang Survival® , the manufacturer of inspired technical solutions for the most demanding marine environments, is excited to debut their spring 2017 line during ICAST (International Convention of Allied Sportfishing Trades), from July 13‐15. Mustang Survival will be exhibiting the additions to their fishing assortment with exciting new additions to their flotation category, including a young adult flotation vest, inflatable PFD (Personal Flotation Device) and modular pockets.    The Spring 2017 line brings new additions to the inflatable flotation category with the DLX Inflatable, REV Young Adult Vest for serious young anglers, and a new MOLLE compatible fishing pocket that can be easily attached for convenient storage of tackle and accessories. "Mustang Survival's heritage is deeply rooted in saving lives and building the highest quality flotation solutions for fishermen," states Jason Leggatt, General Manager. "These new additions show the evolution of the flotation category from being strictly safety focused to elevating human performance to help the most avid anglers have the best day on the water."
New for Spring 2017
 DLX Inflatable PFD – With a more comfortable fit around the head and neck, the DLX features a MOLLE‐inspired attachment system for custom configuration of gear, a discreet anodized side‐ pull inflation handle, and dual sides which adjust for easy size customization. The DLX Inflatable PFD is an ideal choice for kayak fishermen, coastal cruisers and general boaters seeking high buoyancy inflation.
 REV Young Adult Vest – Built for a serious fishing mission, this vest is as versatile as its owner. From fishing to boating to days of summer fun, safety meets performance in the REV Young Adult Vest. Specifically designed interior foam panels form to the body to fit better than a size small adult vest.
MOLLE Compatible Fishing Pocket – The MOLLE compatible semi‐rigid foam fishing pocket is for the Elite™ Series, DLX and REV Young Adult PFDs which allows for versatile configuration of required accessories.
These additions support Mustang Survival's mission to evolve flotation from basic safety equipment into performance equipment for the most avid anglers. Those familiar with the brand will have noticed some recent refinement in the brand's presentation to better reflect this evolution, including a new logo, packaging and modern design philosophy. For almost fifty years, Mustang Survival has been engineering high‐performance marine gear for military, coast guard and rescue personnel. With a focus on applied research and field‐testing, the brand remains steadfast in its commitment to the protection and enhancement of those who push themselves to extremes.
Find Mustang Survival on the ICAST show floor at booth #2134, where the company will be hosting a cocktail event on Wednesday, July 13 from 4-6 p.m. Come join us and see the new collection, which can be found online at 
Mustangsurvival.com/2017
.
About Mustang Survival
Through constant innovation and inspired technical solutions, Mustang Survival strives to bolster performance, encourage exploration and inspire adventure in the marine environment. We are committed to the protection and enhancement of those who push themselves to extremes. Mustang Survival is part of The Safariland Group family of brands. For more information, visitwww.mustangsurvival.com.
Mustang Survival. Saving lives since 1967.
About The Safariland Group
The Safariland Group is a leading global provider of a diverse range of safety and survivability products designed for the public safety, military, professional and outdoor markets. The Safariland Group offers a number of recognized brand names in these markets including Safariland®, ABA®, Second Chance®, Bianchi®, Break Free®, Protech® Tactical, Defense Technology®, Hatch®, Monadnock®,Identicator®, NIK®, Mustang Survival® and Med-Eng®. The Safariland Group's mission, "Together, We Save Lives", is inherent in the lifesaving and protective products it delivers. The Safariland Group is headquartered in Jacksonville, Florida.
For more information about The Safariland Group and these products, please visit 
www.safariland.com
.
The Safariland Group is a trade name of Safariland, LLC.
https://americanaoutdoors.com/wp-content/uploads/2017/02/unnamed.jpg
333
400
Shelley Giesecke
https://americanaoutdoors.com/wp-content/uploads/2023/06/cropped-AO-Logo_512x512.png
Shelley Giesecke
2016-07-14 16:20:03
2017-02-24 17:20:04
Mustang Survival Debuts Spring 2017 Flotation at ICAST Trade Show