Cabela's National Walleye Tour Continues Season at Leech Lake, Minnesota
MOUNTAIN HOME, Ark. – Competitive walleye anglers will converge on Leech Lake, at Walker, Minnesota, June 12-13 for the second regular-season event of the 2015 Cabela's National Walleye Tour. The tournament circuit features a pro-am style format and guarantees over 100% payback.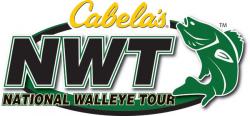 The Leech Lake event begins Thursday, June 11, with tournament registration from 2-4 p.m. at Northern Lights Hotel and Casino (6800 Y Frontage Rd. NW, Walker, MN 56484) with a mandatory pre-tournament meeting set to start at 5:00 p.m. Pro and co-angler pairings will be announced at the pre-tournament meeting.
Anglers will launch Friday and Saturday mornings at 7 a.m. from the Walker City Park (211 Second St. North, Walker, MN 56484) and return to the park for weigh-ins at 3 p.m.
All anglers fishing the NWT Leech Lake event are required to have an "official" inspection prior to launching in Leech Lake. A special Inspection station (at Northern Lights Casino) has been established to make this process easy for NWT anglers. If you arrive prior to June 3 or after June 7 you will be required to call DNR to make special arrangements for inspection. Anglers can reach the DNR at (218) 739-7578, ext. 259.
The National Professional Anglers Association (NPAA) will also host a "Future Angler" program for children after Saturday's weigh-in, at approximately 4:15 p.m., featuring an educational seminar and training for youth from top-notch NPAA members. The youth-orientated event will include a free rod/reel combo or "Future Pro" t-shirt for the first 100 children who attend the educational program.
Children attending the "Future Angler" program will also have the chance to see Smoky Bear and learn about wildfire prevention from 3:30 to 5:00 p.m. on Saturday as well.
Anglers who are participating in any of the numerous contingency prize programs are encouraged to submit all pertinent information before the event to remain eligible for any potential bonus money. To check status, anglers are encouraged to call 612-424-0708 prior to the event.
The NWT would like to thank the Leech Lake Chamber of Commerce, Leech Lake Tourism Bureau and Northern Lights Casino and Hotel for their contributions and assistance.
Each NWT tournament features over 100% payback. A fully rigged Ranger Boat, plus cash, is guaranteed for first place at each event – a total value of $61,000. Anglers that fish all three regular season events, in addition to the top points leaders, will qualify for the three day, entry-fee championship.
The tournament circuit also includes unprecedented television and media coverage, allowing a national audience to watch the action unfold from each event throughout the season. Airing on multiple networks, the National Walleye Tour will be seen on FOX Sports, and Pursuit Channel, as well as the NBC Sports Network.
For more details, anglers are encouraged to call 612-424-0708 or 501-317-7548 or check out the new website at www.nationalwalleyetour.com. From here, site visitors can register for events, view the contingency programs and TV schedule and learn more about what's in-store for 2015.
2015 NWT scheduled events:
June 12-13 – Leech Lake (Walker, Minn.)
July 24-25 – Green Bay (Green Bay, Wis.)
Championship – September 17-19 – Devils Lake (Devils Lake, N.D.)
https://americanaoutdoors.com/wp-content/uploads/2017/02/Americana-Outdoors-NWT-National_Walleye_Tour_Featured.png
333
400
Shelley Giesecke
https://www.americanaoutdoors.com/wp-content/uploads/2017/11/AmericanaOutdoors_GarminWhite_Low.png
Shelley Giesecke
2015-06-22 13:46:43
2017-02-27 18:18:41
Cabela's National Walleye Tour Continues Season at Leech Lake, Minnesota