Texas Team Trail Concludes Season at Lake Palestine
Winning anglers take home more than $48,000 in cash and prizes 
NORMAN, Okla. – Rob Burns, of Plano, Texas, and Mike Burns, of Lucas, Texas, walked away with a prize package worth over $48,000 for winning the championship event of the 2015 Texas Team Trail presented by Cabela's on June 14. The two-day event, being held on Lake Palestine, came complete with a fully-rigged RangerZ119C, Evinrude 225HP outboard and an additional $1,425 of Anglers Advantage money for a total prize package worth $48,425.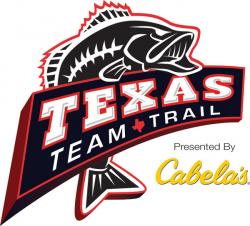 With over 60 years of combined competitive fishing experience, the team expected a shallow bite for this event and concentrated their efforts on the north end of the lake.
"We fished the shallow pond weed, milfoil and stumps around five-to-eight feet with frogs and crankbaits," Rob Burns said.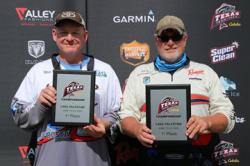 The anglers brought in 17.62 pounds on day one and sat in thirteenth place. Day two proved to be more fruitful for the anglers, which brought in a heavy bag of 23.94 pounds, rocketing them into first place with a combined total of 41.56 pounds.
"It was a great event and is always run well," said Rob Burns. "We missed a big fish but still had enough to win."
Second-place finishers Tim H. Wilcoxson, of Edgewood, Texas, and Tim P. Wilcoxson, of Rockwall, Texas, weighed a two-day total of 40.90 pounds to win a Ranger Z119C powered by a Evinrude 150HP and $1,045 in Anglers Advantage cash.
After day one, the team sat in second place with 23.86 pounds. The day two total of 17.24 was not enough to fight off the hard-charging team of Rob Burns and Mike Burns. The anglers fished the north end of the lake in shallow brush with Strike King Craws.
James Martin, of Longview, Texas, and Terry Stevens, of Austin, Texas, brought 39.15 pounds of bass to the scales to take home the $1,755 third-place prize and added $950 in Anglers Advantage cash and a $250 Ranger Cup bonus.
The team ran into a bit of rain each day but it didn't affect their strategy.
"The wind was more than we expected but it was expected and set up perfect," said Martin.
Martin and Stevens ran between two spots on the lake, one north and one south.
"We fished up shallow with Rage craws and Strike King frogs," said Martin. "Down south, we were cranking offshore points with a Strike King 6XD."
The anglers' day one total of 16.44 pounds left them in eighteenth place and a long shot to make it into the top three. Martin and Stevens fished hard on day two and managed a 22.71-pound, five-fish limit that put them on the podium.
"We had a good event," said Martin. "We missed a few fish that could have won us the tournament. We had a couple of bites that could have helped, but I am sure that happened to everyone. Overall, it was a great tournament and we are happy with it."
The Lucas Oil Team of the Year was decided at the event as well. Jerrel Pringle and Jerry Dolezal finished thirteenth in the championship event to edge out Team of the Year leaders Russell Cecil and Todd Castledine by six points. Pringle and Dolezal were awarded a pair of custom rings and paid 2016 entry fees, courtesy of Lucas Oil.
Texas Team Trail events are made possible through the sponsorship and continued support of these well-respected brands: Cabela's, Ranger Boats, Lucas Oil, Evinrude, RAM, Mercury, Minn Kota, Triton Boats, Power-Pole, Amphibia, Arctic Ice, Stratos Boats, Lowrance, Navionics, Protect the Harvest, General Tire, SuperClean, Mustang Survival, iON Cameras, Garmin, Valley Fashions, T-H Marine, Atlas, G-Juice, Powertex Group.
For full results, please go to www.texasteamtrail.com/tournaments/events-results.
https://americanaoutdoors.com/wp-content/uploads/2017/02/Americana-Outdoors-Texas_Team_Trail.png
333
400
Shelley Giesecke
https://americanaoutdoors.com/wp-content/uploads/2023/06/cropped-AO-Logo_512x512.png
Shelley Giesecke
2015-06-17 17:11:00
2017-02-27 18:03:39
Texas Team Trail Concludes Season at Lake Palestine