TenPoint Crossbows Carbon Nitro RDX Crossbow Package – A Shot of Adrenaline for Your Arrow
Winner of the 2016 Field & Stream "Best of the Test" Award and Petersen's Hunting Editor's Choice Award, the Carbon Nitro RDX is a perfectly balanced precision hunting machine. This premium level reverse draw crossbow features our ultra-light carbon fiber barrel and an innovative adjustable C3 carbon stock. Its RDX bow assembly measures a remarkable 10-inches axle-to-axle when cocked and delivers a vicious hit up to 385 FPS.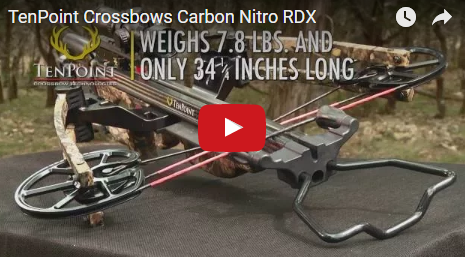 The Field & Stream "Best of the Test" awards program is designed to find and honor the absolute best new and innovative products in hunting and fishing each year. Editors Scott Bestul & Will Brantley noted, "At just 10 inches axle-to-axle, the RDX was certainly the handiest when cocked. Combine that with plenty of power, and impeccable fit and finish (not to mention very good looks), and the numbers added up to Best of the Test honors."
"We are honored that Field & Stream has chosen TenPoint for this prestigious award," said TenPoint CEO Rick Bednar. "We are constantly pushing technology, design and performance to the next level and the Nitro is yet another example of this."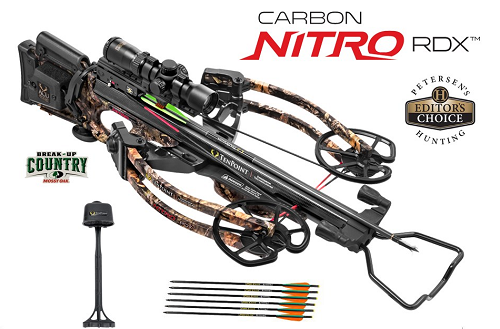 The Petersen's Hunting Editor's Choice Awards are the best-in-class products. These products must embody the ideal combination of quality, craftsmanship, ingenuity, and value. Hundreds of products are thoroughly tested by staff writers and editors in real-world conditions. The just-released 2016 Annual Gear Issue of Petersen's Hunting reveals impressive data that equally compared crossbow models qualifying for this award.
"We stand truly honored that our new Carbon Nitro RDX was chosen for the Petersen's Hunting Editor's Choice Award," said Rick Bednar, President, Chairman, and CEO. "We designed this crossbow to offer our customers a true premium level reverse draw crossbow option, and they have been most impressed with how smooth the bow handles and performs."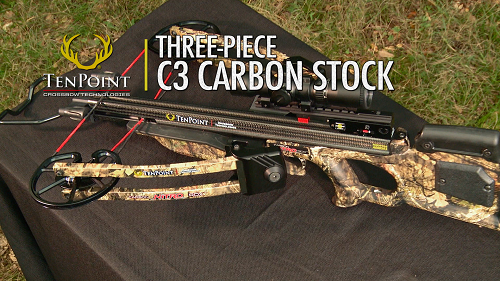 The Carbon Nitro RDX is one of four new crossbows from TenPoint in 2016 and features their highly successful wrapped carbon fiber barrel and a newly engineered carbon-fiber-infused polymer stock. The 20-inch wrapped carbon fiber barrel dramatically reduces weight, noise, and vibration. It is equipped with a 4 ½-inch bullpup version of the company's 3 ½-lb. T3™ auto-engaging safety trigger housed in a lightweight machined aluminum trigger box. Its weaver-style dovetail is fitted with a nylon-filament arrow retention brush that improves arrow grip and alignment to further reduce noise and vibration. The three-piece C3™ stock also reduces weight, vibration, and noise, and is fitted with an adjustable cheek piece (comb) and butt plate to create perfect eye-level alignment and length-of-pull.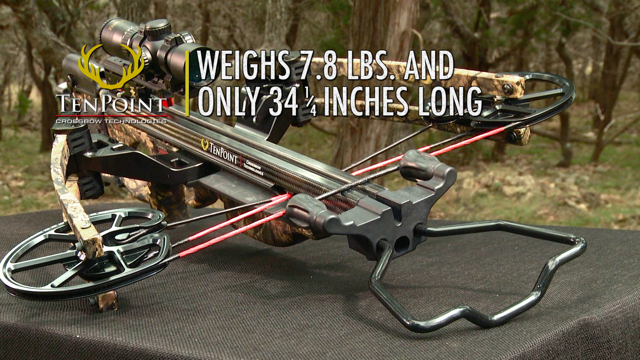 The ultra-narrow RDX bow assembly measures 10-inches axle-to-axle when cocked. Its machined, lightweight aluminum riser is fitted with TenPoint's Over-the-Top limb pocket and Zytel® Limb Suspension System that both separates and isolates the limbs from direct contact with the riser to reduce sound and vibration. The bow assembly's 13-inch 165-pound limbs are powered by the bow's custom RDX Cam System™ and DynaFLIGHT 97 string and cables.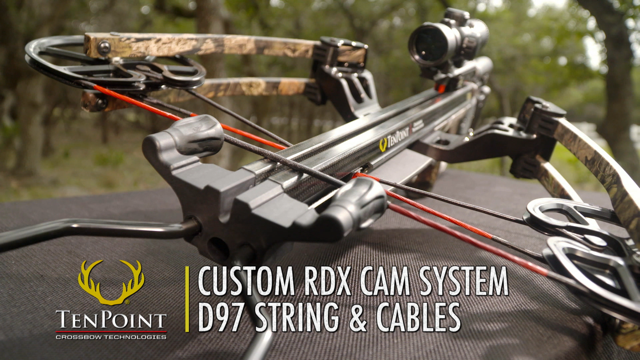 The bow and stock assemblies combine to create a perfectly balanced precision hunting machine that weighs 7.8-pounds, measures only 34.25-inches long, and shoots a supercharged 385 feet per second.
In addition, like all TenPoint models, this model is equipped with rubber safety wings that help prevent a shooter's fore-grip fingers and thumb from moving above the flight deck while shooting the crossbow.
Equipped with the patented ACUdraw™, or packaged with the NEW Dedd Sled 50™ cocking mechanism, and illuminated RangeMaster Pro™ Scope, the Carbon Nitro RDX is double-dip fluid imaged in Mossy Oak Break-Up® Country™ camo and sells only as a complete package.
Also Included:
Ambidextrous Side-Mount Quiver Bracket
Six-pack of TenPoint Pro Elite carbon arrows with 100-grain practice points
TenPoint's exclusive RDX String Stop System
Owner's Instructional DVD
TenPoint vehicle window sticker
Carbon Nitro RDX MSRP: $1,599 with Dedd Sled 50 or $1,799 with ACUdraw.
For more information or to find a dealer near you go to:
Find us on Facebook:
On Instagram:
On Twitter:
https://americanaoutdoors.com/wp-content/uploads/2017/02/TP-Nitro-2.jpg
320
480
Shelley Giesecke
https://www.americanaoutdoors.com/wp-content/uploads/2017/11/AmericanaOutdoors_GarminWhite_Low.png
Shelley Giesecke
2016-05-30 19:25:53
2017-02-24 18:38:50
TenPoint Crossbows Carbon Nitro RDX Crossbow Package – A Shot of Adrenaline for Your Arrow