Cabela's Pro Clark Wendlandt Breaks Down Tournament Waters
By Cody Levy
Tournament angling at its core is all about finding the biggest fish throughout the tournament waters to bring into the scales. Whether the tourna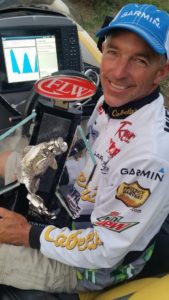 ment winning fish are two miles from takeoff or 40 miles from takeoff, there will always be anglers tracking them down and making the run to try and fill their livewells, no matter the risk.
Anglers competing in the 2016 BoatUS Collegiate Bass Fishing Championship Presented by Cabela's now have the opportunity to compete on over 70 miles of fishable tournament waters, stretching between Wilson and Pickwick Lakes. Just recently, Cabela's and Garmin Pro, Clark Wendlandt, competed on this exact stretch and has some words of wisdom to offer the BoatUS Collegiate Bass Fishing Championship Presented by Cabela's field of competitors.
During the FLW event, Wendlandt chose to lock up to Wilson Lake during the tournament, but was unable to make it back to weigh in along with many other competitors, due to a barge taking precedent in the lock schedule at that time. In Wendlandt's 28 year professional fishing career, not once has the angler been late or missed a weigh in, but on the Tennessee River, barges are the main priority, making the decision to lock up to Wilson Lake a risk.
"Bass tournament fishing has always been such that you always have to get back to the takeoff at a certain time or else you will be counted late and that's always been an inherent part of bass fishing," said Wendlandt. "When you lock to Wilson, you are taking a risk with going through a mechanical structure. In the recent FLW event I fished on Pickwick, they did give us lock times, but a barge came through the lock which needed to be taken apart which caused the lock to basically be shut down to all anglers for about six hours, and there's nothing you can do."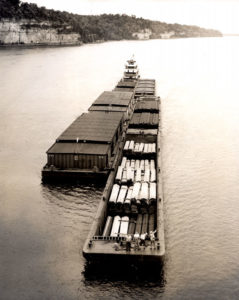 Wendlandt added that "in my opinion, you can find the fish to actually win the tournament on in Wilson, but it is a risk and you may not get back. In 28 years of my competitive fishing career, I've never been late and I've been through many locks, but being late can happen and it happened to me just this past week."
Choosing to lock to Wilson Lake is simply a risk versus reward scenario. Wendlandt was able to break down both lakes and explain the differences between the two to better provide anglers with information to make the decision to lock or not.
"I think there will be potential for quality shallow and deep fish. The past four years at this event has been dominated deep. This year, even though a deep pattern might dominate again, shallow will play a bigger role because there is a lot more hydrilla on Pickwick Lake this year," said Wendlandt. "Grass is growing from four feet out to around eight or ten feet, which I still consider shallow on this lake. I think it will be a lot easier for guys to come in and find a good pattern with that grass."
Known for its miles of ledges, many anglers have found that summertime on Pickwick Lake can be an absolute slugfest. This summer, anglers might come back to an even more versatile Pickwick Lake due to the increase in vegetation.
"Pickwick is considerably different because of that factor right there," said Wendlandt. "Basically the upper half of that lake has hydrilla flats all over it and it has potential to play into the tournament. To me, it makes the lake a whole lot more dynamic and now there are a lot more ways to catch fish rather than just the few popular ways people have caught them in the past."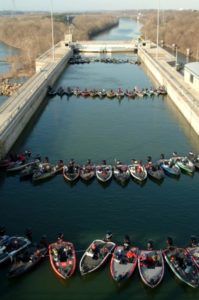 With the addition of Wilson Lake to the tournament waters, anglers will have the opportunity to experience ever more versatility.
"Pickwick Lake has many, many flats and flat areas which constitute the ledges, but Wilson Lake on the other hand, even though it does have some flats, most of that lake comes off a lot deeper and is just more of an impoundment," said Wendlandt. "Wilson has a lot more potential to have fish closer or more associated with the bank, such as docks or water willow, whereas on Pickwick, fish will be more associated with ledges or rock piles offshore."
Though Wendlandt only spent one of his tournament days on Wilson Lake and the other on Pickwick, he believes that anglers should fish to what they are confident in, whether that is on Pickwick or Wilson Lake.
"I believe you should spend a day on Wilson during your practice if that is a lake you might like, but know going into the event that there is a possibility that you might not get back," said Wendlandt. "Sometimes to win a big tournament, you have to have some risk, and if you find the winning fish on Wilson, I don't see a reason not to fish there."
Wendlandt's top three baits for this event are listed as follows:
Big Spinnerbait
Deep Diving Crankbait
Carolina Rig with a Creature Bait
Don't miss out on your opportunity to compete in the longest running collegiate fishing tournament series championship ever! Sign up today and we'll see you at the 2016 BoatUS Collegiate Bass Fishing Championship Presented by Cabela's in Florence, Alabama!
To see additional coverage on our Facebook, click here: https://www.facebook.com/CollegiateBassChampionship
Also, follow us on Instagram and Twitter at @CollegiateBass
About the ACA
The Association of Collegiate Anglers, a division of Careco TV, is a sanctioning body developed to facilitate growth, development, and structure within competitive collegiate bass fishing.  The ACA provides support to dozens of school operated regional events nationwide and owns the Cabela's Collegiate Bass Fishing Series, the largest participatory collegiate tournament circuit in the country. With dedicated collegiate fishing programming on several television networks, three nationally televised collegiate bass fishing events, and thousands of members, the ACA is the leader in competitive collegiate bass fishing.  For more information on the ACA, or the Cabela's Collegiate Bass Fishing Series, visit www.CollegiateBassChampionship.com. For more information on Cabela's visit Cabelas.com, for more information on CarecoTV, visit www.carecotv.com.
https://americanaoutdoors.com/wp-content/uploads/2016/09/Americana-Outdoors-Garmin-Hunting-Fishing_CollegiateBassFishing_Featured.png
333
400
Shelley Giesecke
https://www.americanaoutdoors.com/wp-content/uploads/2017/11/AmericanaOutdoors_GarminWhite_Low.png
Shelley Giesecke
2016-05-16 18:35:17
2017-03-07 14:10:43
Cabela's Pro Clark Wendlandt Breaks Down Tournament Waters