Hobie Names Top Gun Fishing Team
Repeat IFA Kayak Tour champion Benton Parrott is arguably the most decorated tournament angler in Hobie® kayak fishing history. Jeff Anderson has more than 50 million YouTube views to his credit. Quinton Echols is a literal life saver, a firefighter / paramedic who chases bass to burn off the stress of difficult job. Kevin Workman is a kayak hawg hunter who beats powerboaters at their own game. They join nine other elite kayak anglers on Hobie Fishing's 2016 Top Gun team.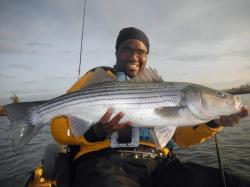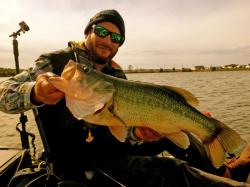 "The Top Guns are hand-selected fishing team members that have gone above and beyond. They are renowned for their skills on and off the water as anglers and as Hobie representatives," says Kevin Nakada, Hobie Fishing Team Coordinator.
Every 2016 Top Gun lives and breathes kayak fishing, and all of them have a gift for showcasing their particular corners of the sport. Beginning in February, they will share their know-how in weekly stories published on the Hobie Fishing Top Gun page. With Top Guns spread far and wide across North America and Hawaii, the topics are sure to be diverse.
Two-time Top Gun Brandon Barton is a skilled bull red technician. Fellow Floridian Matthew Vann is an inshore and offshore double threat. Shawn Barham braves the chilly waters of New England for marauding stripers. Southern Californian Larry Laumann is so driven and adventurous he started his saltwater fishing career long ago as a teen on a body board.
"Looking back, I really wish I had found the advantage of sit-on-top kayaks then," Laumann says, but it didn't take him long to catch on to the ease of beach launching – as well as the value Hobie's unique form of pedal power, which means never having to put down a fishing pole while under way. "About 2005, the advantages of the MirageDrive® sunk into my brain. I'm sure I was one of the first La Jolla area kayak fishermen shooting across the water on a Hobie," he adds.
2016 Hobie Fishing Top Gun Kevin Workman with one of his hawgs.
For Christina Weber, achieving Top Gun status is a lifelong dream come true. The south Floridian has always wanted a career in fishing (getting started in tournament fishing at just age 15 will cause that). She says kayak fishing is pure serendipity, a boat that can take her anywhere and everywhere, at just the right speed. "I almost can't stand to be on a powerboat. All I see are missed opportunities blasting by at 60 mph," she says.
For Anderson, man of the 50 million YouTube views, sharing the stoke for kayak fishing gets his heart pumping almost as much as a hot salmon ripping line off a reel. The surprises are a bonus. "I joined some good friends on a halibut fishing trip in Washington State and ended up with video footage of a large octopus that became the most viewed fishing video on Youtube," he says with an air of disbelief.
The Uyeda Brothers – the inseparable Kevin and Gareth – venture far offshore of Oahu on their Mirage® Tandem Island to tangle with powerful billfish. What makes them Top Guns?
"I guess like Maverick and Goose, we can handle being together in one craft without killing each other and we can be a little bit unorthodox in our ways," says Kevin Uyeda in his typical lighthearted style. These Top Guns know how to have fun. -Paul Lebowitz
The 2016 Hobie Fishing Top Guns
Jeff Anderson, Oregon
Shawn Barham, Connecticut
Brandon Barton, Florida
Quinton Echols, Ohio
Larry Laumann, California
Brad Hole, Washington
Benton Parrott, Alabama
Matthew Vann, Florida
Gareth and Kevin Uyeda, Hawaii
Christina Weber, Florida
Robert Wendel, Wisconsin
Kevin Workman, Nebraska
https://americanaoutdoors.com/wp-content/uploads/2017/02/unnamed.jpg
333
400
Shelley Giesecke
https://americanaoutdoors.com/wp-content/uploads/2023/06/cropped-AO-Logo_512x512.png
Shelley Giesecke
2016-01-20 18:59:18
2017-02-15 19:19:44
Hobie Names Top Gun Fishing Team