The Legend of Ole Two Shot
By Jeff Reynolds
Well I've been fortunate enough to go on quite a few hunting trips with my good buddy Steve Nessl from Yamaha Outdoors and I've seen him take some great deer, BUT, I've also got to see a few mishaps along the way, which happens to all of us hunters.
On this particular hunt, we got to hunt a new piece of property, which Steve and I were very excited about! On the first evening we got eyes on a deer with split G2's, which got Steve very excited to say the least. It turns out that the deer didn't hang around for very long so Steve never got a shot at him. The next couple of days we had bad winds for that stand so we hunted other stands and saw some nice deer… but Steve was still thinking about the split G2 buck.
Finally we got the right wind and we were back after him in the same stand. Not long into the evening the buck shows up and then this is where things get interesting.  After watching the deer for several minutes go in and out and around the brush he finally gives Steve the shot. With both of our nerves shot, he finally squeezes the trigger… and WHIFF!!! Right over his back.
Well to say Steve is frustrated is an understatement. I try to offer some words of encouragement and tell him the deer might come back, but he didn't seem to think so. Well low and behold I look to my right and here he comes, back into range! Steve thinks I'm joking until he looks and sees him with his own eyes.
The deer walks right back in front of us and Ole Two Shot gets another chance and doesn't make the same mistake twice and drops the deer right in his tracks. One thing about hunting with a camera on you, is that you can't hide anything from hits to misses. After some congratulations at camp the ribbing started and out comes the nickname Ole Two Shot.
Click below for the full video!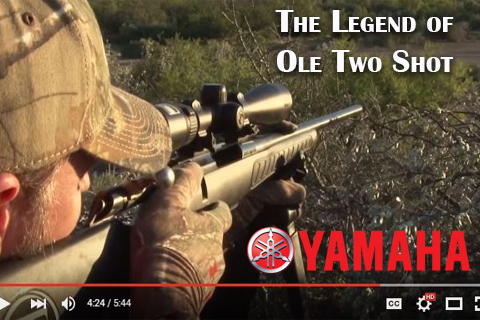 https://americanaoutdoors.com/wp-content/uploads/2017/02/unnamed.jpg
333
400
Shelley Giesecke
https://americanaoutdoors.com/wp-content/uploads/2023/06/cropped-AO-Logo_512x512.png
Shelley Giesecke
2015-11-11 18:39:09
2017-02-17 19:12:05
The Legend of Ole Two Shot