Ranger Pro Mark Courts Wins NWT Angler of the Year
FLIPPIN, AR After sixteen years of professional fishing, Ranger Pro Mark Courts can finally add one of the most coveted awards in the sport to his trophy case. The Harris, Minn., native was named Cabela's National Walleye Tour (NWT) Angler of the Year following a season highlighted by consistent placement in the Top 25 at each event. Courts clinched the title at last week's NWT Championship event at Devils Lake, N.D.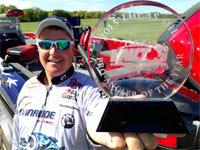 With numerous tournament wins and a few second place finishes in other Angler of the Year races already to his credit, the NWT title proved very special.
"Winning means the world to me, to put it plain and simple," said Courts. "To finally get it after 16 years, it just means the world."
Courts decided to attack the 2015 schedule and become more aggressive with his tactics. The dividends were clear and consistent.
"I fished a bit more aggressive than I typically do," said Courts. "The one thing about tournament angling is there is always decision making involved. All of these decisions have to work out and this year it did. Mentally, this sport beats (a lot of) anglers. I have really worked over the last couple of years to get my mind right when I am out on the water and not worry about what's going on around me."
Along with developing a mental toughness, Courts attributes much of his on-water success to his Ranger 620FS.
"I would say one of the biggest advantages to my new FS-Series Ranger is the ability to be efficient," said Courts. "There's tons of storage. I try to keep really organized and with the changes to the FS this year, it definitely made a difference."
In addition to the new storage capabilities, Courts gave praise to the new hull design of the 620FS, which is designed for superior stability and straight tracking.
"I'm running the 620FS with an Evinrude G2 on the back," said Courts. "That package, by far, was the best performing boat on tour this year. Whether it was big water or making long runs, that combination was a huge success. But it comes back to efficiency on the water."
Courts is finished with competitions for the year but is already looking forward to defending his title next year.
"Mark's had an amazing career and has been a key part of our pro staff for many years," said Ranger Boats President Randy Hopper. "It's great to see him have the success he's had this year on tour. He's a phenomenal angler and great representative for our brand. Knowing his work ethic, he's already busy preparing for next year."
The Cabela's National Walleye Tour will kick off the 2016 season in April and will include 3 qualifying events and a year-end Championship. Dates and locations should be announced soon.
About Ranger Boats
Headquartered in Flippin, Ark., Ranger Boats is the nation's premier manufacturer of legendary fiberglass and aluminum fishing boats, which include series of bass, multi-species, fish 'n play, waterfowl utility and saltwater boats. Founded in 1968 by Forrest L. Wood, Ranger Boats continues its commitment to building the highest-quality, strongest-performing boats on the water. For more information, go to RangerBoats.com.
https://americanaoutdoors.com/wp-content/uploads/2017/02/Americana-Outdoors-NWT-National_Walleye_Tour_Featured.png
333
400
Shelley Giesecke
https://www.americanaoutdoors.com/wp-content/uploads/2017/11/AmericanaOutdoors_GarminWhite_Low.png
Shelley Giesecke
2015-09-28 19:01:04
2017-02-27 17:59:33
Ranger Pro Mark Courts Wins NWT Angler of the Year