Muddy the New Mitigator Dual-Network Cell Camera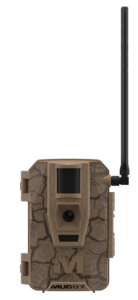 Irving, TX – The best price-to-performance cellular trail camera has arrived, and it is called the Mitigator. The Mitigator from Muddy represents the company's latest innovation in wireless cameras, and it does so at a price that fits any budget.
The no-nonsense Mitigator delivers everything a hunter needs to inventory and pattern trophy bucks and nothing they don't. More importantly, it offers unrivaled and always reliable cellular connectivity by tapping into the two primary wireless carriers in the country—AT&T and Verizon.
To do this, the Mitigator comes pre-configured for AT&T and Verizon wireless carriers. Utilizing an auto detect feature that identifies the strongest signal, the Mitigator simply connects to the carrier with the best signal to ensure uninterrupted contact with the camera through the Stealth Cam Command Pro App. With the Command Pro App and continuous connection to the optimal cellular signal, hunters can quickly download high-quality still images direct to their mobile device. What's more, they can also acquire photos of their hunting area by sending an ON DEMAND command to the Mitigator to capture images and send them to their phone.
In addition to its exceptional wireless connectivity, the Mitigator doesn't slack off when it comes to imaging performance. The camera's 80-foot detection and flash range mean wide coverage of a hunting area so the big ones don't slip by unnoticed. Programmable photo burst and timeout recovery allow the user to customize the image captured to best suit all site-monitoring needs.
The Mitigator comes housed in a rugged and discreet tree bark-style chassis with a 1/4-20 threaded insert for custom mounting and a Python lock latch (lock not included) to keep the camera safe in the field.
Muddy Mitigator Specifications
Network Compatibility: dual network – AT&T and Verizon w/pre-installed SIM cards
Illumination/Detection Range: 80 ft.
Photo Resolution: 20MP / 8MP / 4MP
Photo Burst: 1 to 3
App Compatibility: Stealth Cam Command Pro
Remote Operation: ON DEMAND photo / video capture
Data Stamp: time/date/moon phase/temperature/camera name
Recovery Timeout: 5 sec. to 180 sec.
Included: integrated Python lock latch
MSRP: $99.99
For more information on Muddy's new Mitigator dual-network trail camera, visit shop.gomuddy.com.
For any additional questions or inquiries, please email marketing@gsmorg.com. Or, if you'd like to check out the entire family of GSM brands, please visit www.gsmoutdoors.com. We look forward to earning and keeping your business!
About GSM Outdoors:
Few American outdoor companies enjoy a mutually respected relationship with their customers that spans over five generations. GSM Outdoors is among those few! For over 70 years, the GSM family of brands has been helping passionate hunters and shooters succeed through innovation and the manufacture of high-quality, reliable products that continue to prove themselves in the field and on the range to this day. GSM Outdoors continues to leverage the latest technology and provide customers with the best products on the market. Tradition, heritage, and loyalty to outdoor enthusiasts of generations past and generations to come…that's the GSM Outdoors guarantee!
Stealth?Cam?Walker's?Muddy?Birchwood-Casey TekMat??Boss Buck?New Archery Products (NAP)?Western Rivers?Hawk?
Big Game?Down & Out Blinds by Hawk?HME?Coyote Light?Scent Slammer SME Bullseye Crossfire Holsters?Cyclops?Viking Solutions?
Hunters Specialties?TRUGLO?APEX Gear? Johnny Stewart?Cold Steel Ameristep Avian X Bloodsport??Evolved?Flextone?Halo Optics Tenzing?
Wildgame Innovations?Zink Gary Yamamoto Custom Baits SOG Specialty Knives & Tools Bill Lewis Buckeye Lures SteelShad HuntStand
https://americanaoutdoors.com/wp-content/uploads/2023/01/11427741_10153277878040325_5276182264005672113_n-1.jpg
500
500
Angel Middleton
https://americanaoutdoors.com/wp-content/uploads/2023/06/cropped-AO-Logo_512x512.png
Angel Middleton
2023-01-23 21:02:00
2023-01-23 21:02:00
Muddy the New Mitigator Dual-Network Cell Camera