The University of North Alabama Seizes Second Consecutive Cabela's School of the Year Title
Murray State University Claims Second and Tennessee Tech University Takes Third
By Cody Levy
SAN ANTONIO, Texas – The University of North Alabama (UNA) landed their second consecutive Cabela's School of the Year Title with a season destined for victory. The UNA team, compiled of over forty members, kept the Cabela's School of the Year race as top priority for the season and through their hard work, commitment and dedication, they are once again crowned as the Cabela's School of the Year.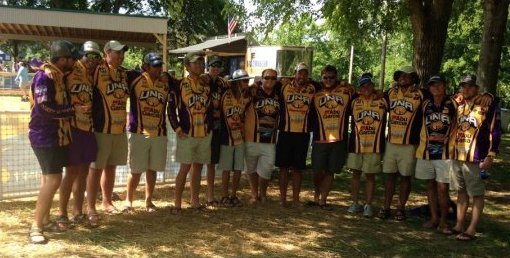 As the most prestigious title in the sport of college fishing, collegiate anglers know that in order to win the Cabela's School of the Year Title, schools must be on top of the leaderboard, not for a single tournament, but for tournaments all year round. The UNA Bass Team is no stranger to the top of the leaderboard as spectators and other competitors have seen that all year round in the Cabela's School of the Year Rankings.
When asked just how significant this title is, the Director of the Association of Collegiate Anglers and President of CarecoTV, Wade Middleton, said that "most people don't quite understand the significance of the competition and the title – this is the ultimate trophy of college fishing. In order for a school to win the Cabela's School of the Year Title, schools have to perform at their very best all year round, and not just one event, which is not an easy task.
The UNA Bass Team is beyond thrilled with their accomplishment and are proud to say that this has been what the team has desired since day one and to win the title two years in a row is an achievement that no other school has yet to accomplish.
"Honestly, winning it two years in a row is an awesome experience," said UNA Senior and Bass Team President, Dawson Lenz, "but we can't do it without our school. The school supports us and from that, we're able to travel and compete like we do. While we couldn't do it without our school, we also couldn't do it without the dedication from our team to compete day in and day out with the main goal of winning the Cabela's School of the Year Title."
"This is a feeling you kinda can't explain," added UNA Junior and Bass Team Secretary, Andrew Tate. "We've had such big increase in teams this year, in fact we almost doubled in size, but we all had this goal in mind. We had some struggles last year, but this year went smooth for us as a team and we were really able to get the ball rolling in the past few months to bring home the title."
As two veterans in the collegiate bass fishing world, Lenz and Tate want to create something to pass down to the team once they graduate.
"Since the beginning of this year, we wanted to create a dynasty for this team. We won the Cabela's School of the Year Title this year and last year and we sure as heck want to win it next year too. We're really excited about the new guys coming up as they are all so competitive and are really the future of the team," Lenz said.
Austin Mize, current freshman on the UNA Bass Team, is a prime example of who they want leading their team in years to come. Mize was a huge help to the club as he and his partner, Nathan Martin, finished fourth in the 10thAnniversary BoatUS Collegiate Bass Fishing Championship Presented by Cabela's, earning the team major Cabela's School of the Year Points to secure their lead in the rankings.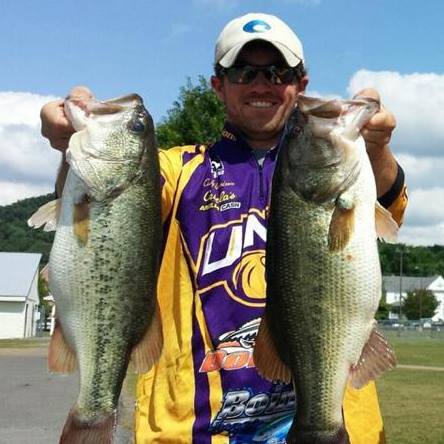 "Words really can't describe the feeling of winning this title. The high school team I had fished for four years was very successful as well and we had won our state competition each year I was there which I was lucky to be a part of, but it feels really good to jump from high school into a college program and continue to win, this time on a national level," Mize said.
"The new guys really surprised me this year. I thought they would be shy when it came to fishing tournaments, but they really stepped up and went all over the country without saying a word, which is what it takes to be great and win a title like this," Tate added.
When asked what the secret to winning the Cabela's School of the Year Title is, the three collegiate anglers all responded with three common themes: commitment, dedication, and a strong hunger for success.
"I wouldn't say there's really a secret to the win, but I would say we just want it more than anyone else," stated Tate. "We have a lot of self-confidence, it's not being cocky, but we know anything can happen throughout the day while we're fishing a tournament, like hooking into a six pounder in the final hour of the day that could change everything, where other teams may go put the boat on the trailer and call it quits."
"The guys on our team are just so committed to be competitive in the points race that they put up their own dollar just to compete," added Lenz. "While we're all really good friends, we always just want to beat each other on the water which is what really fuels our competitive nature in the points race."
Mize added that "the key to winning is just dedication and commitment. You have to be prepared to lose some sleep and know that school is still going on and you have to get your work done. It's a lot more difficult when you have to make up your work, but the whole team is there to back you up and be right there with you."
While most bass teams get together to compete on the water, Mize's statement that the team is always there to back each member of the team up is nothing but the truth. The UNA Bass Team is more than just a bass team, and Tate and the rest of the team wouldn't have it any other way.
"Our team is together one hundred percent of the time whether we're on the on the water or not. The team all lives with other members of the team and we're always eating together, watching TV, or even going bowling together. I hate to compare the team to Greek life, but I think we even have something even better than that," said Tate.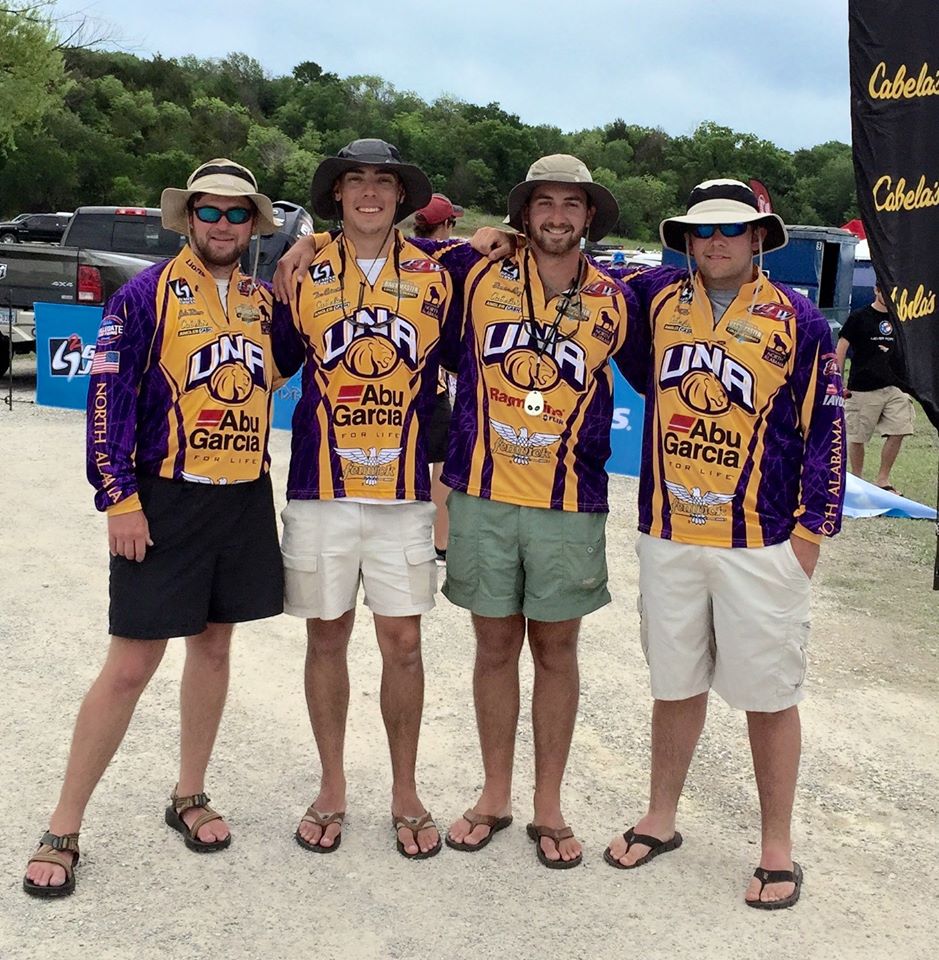 Looking forward, the UNA Bass Team only looks to get stronger as a team and continue to work their way to the top of the Cabela's School of the Year Title.
"I plan to keep doing the same thing every year – win the Cabela's School of the Year Title. I was a little bit intimidated when I came to the college level, but I know my skillset has gotten so much stronger over the past year, and I look forward to keep doing the same in the next three years," said Mize.
As one of many passionate members on the team, Tate explained how the UNA Bass Team is not just an extracurricular collegiate activity.
"Being a part of this team and this sport has taught me more than how to fish different bodies of water," said Tate. "It's taught me that you get what you put into something and that anything is possible. When I joined this team two years ago I was looking for something that I could really be passionate about, and I definitely found it. This team is the best thing that's happened to me and I thank God for the opportunity. Next year we will make a run at the title again in my senior year and we want it more than anything, I can assure you."
The remaining top 10 are listed as follows:
4. University of Louisiana Monroe –
5. Bethel University
6. Clemson University
7. Mississippi State University
8. McKendree University
9. Kansas State University
10. University of Tennessee Chattanooga
To see a list of complete School of the Year Rankings, click here: Cabela's School of the Year Rankings
To see additional coverage on our Facebook, click here: https://www.facebook.com/CollegiateBassChampionship
Also, follow us on Instagram and Twitter at @CollegiateBass
About the ACA
The Association of Collegiate Anglers, a division of Careco TV, is a sanctioning body developed to facilitate growth, development, and structure within competitive collegiate bass fishing. The ACA provides support to dozens of school operated regional events nationwide and owns the Cabela's Collegiate Bass Fishing Series, the largest participatory collegiate tournament circuit in the country.  With dedicated collegiate fishing programming on several television networks, four nationally televised collegiate bass fishing events, and thousands of members, the ACA is the leader in competitive collegiate bass fishing.  For more information on the ACA, or the Cabela's Collegiate Bass Fishing Series, visit www.CollegiateBassChampionship.com. For more information on Cabela's visit Cabelas.com, for more information on CarecoTV, visit www.carecotv.com.
https://americanaoutdoors.com/wp-content/uploads/2016/09/Americana-Outdoors-Garmin-Hunting-Fishing_CollegiateBassFishing_Featured.png
333
400
Shelley Giesecke
https://americanaoutdoors.com/wp-content/uploads/2023/06/cropped-AO-Logo_512x512.png
Shelley Giesecke
2015-06-30 15:41:56
2017-03-07 14:16:26
The University of North Alabama Seizes Second Consecutive Cabela's School of the Year Title