Northern Kentucky University Rallies to be Crowned Champions of 10th Anniversary BoatUS Collegiate Bass Fishing Championship Presented by Cabela's
The University of North Alabama and University of Louisiana Monroe Place Second and Third Respectively Earning Valuable Cabela's School of the Year Points
By Cody Levy
SAN ANTONIO, Texas – Northern Kentucky University takes the title of the 10th Anniversary BoatUS Collegiate Bass Fishing Championship Presented by Cabela's with 43.84lbs while the University of North Alabama clinches second with 43.70lbs and University of Louisiana Monroe moves to third place with 37.15lbs.
The championship event featured a range of weather patterns that kept all the anglers on their toes in searching for giant Pickwick bass. Fortunately the knowledgeable collegiate anglers were able to track down and catch impressive limits that would lead to the title of BoatUS Collegiate Bass Fishing Champions Presented by Cabela's.
Northern Kentucky University Cranks to Top Honors
With a previous victory already in the books in the Cabela's Collegiate Bass Fishing Series at Lake Chickamauga for the Collegiate Bass Fishing Open, Northern Kentucky University (NKU) fished through the championship event like winning in their blood and a part of who they are. The team of Brandon Houston and Brandon Knapmeyer, or "Brandon and Brandon," finished the championship with a two day total of 43.84lbs, only .14lbs ahead of second place.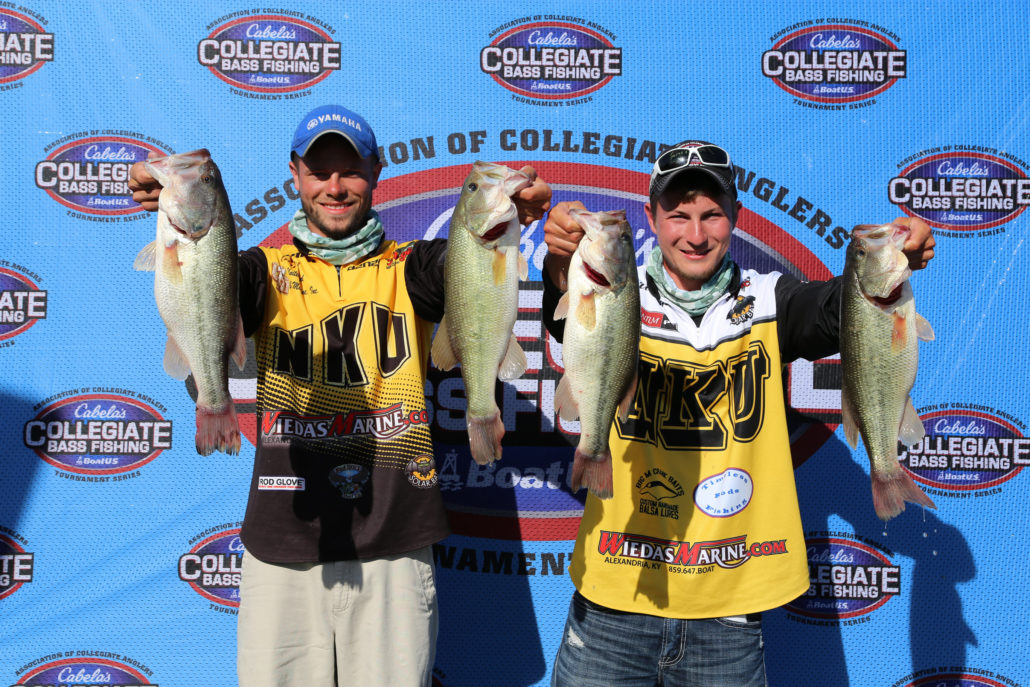 While the weather changed from clouds, high winds, and cold weather on Day 1 to sunshine, low winds, and high temperatures on day two, one constant was NKU's ability to locate and catch big bass.
"We couldn't ask for much better weather today," said Houston. "I don't think it really affected our fishing, if anything the calmer weather helped us fish better because we were able to get on our spots, stay there, and fish more effectively."
The team was able to keep a relatively close lure selection from Day 1 to Day 2 as they used deep diving crankbaits to fire their schools up.
"Yesterday we threw a lot of deep diving cranks, but today played out a little differently. [Brandon] caught some of our fish on a 10XD and other deep divers, but they wanted a bigger bait today with more rattles and that made a big difference," stated Knapmeyer.
"When the sun was out, we threw a swimbait too, which they didn't bite a whole lot of yesterday," added Houston. "When they do eat a swimbait, it's all about sight, so it was a great day to throw that as well."
To the team of Brandon and Brandon, winning this specific tournament went beyond any other. Houston started the club and is honored to be able to fish and win his last event in the 10th Anniversary BoatUS Collegiate Bass Fishing Championship Presented by Cabela's.
"To represent Northern Kentucky… it's just awesome," Houston stated. "I started the club probably four years ago, not knowing what college fishing was all about and four years later we're sitting here as National Champions down in Pickwick Lake in Florence, Alabama."
"We have big shoes to fill from now, and with two wins this season in the series, people will know about the NKU team and I'm excited that I still have a couple of years to fish for this team," added Knapmeyer.
University of North Alabama Seizes Second
With a total of 43.70lbs of bass over the two day event, the University of North Alabama (UNA) kicked the idea of a home lake curse to the side and proudly took home a second place prize. The team of Cody Harrison and Clint Fredrick were able to rack up valuable Cabela's School of the Year points.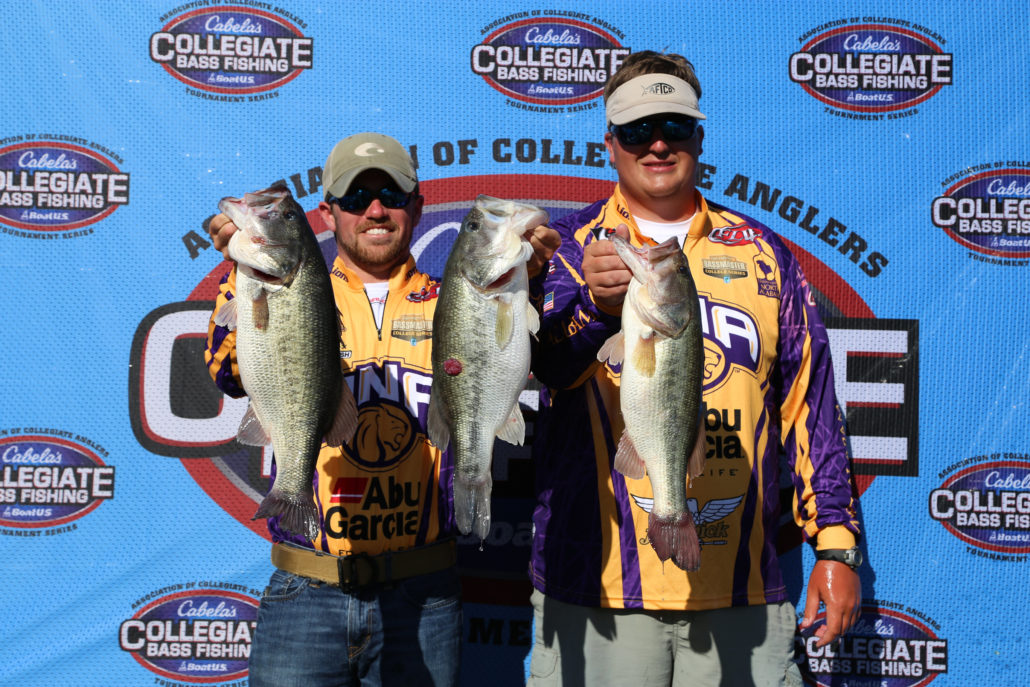 "We didn't think that we were going to even be close today, so that's the good news," Fredrick said, "but it was tough to lose by a tenth of a pound, but that happens, it's fishing, and congratulations to NKU. We're out here fishing against 160 boats with the best college anglers around so to it is truly a blessing to be out here."
The team seemed to have a tougher Day 2 even though the weather seemed much more promising than the first tournament day.
"Yesterday was dark and cloudy and extremely windy from the north and to be honest, I think they bit better yesterday than they did today even with the current they pulled this afternoon," Harrison said. "When it was dead calm, it was just tough, and even when they were pulling current, the fish just weren't sitting right, but it turned around and got better this afternoon."
The team fished big crankbaits, hair jigs, Carolina rigs, and spoons, among a myriad of rigged up rods on the deck of their boat. While the team was able to dial fish in, it was not on a set lure that the team could devote with all their time.
"We caught our fish cranking mostly, but it was a slow day and we really had to use the whole plethora of rods we had," said Fredrick.
The highly competitive UNA team treasured their second place victory today due to the massive gain in the Cabela's School of the Year points they will receive from this event keeping them in first place in the rankings.
"The championship is also a double points event in the School of the Year and to have two of our teams finish in the top five… it's big," declared Harrison. "The Cabela's School of the Year is very important to our team and it our finishes today will put us in a very good spot to win the title again."
"We had a lot of fun on the water all week, had a great week of practice, a lot of fun memories, and it doesn't get much better than that," stated Harrison.
The University of Louisiana Monroe Jumps into Third
The University of Louisiana Monroe team of Thomas Soileau and Jackson Blackett made the large leap in the leaderboard to land the team a third place finish in the 10th Anniversary BoatUS Collegiate Bass Fishing Championship Presented by Cabela's. The team landed in 18th place after Day 1, but was able to fish to their strengths on Day 2 and catch 20.59lbs for a two day total of 37.15lbs.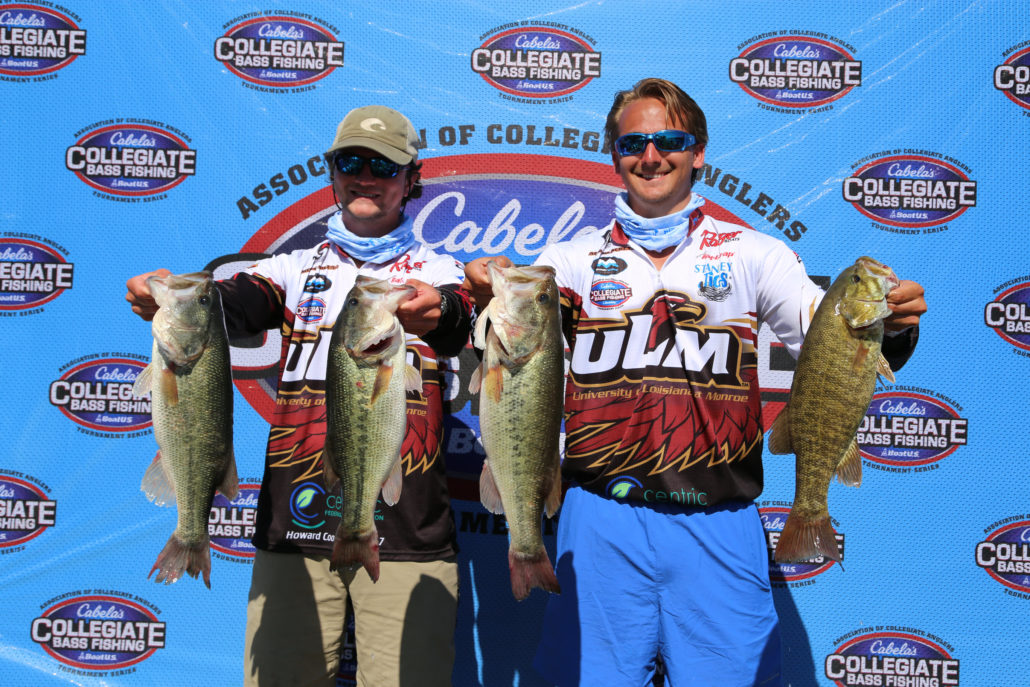 "Throughout practice it was a swimbait and jig bite," said Blackett. "Cold weather and clouds closed that bite down yesterday for us so we picked up a drop shot  and started dropping it down to fish on the graph and we caught every single keeper on the first day doing that, but they wouldn't bite the swimbait until today."
The team was quickly able to fish their original pattern, which was out on the ledges with swimbaits and crankbaits while they still utilized the drop shot to catch a solid part of their limit.
"We pulled up on a school and stuck one about six pounds on the very first cast today and Thomas stuck one about four pounds right after that," stated Blackett.
"Our two biggest fish were on a swimbait and a drop shot and then culled, culled, and culled again," stated Soileau. "I'm really happy with our weight today and we fished clean all day."
The ULM team has been known for years as an absolute powerhouse in the world of college fishing, and they proved it once again on Pickwick Lake as their three teams all finished in the top 20.
"As a team we fished really well. One of our teams flipped Cypress trees and did real well and the other got the 'Most Improved' and moved from 147th to 25th with 25lbs today," said Blackett. "It's really important that we all fish well because we want the School of the Year points."
"The program is important to the whole team and it's a big deal to all of us because it means your team is the best even on other teams' home lakes," added Soileau.
The team was very excited with their finish as the Junior and Senior team looked to the future.
"This is my fourth year and I've gotten consecutively better every time and I can't complain with that!" stated Blackett.
"This is my first year and I'm super happy to have finished in third but now we have to keep it going each year," said Soileau. "Next year, I have room to work to get to first place!"
Blackett and Soileau ended their interview with big grins, plaques in hand, and the team motto – "we thick."
More information to follow on the tournament in the week to come.
The remaining Top Ten teams from the 10th Anniversary BoatUS Collegiate Bass Fishing Championship Presented by Cabela's are as follows:
4. University of North Alabama – 36.61lbs
5. McNeese State University 36.40lbs
6. Oklahoma State University – 36.38lbs
7. University of Alabama – 35.26lbs
8. Bethel University – 34.88lbs
9. Auburn University – 34.32lbs
10. University of Evansville – 32.95lbs
To see the complete list of results, click here:  Tournament Results
To see additional coverage on our Facebook, click here: https://www.facebook.com/CollegiateBassChampionship
Also, follow us on Instagram and Twitter at @CollegiateBass
About the ACA
The Association of Collegiate Anglers, a division of Careco TV, is a sanctioning body developed to facilitate growth, development, and structure within competitive collegiate bass fishing. The ACA provides support to dozens of school operated regional events nationwide and owns the Cabela's Collegiate Bass Fishing Series, the largest participatory collegiate tournament circuit in the country.  With dedicated collegiate fishing programming on several television networks, four nationally televised collegiate bass fishing events, and thousands of members, the ACA is the leader in competitive collegiate bass fishing.  For more information on the ACA, or the Cabela's Collegiate Bass Fishing Series, visit www.CollegiateBassChampionship.com. For more information on Cabela's visit Cabelas.com, for more information on CarecoTV, visit www.carecotv.com.
https://americanaoutdoors.com/wp-content/uploads/2023/06/cropped-AO-Logo_512x512.png
0
0
Shelley Giesecke
https://americanaoutdoors.com/wp-content/uploads/2023/06/cropped-AO-Logo_512x512.png
Shelley Giesecke
2015-05-27 14:54:04
2017-02-27 17:06:32
Northern Kentucky University Rallies to be Crowned Champions of 10th Anniversary BoatUS Collegiate Bass Fishing Championship Presented by Cabela's