Pursuit Channel Upgrades to Pristine HD on DIRECTV
Friday, March 10th, 2017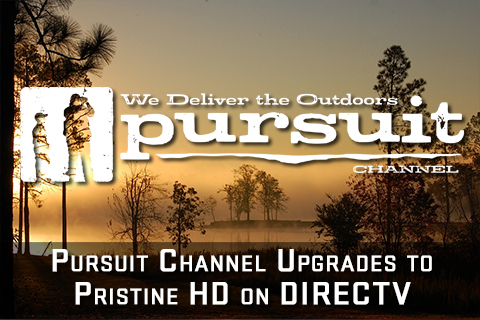 Glenwood, AL – America's overall distribution leader for network hunt, fish, shoot content has become a category leader in total HD delivery by positioning itself as the only outdoor network to deliver the full, crisp, brightness of high definition, available to each of the customers of DIRECTV. Channel 604 on DIRECTV now features Pursuit Channel HD.
"The process to rapidly add HD homes, and welcome millions of new homes to our HD signal, began in 2016, when Pursuit became the only outdoor network on the Verizon platform and nicely packaged on Centurylink, significantly adding Pursuit in full HD to our industry-leading distribution model," said Rusty Faulk, CEO of Pursuit Channel. "Switching our signal to full HD on DIRECTV is a milestone in our drive to deliver more quality HD content to more HD homes than any other outdoor network.
"And we're not through positioning Pursuit with even more HD distribution," he continued. "Separate from Pursuit's best-in-class OTT HD footprint, the addition of another cable distribution partner in full HD will be announced in the coming days; more distribution news is set to break within the next few weeks!"
"Adding targeted distribution and a flood of HD," said Dennis Presley of MOOSE Media, "should now provide a very visible sample base in which to more exactly audit Pursuit Channel, according to comScore, the outdoor category's most accurate ratings provider. So these tens of millions of new HD homes, together with millions of incremental cable homes, will give everyone a clearer picture of how well this network outperforms its competition – through the catalysts of increased picture quality, more precise viewership appraisals and patently lower costs."
Jamie Wilkinson, Vice President and Group Publisher of F+W, who recently spearheaded the move to bring the acclaimed Deer and Deer Hunting television series to Pursuit (as well as Destination Whitetail, Land of Whitetails and Modern Shooter) said: "Pursuit's drive to be the best equals our own efforts to serve America's outdoor enthusiasts with exceptional media products. This considerable investment by Pursuit is a big, big deal for the network, its large base of independent television producers, our advertisers and the entire outdoor community."
Echoing Wilkinson was Wade Middleton, the President of Careco TV, which produces Americana Outdoors, Deer Gear TV, Yamaha's Whitetail Diaries, Cabela's Fisherman's Handbook and several Ranger Boats' sponsored tournament trail series, including: the IFA Redfish Tour, the Collegiate Bass Series and the Texas Team Trail – all as seen on Pursuit. "Fundamentally, it's our business to provide our advertising partners with best-in-class pricing. This latest move by network is simply, for us, the most exciting Pursuit Channel news since Careco TV joined it six years ago," said Middleton.
Pursuit Channel, www.pursuitchannel.com, is available in over 40 million U.S. television households, including HD linear and OTT feeds. Pursuit is the only audited outdoors television network viewable to all DIRECTV (604 PRST) in HD and DISH Network (393 PRST) subscribers, and it is available to all Fios by Verizon and Centurylink Prism subscribers. MOOSE Media, www.moosemedia.com, represents producer time-buy sales, network advertising schedules and many marketing functions for the network.
CONTACT: MOOSE Media @ (662) 492-4000
https://americanaoutdoors.com/wp-content/uploads/2017/03/Pursuit_UpgradesToHD.jpg
600
1000
Shelley Giesecke
https://americanaoutdoors.com/wp-content/uploads/2023/06/cropped-AO-Logo_512x512.png
Shelley Giesecke
2017-03-10 16:31:15
2017-03-27 14:29:04
Pursuit Channel Upgrades to Pristine HD on DIRECTV