Texas Team Trail Presented by Cabela's Wraps Up Lake Texoma Event
Shad spawn proves key to victory for Jerome/Copeland
NEW SMYRNA BEACH, Fla. – Jeff Jerome, of McPherson, Kansas, and Darrell Copeland, of Bismarck, Arkansas, brought 21.47 pounds of bass to the scales to win the final regular-season event of the Texas Team Trail presented by Cabela's (TXTT) April 16 on Lake Texoma. The winning anglers took home a brand new Stratos 189VLO powered by a 150 HP Evinrude outboard, valued at $30,000.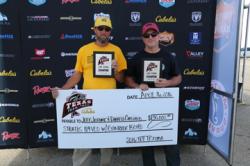 While sight-fishing is the norm for springtime bass on Texoma, the combination of cloud cover, winds and an algae bloom put the brakes on the sight bite. Faced with a decision, Jerome and Copeland made the move to target spawning shad.
The day's action started quickly with a five-fish limit in the livewell by 8:25 a.m.
"Early in the morning the shad spawn was strong," said Jerome. "They were so shallow we'd even see some flipping around on shore. The bass were there just sitting and waiting. If we could get our bait over there in like three to five seconds, it was almost a guarantee. Most of our fish came out of like six inches of water."
After culling two smaller fish, the bite died down when the sun appeared. A 5.76-pounder around 1:00 p.m. helped push the team up the leaderboard, but their four and ½-pounder sealed the deal with just minutes left of competitive fishing.
The anglers concentrated in the Big Mineral area with a Z-Man Original Chatterbait in white and chartreuse with a white Cabela's Hoochie Koochie swimbait as a trailer.
"The key was the chatterbait," said Jerome. "It caught the quality bass and it was the only thing we could get bites on too. My partner was trying other things – Senkos, spinner baits, flukes, and wasn't catching anything. They only bit the chatterbait."
Second-place finishers Keith Cullum, of Corinth, Texas, and James Fennell, of Whitesboro, Texas, came in just .79 pounds behind the winners with a 20.68-pound bag. The anglers began their day by boating an 8.10-pound lunker, which was the biggest of the tournament and won the $1,080 Big Bass Award.
"That was a good way to start off the day," said Fennell. "From there, we fished around in the same cove and left with four keepers."
Fennell and Cullum targeted steep, rocky banks with a 1/2-ounce chatterbait. Fennell believes most of their fish were staging, but some had started the spawning process.
"We were really slowing the bait down," said Fennell. "They wouldn't hit it aggressively; they would just kind of load up on it. The key for us was targeting more vertical banks. We never went to the back of the coves."
Overall, the anglers took home a total of $8,860 in winnings, including Anglers Advantage cash and Ranger Boat contingency money.
Russell Cecil and Todd Castledine weighed a five-fish limit of 20.58 pounds to take the $3,240 third-place prize and added Ranger Boat and Evinrude contingency money as well.
The anglers focused on the shad spawn and sight-fishing.
"We really fished a good tournament from a decision-making standpoint.," said Cecil. "With that algae bloom and the wind, we had to be careful about how we managed our time."
The next tournament stop for the TXTT is set for May 14-15 at Lake Ray Roberts for the season-ending championship where the Lucas Oil Team of the Year title will be up for grabs. With the top 10 teams separated by less than 125 points and double points earned at the championship, the event is shaping up to be packed with suspense and action.
The top contending teams (and points) are Cecil/Castledine (1025); Wilson/Bebber (992); Schott/Yowell (972); Pringle/Keele (960); Setina/Walker (948); Millender/Cannon (936); Fleming/Turner (919); Flowers/Jordan (906); Matlock/McFarlin (905) and Shannon/Shannon (903).
For additional information, anglers are encouraged to call 210-788-4143 or check out the TXTT website at www.texasteamtrail.com. Site visitors can register for events, review the television schedule, get official Texas Team Trail gear, view results and learn more about what's in store for 2016.
Texas Team Trail events are made possible through the sponsorship and continued support of these well-respected brands: Cabela's, Ranger Boats, Lucas Oil, Evinrude, RAM, Mercury, Minn Kota, Triton Boats, Power-Pole, Amphibia, Arctic Ice, Stratos Boats, Lowrance, Navionics, Protect the Harvest, BoatU.S., General Tire, SuperClean, Garmin, Valley Fashions, T-H Marine, Atlas, G-Juice, Powertex Group.
For full results, please go to www.texasteamtrail.com/tournaments/events-results.
https://americanaoutdoors.com/wp-content/uploads/2017/02/Americana-Outdoors-Texas_Team_Trail.png
333
400
Shelley Giesecke
https://americanaoutdoors.com/wp-content/uploads/2023/06/cropped-AO-Logo_512x512.png
Shelley Giesecke
2016-04-20 17:35:16
2017-02-27 17:59:51
Texas Team Trail Presented by Cabela's Wraps Up Lake Texoma Event