Toledo Bend (LA) Turns Out 32-Pound Bag
by Brett Carlson
MANY, La. – With warming weather and an impending full moon, the first wave of Toledo Bend bass have moved up shallow to start spawning. Following suit, many of the 341 teams fishing the Texas Team Trail event moved towards the bank with them. While several impressive stringers came via sight-fishing, James Dutton and Alan Fitts stayed deep and caught the winning stringer – a 32-pound limit of prespawn largemouths.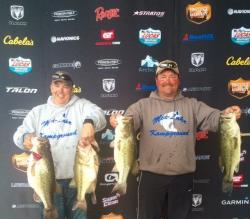 With nearly ideal conditions, Toledo Bend proved once again that it's the hottest bass fishery in the state of Texas. Weights were strong across the board as nearly 200 teams caught five-bass limits. Dutton and Fitts had their first five keepers in the livewell at 7:45 this morning.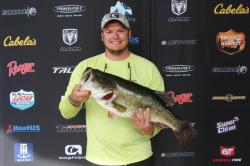 "We put in at Mid Lake Marine and started at our first spot," said Dutton. "We didn't catch anything within the first 20 minutes and we noticed another spot we liked was vacant, so we moved."
That move turned out to be a pivotal decision as they immediately caught a 5 1/2-pounder and then a 4 1/2-pounder at spot No. 2. Twenty minutes later they boated a 7-pounder and 20 minutes after that they caught a 9.81, their kicker fish of the day. It took another 20 minutes and they had their limit fish, a 3-pounder. In total, their first five keepers weighed about 30 pounds. One single cull, a 5-pounder for the 3-pounder, would bring their official weight to 32.01 pounds.
"We were fishing football jigs in about 17 to 25 feet," Dutton explained. "The water temperature has been warm, but there have been cool nights so we figured most of the fish would still be out on deep structure spots. We got them on a prespawn staging area."
Dutton and Fitts used a local jig, a 5/8-ounce Talon, with a Yamamoto Hula Grub in green pumpkin color. While their best area had a combination of rock, stumps and some brush, the key was the presence of baitfish.
"This time of year, if they're not on beds, you better find bait. If you can find the baitfish, you'll find the bass. We were fishing only 20 to 30 feet from the main river, which is 50 or 60 feet deep. It's where the river and the creek come together to make an underwater point. We stayed in the mid-lake area, not too far from the Midlake Campground, which my partner owns."
Dutton grew up 10 miles from Toledo Bend and has spent most of his life fishing the lake.
"I'm going to tell you what, this is the premier fishing lake in Texas. It's crazy. Last year they gave away 89 replicas for Toledo Bend Lunkers over 10 pounds. And this year they're almost to 89 already. If you want to catch a big fish, Toledo Bend is where you need to come."
For winning the second qualifier of the year, Dutton and Fitts earned a Stratos 189VLO with a 150-horsepower Evinrude outboard. Combined with $3,420 of Anglers Advantage cash, their total prize package was $33,420.
"I'm going to tell you, winning is a phenomenal feeling, especially against the caliber of these anglers. It's humbling too. We had an enjoyable day on the water and everything went our way. That doesn't happen very often; it's just a wonderful feeling."
Russell and Power runners up
Chris Russell and Mike Power finished second with a five-bass limit weighing 28.60 pounds. The two started their morning fishing a shallow point where they knew a few spawners were located.
"Mike caught that good one, the 10.88, on the first cast of the morning," recalled Russell. "Now that's a good way to start the day. But then it slowed on us so we went to flipping bushes. Most of the ones we caught flipping were probably on beds but it was too dirty to see. We were up the river and there was no looking up there. But we knew they were on beds. One time we threw in there and caught the male and then threw back and caught the female."
Russell mainly flipped a Beaver while Power used a Big Bite Baits stick worm. The bushes they fished were in approximately 3 feet of water.
"I think one of our weigh fish came from Carolina rigging out deep," Russell added. "In hindsight, we probably should have fished deeper after the bush bite slowed down mid-morning. We really didn't upgrade much after 10 a.m. And there were too many boats in the area."
The two earned a total paycheck of $10,839.
"It was a fun tournament. We had nice weather and second place is not too bad."
Gaia and Tolley third
Andy Gaia and Brian Tolley took third place with a 27.35-pound stringer, earning $7,281. The two decided on the sight-fishing program Friday during practice when they saw a bunch of buck bass up on beds.
"We liked what we saw yesterday so I just made the decision to commit to it," said Gaia. "I came back to the cabin after practice and tied three sight-fishing rods – two with braid and one with fluorocarbon."
Gaia and Tolley sight-fished all day, despite the lake's limited visibility and strong south wind.
"We had some fish located, most were 3- or 4-pounders," Gaia explained. "We had a limit in the boat early, probably by 8 a.m. So then we just fished around went looking for new fish. The biggest one I caught, which was about an 8 1/2-pounder, I found yesterday. Today, I caught the buck bass first, came back an hour later and found the female locked on and caught her."
Gaia and Tolley used what they called a "secret bait." Gaia described it as a dark-colored craw worm.
"I use that one bait 99 percent of the time when I'm sight-fishing. But honestly, I don't know if it's the bait. I think it's more of a confidence thing than anything else. I've learned a lot from my old team partner, Chris Wilkerson, who moved out to Colorado. He taught me sight-fishing is a matter of slowing down and being patient. He also taught me how to find fish that other people aren't finding and things like knowing when to catch a buck bass and when not to. He's an excellent sight-fisherman and an excellent teacher."
With an emerging pattern, Gaia and Tolley had their chances to take home the title.
"We had a 6 1/2-pounder jump the hook early in the day. And later we foul-hooked a 7-pounder just outside of the mouth. She was biting it. I felt like she had it; she rolled up on it. It was heavy, so I swung. I'm not really sure what happened. But that happens sight-fishing. There's no reason to be upset or not be glad with third place, but when you have the fish found to win, it's a little hard to take."
Setina-Walker fourth, Sullivan-Wilkinson fifth
In fourth place with 27.34 pounds was Joe Setina and Aaron Walker, who earned $5,598. Behind them was Jay Sullivan and Douglas Wilkinson, who won $4,267, with 26.85 pounds. Both teams brought five-bass limits to the scale.
Big Bass
Big fish honors went to Cody Garefalos and James Rozell, who caught an 11.52-pound largemouth. That fish alone earned them $1,705.
Rest of the best
Rounding out the top 10 teams at the 2016 Texas Team Trail event on Toledo Bend:
6th: Brian Lowrance and Jered Latta, 26.84
7th: Jerry Mason and Sean Kennon, 25.77
8th: Landan Ware and Russell Lee, 25.34
9th: David Mong and Derek Mong, 24.87
10th: Brian Schott and Lee Yowell, 24.62
Full Results
Team of the Year Standings (as of 2-21-16)
The third qualifier of the 2016 Texas Team Trail season is slated for March 19 on the Richland Chambers Reservoir.
Get registered online NOW!
https://americanaoutdoors.com/wp-content/uploads/2017/02/unnamed.jpg
333
400
Shelley Giesecke
https://americanaoutdoors.com/wp-content/uploads/2023/06/cropped-AO-Logo_512x512.png
Shelley Giesecke
2016-02-22 16:48:32
2017-02-13 17:13:37
Toledo Bend (LA) Turns Out 32-Pound Bag