Cabela's Renews Partnership With National Walleye Tour
Official title sponsor returns for 2016 season
NEW SMYRNA BEACH, Fla. – Cabela's, the World's Foremost Outfitter of hunting, fishing and outdoor gear, will once again be featured as title sponsor of the National Walleye Tour (NWT) for 2016. The renewal comes as the popular pro walleye tour prepares for the season opener, scheduled April 21-22 on Lake Erie.
"Cabela's is such a big part of our organization," said NWT Tournament Director Anthony Wright. "They've been our title sponsor from the very beginning and have played a key role in our growth and success over the years. We're thrilled to have their support and honored to represent such a legendary brand."

Headquartered in Sidney, Nebraska, Cabela's is a leading specialty retailer, and the world's largest direct marketer of hunting, fishing, camping and related outdoor merchandise. Since its founding in 1961, Cabela's has grown to become one of the most well-known outdoor recreation brands in the world, and has long been recognized as the World's Foremost Outfitter.
"Cabela's is proud to continue this fantastic partnership with the National Walleye Tour," said Jeremy Wonch, Cabela's manager for sponsorships and partnerships. "The NWT is a well-run, grass-roots organization that really appeals to a large segment of our core customers: dedicated walleye anglers.
The Cabela's NWT will begin the 2016 season April 21 on Lake Erie and will include a total of three qualifying events, plus a year-end championship. Official registration for all events will begin in January, both online and by phone. The NWT website offers numerous details on the circuit, including official rules, tournament structure, payout and incentives.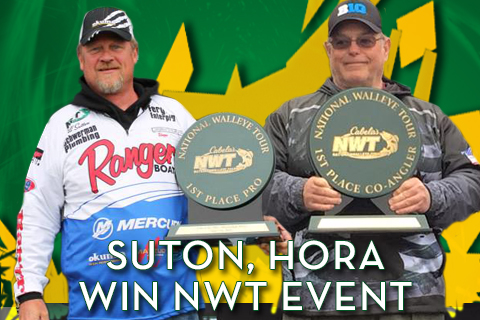 All NWT events will deliver 100-percent payback. A fully rigged Ranger Boat, plus cash, is guaranteed for first place at each event – a minimum total value of $57,000. Multiple contingency programs are available for even higher payouts. Anglers who fish all three regular-season events, in addition to the top points leaders, will qualify for the three-day, entry-fee championship. 
The Cabela's National Walleye Tour also includes unmatched television and media coverage, allowing a national audience to watch the action unfold from each event throughout the season. Airing on multiple networks, the NWT will be seen on the Pursuit Channel, NBC Sports Network, Fox Sports Net North, Comcast Chicago and the World Fishing Network.
For more details, anglers are encouraged to call 612-424-0708 or visit the website at www.nationalwalleyetour.com
2016 NWT scheduled events:
April 21-22 – Lake Erie (Sandusky, Ohio) 
May 26-27 – Lake Winnebago (Oshkosh, Wis.) 
June 23-24 – Green Bay (Sturgeon Bay, Wis.) 
Championship – August 3-5 – Lake Oahe (Mobridge, S.D.)
https://americanaoutdoors.com/wp-content/uploads/2017/02/Americana-Outdoors-NWT-National_Walleye_Tour_Featured.png
333
400
Shelley Giesecke
https://www.americanaoutdoors.com/wp-content/uploads/2017/11/AmericanaOutdoors_GarminWhite_Low.png
Shelley Giesecke
2016-03-01 16:28:29
2017-02-27 18:16:35
Cabela's Renews Partnership With National Walleye Tour