By Clark Wendlandt
When talking about my favorite wintertime big-bass-catching technique I would probably start with a suspending jerkbait. Fishing a jerkbait requires clear water and a ton of patience. First let's start with the bait. The key to fishing this bait in the winter is to fish it very slowly. When water temps get below 50 degrees, bass may be feeding daily, but they just don't move very quickly. The reason a suspending jerkbait works so well is that shad, when trapped in cold-water little shallows, will start to die, which makes them easy prey for big bass. I have fished lakes in January and February where there are literally thousands of shad dying; they just got trapped too shallow. When they die, they twitch and suspend, twitch and suspend, making them very easy prey for big bass. I usually start my approach as twitch, twitch then pause. At first I may not pause for long, but sometimes I may even pause 30 seconds or more. You have to let the fish tell you, but patience is key in this kind of fishing.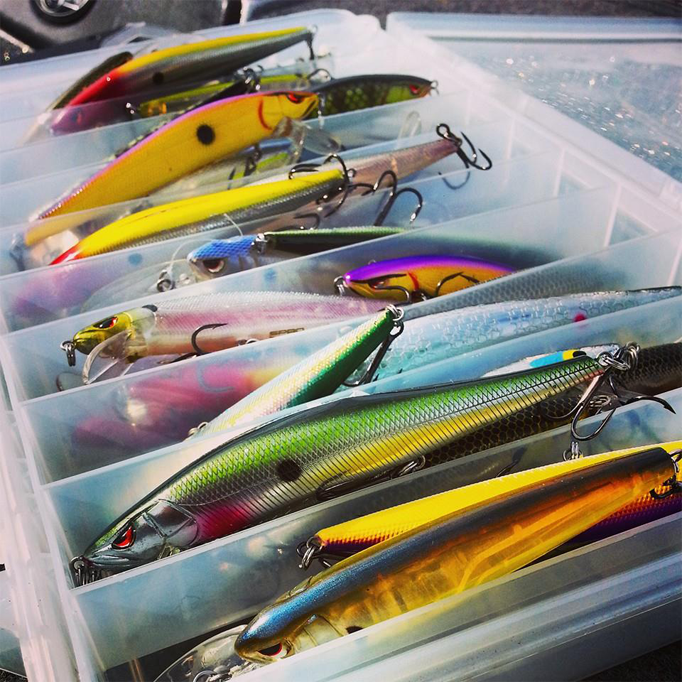 The tackle in fishing this type of presentation is also key. First, let's start with the rod. I prefer a Cabela's Tournament ZX jerkbait/topwater rod. It is not a long, bulky rod, but it's perfect for casting and jerking a bait all day. The reel I like is the Cabela's Arachnid baitcasting reel. It has a 6.3/1 gear ratio which seems perfect for this application. For line I prefer fluorocarbon in 10 pound test most of time. Fluorocarbon will help keep the bait down in the water column. As for the bait, I just take it out of the package and throw it – very slowly.
The last thing to consider is where to throw the bait. It is really not that complicated a technique. In the winter and early spring, fish usually prefer deeper water. Bluffs and deep water off of points would be my places to start. Bass like to suspend this time of year, and the great thing about a suspending jerkbait is it will stay in front of the fish for as long as you want it to. Channel swings might also be good places to try. Really anywhere deep water accesses a flat can be good. It also works really well over the top of grass. I always have a jerkbait tied on in the winter and early spring, and it can pay some big dividends if you have enough patience. Good fishing.
https://americanaoutdoors.com/wp-content/uploads/2017/01/Americana-Outdoors-Garmin-Hunting-Fishing_Featured.jpg
333
400
Shelley Giesecke
https://americanaoutdoors.com/wp-content/uploads/2023/06/cropped-AO-Logo_512x512.png
Shelley Giesecke
2016-02-19 20:10:08
2017-02-10 20:23:29
Wintertime Jerkin'