Hobie Mirage Stand Up Pedal Boards
Introducing the Hobie Mirage Eclipse Stand Up Pedal Boards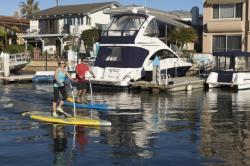 Oceanside, California, – Hobie® has done it again. They have married their renowned MirageDrive® pedal system with 65 years of boardsports expertise to create a totally new kind of Hobie fun. Introducing the world's first Mirage stand up pedal boards: Hobie Mirage® Eclipse 10.5 and Hobie Mirage Eclipse 12. It will now be just as easy for fun seekers to stand on the board and pedal with the new MirageDrive as it has been for Hobie kayakers to pedal the original MirageDrive. Using these boards is as intuitive and stable as walking. Step on and go – no seat, paddle or overboard splashes required. The audience? Anyone seeking a fun and easy way to play on the water, those who enjoy fitness outside the gym, and resort and tour operators who wish to offer their guests a great new experience. And – the Eclipse is sized right for storage and portability on cars, sailboats and powerboats.
"Inventing new ways to enjoy the water is a way of life at Hobie. Company namesake Hobie Alter created the modern fiberglass foam core surfboard and the iconic Hobie Cat sailboat," commented Doug Skidmore, president of Hobie. "His creative spirit inspired the MirageDrive hands-free pedal drive that revolutionized both recreational kayaking and kayak fishing. Now that same technology is launching a new category of Mirage Standup."
Jim Czarnowski, Hobie's Director of Engineering, describes the MirageDrive as "the heart of the Eclipse." The engineering is simple. A natural stepping motion cycles the large topside pedals connected to powerful underwater fins that efficiently power the Eclipse as slow or fast as desired. The fins fold against the board for shallow water and beach landings.
The high strength advanced composite epoxy hull harnesses decades of Hobie boardsports heritage for its quick displacement design. The graceful bow pierces the water, enhancing speed and glide. The square tail and flat bottom add to the board's quiet, stable ride.
The steering controls on the graceful aluminum alloy handlebar could not be simpler. Squeeze the right caliper, go right. Squeeze the left caliper, go left. The handlebar adjusts from 36 to 43 inches high to accommodate a range of rider statures from kids to tall adults.
The rudder offers pinpoint stand up control unique to the Eclipse. It kicks up in shallow water and can also lock into place for improved tracking when the Eclipse is used as a traditional SUP – just one alternative way to enjoy this board for upper body fitness paddling.
Large EVA deckpads provide carefree, high-traction footing and enhanced comfort for all-day rides. There is plenty of room for extra gear or the family dog to perch on the stern. Cargo Bungees® on the aft deck secure gear.
Eclipse accessories include a protective board bag and a cart that makes transportation to and from the water a breeze. A cup holder and universal phone mount are available to keep riders refreshed and ready to capture every memory.
MSRP: Hobie Mirage Eclipse 10.5, $2499; Hobie Mirage Eclipse 12, $2599. Each size comes in two colors: Solar (yellow) and Lunar (blue). They will be available later this spring at Hobie dealers around the world.
Since 1950, Hobie has been in the business of shaping a unique lifestyle based around fun, water, and innovative quality products. From their worldwide headquarters in Oceanside, California, Hobie Cat Company manufactures, distributes, and markets an impressive collection of eco-sensitive watercraft, with subsidiaries; Hobie Cat Australasia, in Huskisson, NSW, Australia and Hobie Cat Europe, in Toulon, France and independent distributors; Hobie Kayak Europe and Hobie Cat Brasil. These products include an ever-expanding line of recreation and racing sailboats, pedal-driven and paddle sit-on-top recreation and fishing kayaks, inflatable kayaks, fishing boats and stand-up paddleboards and a new category of Hobie Mirage Standup pedalboards, plus a complementary array of parts and accessories. www.hobiecat.com
https://americanaoutdoors.com/wp-content/uploads/2017/02/unnamed.jpg
333
400
Shelley Giesecke
https://americanaoutdoors.com/wp-content/uploads/2023/06/cropped-AO-Logo_512x512.png
Shelley Giesecke
2016-04-07 19:25:09
2017-02-24 20:31:27
Hobie Mirage Stand Up Pedal Boards