Smith & Wesson M&P 10 Modern Sporting Rifle Receives 'Readers' Choice Award'
SPRINGFIELD, Mass.
— Smith & Wesson Corp. today announced that the company's M&P10 rifle was recognized as the top performing hunting modern sporting rifle by Game & Fish/Sportsman magazine. Smith & Wesson General Manager for the M&P brand, Jan Mladek, was presented with the prestigious "Readers' Choice Award" during the 2016 SHOT Show® in Las Vegas, Nevada.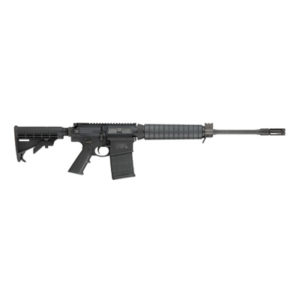 More than 5,000 Game & Fish/Sportsman readers cast their votes in the magazine's 2015 Readers' Choice Awards and provided personal opinions about their experiences using the Smith & Wesson M&P10 rifle. Qualified voters were longtime hunters and shooters who have enjoyed the sport for multiple years. The M&P10 received over 50 percent of the total votes cast and more than double the number of votes received for the second and third place modern sporting rifles.
"On behalf of everyone at Smith & Wesson, I would like to thank the readers of Game & Fish/Sportsman magazine for selecting the M&P10 as the top performing hunting modern sporting rifle," said Jan Mladek, General Manager for the M&P brand. "This award recognizes the exceptional value and capability that the M&P10 offers to hunters while highlighting its versatility in the field. The entire family of M&P15 rifles was developed to meet the high demands of a wide group of dedicated sportsmen and women."
Designed to be fully ambidextrous, the M&P10, chambered in .308 WIN/ 7.62x51mm, is well suited for long-range applications, big game hunting or competition. As one of the lightest rifles in its class, the M&P10 tips the scales at just 7.71 pounds and is fitted with leading edge features including 5R rifling, an adjustable 6-position CAR stock, patented Smith & Wesson enhanced flash hider (on select models) and an 18-inch barrel. The modular system M&P10 is standard with ambidextrous dual magazine releases, bolt catches and safety selector.
Reliability features of the M&P10 include a durable corrosion resistant Armornite® barrel finish a a chrome-lined bolt carrier, gas key and firing pin. On top of the upper receiver, Smith & Wesson has placed a Picatinny-style optic ready flat top. A secondary rail on top of gas block is also standard and facilitates the use of aftermarket iron sights. Additional features on the upper receiver include a front sling attachment and an AR-style forward assist. On the lower receiver, Smith & Wesson has added a forward serrated edge on the magwell for increased firearm control and rear sling attachment.
From the rifle's enhanced features to its user specific design, the M&P10 offers a versatile and dependable option for a wide array of sport shooting activities. The M&P10 has been engineered using the highest quality components and is thoroughly tested to withstand the rigors of excessive use in the field. The M&P10 represents the collective feedback of consumers across the country as well as more than 160 years of experience from the legendary firearms manufacturer.
About Smith & Wesson
Smith & Wesson Holding Corporation (NASDAQ Global Select: SWHC) is a U.S.-based leader in firearm manufacturing and design, delivering a broad portfolio of quality firearms, related products, and training to the global military, law enforcement, and consumer markets. The company's firearm division brands include Smith & Wesson®, M&P®, and Thompson/Center Arms™. As an industry leading provider of shooting, reloading, gunsmithing and gun cleaning supplies, the company's accessories division produces innovative, top quality products under Battenfeld Technologies, Inc., including Caldwell® Shooting Supplies, Wheeler® Engineering, Tipton® Gun Cleaning Supplies, Frankford Arsenal® Reloading Tools, Lockdown® Vault Accessories, and Hooyman® Premium Tree Saws. Smith & Wesson facilities are located in Massachusetts, Maine, Connecticut, and Missouri. For more information on Smith & Wesson, call (800) 331-0852 or log on to www.smith-wesson.com.
https://americanaoutdoors.com/wp-content/uploads/2017/02/unnamed.jpg
333
400
Shelley Giesecke
https://www.americanaoutdoors.com/wp-content/uploads/2017/11/AmericanaOutdoors_GarminWhite_Low.png
Shelley Giesecke
2016-02-23 20:01:03
2017-02-10 20:08:03
Smith & Wesson M&P 10 Modern Sporting Rifle Receives 'Readers' Choice Award'