Ranger Pro Takahiro Omori Wins Bassmaster Elite Event on Wheeler Lake
Texas angler adds $5,000 with Ranger Cup bonus
FLIPPIN, Ark. – Ranger Boats Pro Takahiro Omori brought in the heaviest bag of the event on the final day to win the Academy Sports + Outdoors Bassmaster Elite event at Wheeler Lake on May 1. His final-day limit of 25 pounds, 3 ounces, catapulted him into first place with an overall weight of 81 pounds, 6 ounces, earning the angler the $100,000 first-place prize and an additional $5,000 in Ranger Cup bonus money.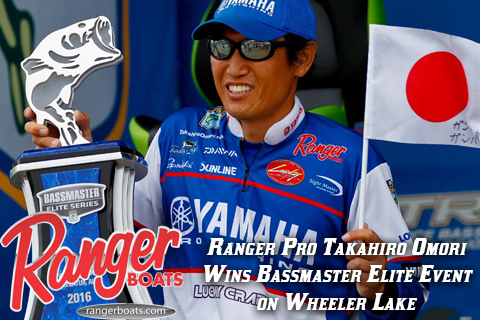 Omori adds his sixth Elite Series win to an impressive résumé, which includes a Bassmaster Classic win in 2004. Despite a dismal start of 10 pounds, 7 ounces on day one, Omori rallied with three consecutive days of 20-plus pounds, edging out second-place finisher and fellow Ranger Pro Dave Lefebre by more than four pounds.
Even though Omori struggled to find quality fish in his spot on day one, he returned on the final day to discover large fish had moved in the area.
"I knew the area was pretty special, but I was concerned the pattern had changed after a tough first day," Omori said. "You never know with these fish; sometimes they do exactly as they had in practice, and other times they just disappear for what seems like no reason."
The angler fished in the Decatur Flats area, next to the main river channel. New fish relocated to the area each day and helps explain how Omori found fish in a spot that didn't previously produce.
"Each day there were new waves of fish moving in, but I wasn't sure that I could keep catching over 20 pounds," Omori said. "That really helps when you're trying to win a four-day tournament."
Omori fished from his Ranger boat as he has for the 20-plus years of his career. The thought of fishing out of another boat has never crossed his mind.
"When watching professional anglers when I was younger, I noticed everyone was in a Ranger," said Omori. "Ranger looked like the best boat out there. I don't even drive other boats. I like the quality and have never looked back."
About Ranger Boats
Headquartered in Flippin, Ark., Ranger Boats is the nation's premier manufacturer of legendary fiberglass and aluminum fishing boats, which include series of bass, multi-species, fish 'n play, waterfowl utility and saltwater boats. Founded in 1968 by Forrest L. Wood, Ranger Boats continues its commitment to building the highest-quality, strongest-performing boats on the water. For more information, go to RangerBoats.com.
https://americanaoutdoors.com/wp-content/uploads/2017/02/unnamed.jpg
333
400
Shelley Giesecke
https://americanaoutdoors.com/wp-content/uploads/2023/06/cropped-AO-Logo_512x512.png
Shelley Giesecke
2016-05-04 19:44:37
2017-02-06 20:11:17
Ranger Pro Takahiro Omori Wins Bassmaster Elite Event on Wheeler Lake