TenPoint's New Nitro 505 Crossbow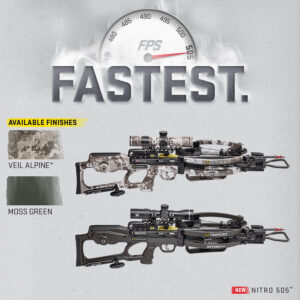 Dominate Turkey Season with the Fastest Crossbow Ever. TenPoint's NEW Nitro 505™.
Mogadore, OH— For 2022, TenPoint Crossbow Technologies recently launched the fastest, most powerful crossbow ever produced – the Nitro 505. This perfectly balanced reverse-draw crossbow delivers unheard of speeds of 505 FPS with a 400-grain arrow and features the revolutionary ACUslide™ silent cocking and safe de-cocking system. The industry's fastest crossbow, the Nitro 505 measures an ultra-compact 6.5-inches wide and 30.7-inches long and delivers never before seen power of 227 foot-pounds of kinetic energy.
"The Nitro 505 is the fastest, most accurate, and most powerful crossbow ever manufactured." said Rick Bednar, TenPoint CEO. "To exceed 500 feet-per-second and maintain the durability you've come to expect from TenPoint, our engineering team was denied no expense in the research, design and testing phase of this crossbow. All major components were designed to handle this level of power. The Nitro 505 is the most tested TenPoint crossbow ever – with over 25,000 shots put through the design."
TenPoint's patented reverse-draw bow assembly is the heart of the Nitro 505. This bow assembly is powered by the NEW RX8-Cam™ system that rotates an industry-leading 404-degrees. The new cam system features deeper cable grooves and improved cable spacing which allows for an increased strand count on string and cables for added strength and durability at these unprecedented speeds.
The crossbow's revolutionary Vector-Quad™ cable technology utilizes four cables instead of the traditional two which eliminates cam lean and generates straight-nock travel leading to same-hole down-range accuracy.
The Nitro 505's ACUslide features the company's groundbreaking Auto-Brake Gear System, which allows for silent cocking and safe and controlled de-cocking of the crossbow. The Auto-Brake Gear System, features a NEW brake pad designed for more robust braking power, eliminating the potential of losing control which can lead to injury or costly bow damage during the cocking or de-cocking process. While cocking and de-cocking with the ACUslide, the user can remove their hand from the handle at any point, with no other action required – and the handle will stop in place. The cocking system features a NEW Dyneema cocking strap which has been upgraded to handle over 2,000 pounds of force – an incredible 2 times stronger than the previous generation strap. The 7 ½-inch XTEND Adjustable Crank Handle reduces cocking effort to 5-pounds and stores securely in butt-stock.
The reverse-draw design is unmatched in its ability to produce speed and power. The Nitro 505 features a 17-inch power stroke – the longest in the industry. The increased power stroke generates more speed with less draw weight – creating a smoother, quieter shot. The elongated power stroke also keeps the arrow nock engaged with the string for an additional 4-inches compared to traditional crossbows, before release – this is a critical component in performance, yielding the most accurate, highest performing crossbow ever. The center-mounted riser provides superior balance, eliminating the "nose heavy" feel of traditional crossbows and making it easier to hold steady and increase accuracy.
The Nitro 505 features the company's S1™ trigger. This 2-stage, zero-creep design features an advanced roller-sear system that delivers a consistent crisp, 3.5-pound pull. The trigger is equipped with a DFI™ (Dry-Fire-Inhibitor) and is fitted with a nylon-filament arrow retention brush that improves arrow grip and alignment to reduce noise and vibration. An integrated string stop system is also included to further reduce noise and vibration.
The NEW 20-inch MICRO-TRAC™ fluted aluminum barrel reduces the flight deck surface by 50%. The minimal string-to-barrel contact increases accuracy and provides the longest string life in the industry, surpassing 'rail less" crossbows by hundreds of shots.
The barrel is fastened to the ultra-light, two-piece TECH-X™ stock that features multiple weight reducing cutouts and houses the ACUslide cocking and de-cocking system. The stock provides the shooter with ideal length-of-pull and combines with the EVO-X® Marksman™ Elite Precision Scope to yield perfect eye level alignment.
The crossbow weighs just 7.9-pounds (w/o accessories), measures only 30.7-inches (w/o stirrup) in length and shoots a supercharged 505 feet-per-second with a 400-grain arrow.
Decorated in Veil® Alpine camo or NEW Moss Green, the Nitro 505 ships completely assembled and includes a Ready-To-Hunt package.
The package includes:
·ACUslide cocking and de-cocking system
·Evo-X Marksman Elite Variable Speed Scope with External Adjustment Turrets
·6-pack of EVO-X CenterPunch™ Premium Carbon Crossbow Arrows (.001" straightness)
·Integrated String Stop System
·6-arrow Tech Quiver
Nitro 505 MAP:
$3,099.99 – Veil® Alpine Camo w/Camo Scope
$2,999.99 – Moss Green w/Black Scope
TenPoint Crossbow Technologies is 100% American owned, operated, and all of its crossbow models are manufactured in Mogadore, OH.
###
For more information, contact Keith Arnold, National Sales Manager (800) 548-6837 or www.tenpointcrossbows.com.
https://americanaoutdoors.com/wp-content/uploads/2022/04/267976148_10158285677867115_5128619451429434278_n.jpg
900
900
Angel Middleton
https://americanaoutdoors.com/wp-content/uploads/2023/06/cropped-AO-Logo_512x512.png
Angel Middleton
2022-04-25 16:03:42
2022-04-25 16:03:42
TenPoint's New Nitro 505 Crossbow