Walker's ATACS Sport Earbuds
Walker's®, the leader in hearing protection and enhancement, announces the release of the company's most ergonomic electronic sound management system yet for shooters and hunters. ATACS Sport Earbuds delivers the state-of-the-art performance serious shooters demand in a platform designed to excel in all-day comfort and operational convenience.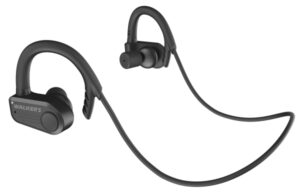 Increasingly, professional shooters, recreational shooters, and hunters are favoring the comfort and digital control of earbud-style sound management systems to protect their hearing and to amplify and discern ambient sound. While earbuds perform these tasks admirably, fitment and security can vary between shooters—especially during high-activity, high-mobility scenarios such as competition shooting and hunting.
The all-new ATACS Sport Earbuds address these challenges by incorporating a dual retention system into a sophisticated and ergonomic platform. Since shooters come in all shapes and sizes, the Walker's engineers set out to develop an earbud system that would work for everyone. They did this by incorporating soft and flexible ear hooks and a behind-the-neck retention strap into a freshly designed earbud chassis. This unitized retention system, combined with multi-sized foam ear tips, means the ATACS Sport Earbuds are comfortable to wear under any condition and will remain in place even during high mobility activities.
Beyond the comfort and ergonomic features, the ATACS Sport Earbuds include the latest in sound suppression/enhancement technology and operational control. Bluetooth 5.0 connectivity, for example, pairs the ATACS Sport Earbuds to your phone via the Walker's LINK 2.0 app, providing remote control of the listening mode settings (universal, clear voice, power boost, and high frequency boost) as well as auto shutoff times (off, 2, 4, and 6 hours), volume control, battery level, ambient mute, and social media links.
The new ATACS Sport Earbuds come with three different-size foam ear tips and a USB-C charging cable to deliver up to 7.5 hours of battery life per charge.
Walker's ATACS Sport Earbuds Specifications
·Bluetooth 5.0 connectivity
·Compatible with Walker's LINK app
·4 program settings: universal, clear voice, power boost, high frequency boost
·7.5 hours battery life
·Auto shut-off: 2, 4, 6 hours
·Digital sound quality
·Low noise frequency tuned for sound clarity
·Sound activated compression (SAC)
·USB-C charging cable included
·3 size foam ear tips
PROTECT IT OR LOSE IT!
To learn more about the ATACS as well as other Walker's® hearing protection and sound enhancement products, please visit http://www.gsmoutdoors.com/walkers/.
Walker's is a subsidiary brand under GSM Outdoors. For information regarding GSM and their products please visit www.gsmoutdoors.com.
About GSM Outdoors:
Few American outdoor companies enjoy a mutually respected relationship with their customers that spans over five generations. GSM Outdoors is among those few! For over 70 years, the GSM family of brands has been helping passionate hunters and shooters succeed through innovation and the manufacture of high-quality, reliable products that continue to prove themselves in the field and on the range to this day. GSM Outdoors continues to leverage the latest technology and provide customers with the best products on the market. Tradition, heritage, and loyalty to outdoor enthusiasts of generations past and generations to come…that's the GSM Outdoors guarantee!
Stealth Cam Walker's Muddy Birchwood-Casey TekMat Boss Buck New Archery Products (NAP) Western Rivers Hawk Big Game Down & Out Blinds by Hawk HME Coyote Light Scent Slammer SME Bullseye Crossfire Holsters Cyclops Viking Solutions Hunters Specialties TRUGLO APEX Gear Johnny Stewart Cold Steel Ameristep Avian X Bloodsport Evolved Flextone Halo Optics Tenzing Wildgame Innovations Zink
https://americanaoutdoors.com/wp-content/uploads/2021/10/a317bc23-5bc5-439d-a0d6-46e9ca23079d_600x390.jpg
390
600
Angel Middleton
https://americanaoutdoors.com/wp-content/uploads/2023/06/cropped-AO-Logo_512x512.png
Angel Middleton
2021-10-14 15:30:10
2021-10-14 15:30:10
Walker's ATACS Sport Earbuds