Buff Announced as Collegiate Bass Fishing Sponsor
by Cody Levy
SAN ANTONIO, Texas
– The Association of Collegiate Anglers is proud to announce Buff, Inc., as the newest partner of the 2016 Cabela's Collegiate Bass Fishing Series. As a new sponsor of the series, Buff, Inc., will support collegiate anglers nationally and internationally at each of the Cabela's Collegiate Bass Fishing Series events.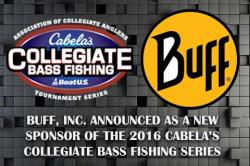 BUFF® multifunctional UV headwear is a favorite of anglers who spend long periods of time in the sun. It blocks 95% of harmful UV rays* and can be worn more than 12 different ways, from a neck gaiter to a cap to a balaclava.
"Anglers were among the first to embrace UV BUFF® headwear because they recognized the importance of on-the-water sun protection," said Shirley Brunetti, Vice President and General Manager of Buff, Inc. "With this partnership, we're supporting the next generation of college anglers who appreciate BUFF® headwear for both functionality and increasingly important UV protection."
"I never used to give sun and wind protection a thought when I was younger, but after experiencing some long days on the water, I know now how important it is to protect yourself from the elements. It's very exciting that BUFF® headwear will be working with college anglers now to help protect and educate anglers of all ages about benefits of wearing UV protection," said Wade Middleton, Director of the Association of Collegiate Anglers and President of CarecoTV. "We are thrilled to be working with Buff, Inc. this season and believe that our anglers will be better off from the partnership as well!"
To see the full collections of BUFF® products, visit their website at www.buffusa.com or be sure to stop by at the Cabela's Collegiate Bass Fishing Series events to take a look at some of the BUFF® headwear first hand.
The full schedule for the 2016 Cabela's Collegiate Bass Fishing Series is as follows:
· Cabela's Collegiate Big Bass Bash – March 11-13, 2016 – Kentucky Lake – Paris, Tennessee
· The Dardanelle Derby – March 24-26, 2016 – Lake Dardanelle – Russellville, Arkansas
· BoatUS Collegiate Bass Fishing Championship – May 25-27, 2016 – Pickwick Lake – Florence, Alabama
For more information about the Cabela's Collegiate Bass Fishing Series, please visit
www.CollegiateBassChampionship.com and check us out on Facebook at https://www.facebook.com/CollegiateBassChampionship.
Also, follow us on Instagram and Twitter at @CollegiateBass
About the ACA
The Association of Collegiate Anglers, a division of Careco TV, is a sanctioning body developed to facilitate growth, development, and structure within competitive collegiate bass fishing. The ACA provides support to dozens of school operated regional events nationwide and owns the Cabela's Collegiate Bass Fishing Series, the largest participatory collegiate tournament circuit in the country. With dedicated collegiate fishing programming on several television networks, four nationally televised collegiate bass fishing events, and thousands of members, the ACA is the leader in competitive collegiate bass fishing.
* UV Protection: 95% – Samples of fabrics have been tested for erythermally effective UV protection by LEITAT-Textile Technology Institutes in accordance with the standard AS/ NZS4399: 1996 "Sun protective clothing Evaluation and Classification", results ranged from 93,3% (UPF > 15) to 96,7% (UPF>30), averaging 95% UV protection (UPF>20).
https://americanaoutdoors.com/wp-content/uploads/2017/02/unnamed.jpg
333
400
Shelley Giesecke
https://americanaoutdoors.com/wp-content/uploads/2023/06/cropped-AO-Logo_512x512.png
Shelley Giesecke
2015-11-23 16:33:03
2017-02-17 17:15:16
Buff Announced as Collegiate Bass Fishing Sponsor