Garmin Introduces the Rino 750 and 755t Handhelds with GPS and Two-Way Radio Communication
Rugged GPS/GLONASS Handheld with Powerful 2-way Radio and TOPO Maps
5 W FRS/GMRS 2-way radio; communicate by voice call or unit-to-unit text messaging
Capture the moment with 8 megapixel autofocus camera with LED flash/torch
Preloaded TOPO U.S. 100K maps; includes 1-year BirdsEye Satellite Imagery subscription
Emergency alert reporting lets other Rino 700 series users on the same channel know where to find you in an emergency and tells you position of help on the way; supports Active Weather forecasts and animated weather radar tracking
3-inch sunlight-readable touchscreen with dual orientation (landscape or portrait view)

Combining map-guided trail navigation with 2-way radio communication, the Garmin Rino 755t handheld brings a whole new level of confidence to your outdoor adventures. It features a powerful 5 W FRS/GMRS radio, dual GPS and GLONASS satellite reception, Active Weather updates, emergency alerts with Position Reporting, Bluetooth® headset audio, 3-axis compass, barometric altimeter, 8 megapixel camera and more. Rino 755t supports advanced mapping capabilities such as BirdsEye Satellite Imagery (subscription required) and comes preloaded with TOPO U.S. 100K mapping.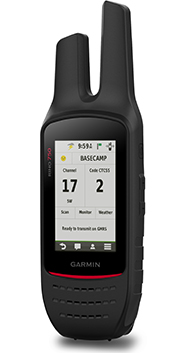 Navigate Anywhere — Communicate Everywhere
Each Rino 700 series device features a dual-orientation, 3-inch color touchscreen that's glove friendly and easy to read, even in bright sunlight. A powerful 2-way radio transceiver lets you easily stay in touch with your fellow hunters, hikers or explorers in the field. You also have capability to send unit-to-unit text messages to other Rino users in your area — ideal for loud or windy conditions or when you don't want to disturb the wildlife. Rino also lets you share your waypoints, tracks, routes and geocaches wirelessly with other compatible Garmin handheld devices. Plus, you can even customize your Rino's display with free downloads of apps, widgets and data fields from the Garmin Connect IQ™ online store².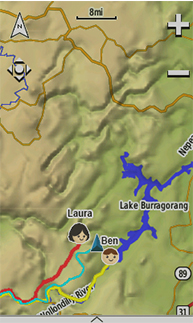 Find Your Friends
Rino series handhelds feature a unique Position Reporting capability that lets you send your exact location to other Rino users so they can see it on their map page. Plus, improved audio performance means it's easy to communicate with any other conventional FRS/GMRS radios in the area.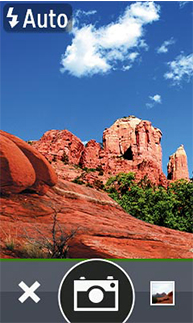 Geotag Pictures with Rino 755t
Capture locations and memories with Rino 755t's built-in 8 megapixel digital camera. Each photo is automatically geotagged with coordinates, allowing you to navigate back to that exact spot in the future. Keep track of your photos and see their locations on a map using BaseCamp™, software that lets you view and organize maps, waypoints, routes and tracks. Insert a microSD™ card for more photo storage or to view pictures from other devices.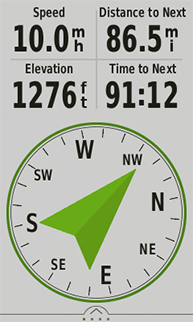 Pinpoint Your Position
With its high-sensitivity GPS and GLONASS receiver and quad helix antenna, Rino 755t quickly finds your position and maintains it — even in heavy cover or remote, off-the-grid locations. Plus, a built-in barometric altimeter and 3-axis compass make it easy to get your bearings without needing to hold the unit level.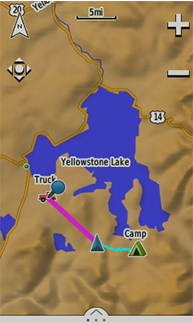 See Your Surroundings
Rino 755t handheld comes with a worldwide, shaded-relief basemap. With the wide array of detailed Garmin marine and road maps available, it's easy to install additional mapping products. Just use the unit's microSD™ card slot to load the compatible mapping options you want. Or you can use our free Custom Maps software to transform paper and electronic maps into downloadable maps for your device.
Keep a Close Eye on the Weather
With support for Active Weather forecasts and animated radar tracking, the Rino 700 series gives you a vital edge in weather awareness. Get real-time conditions, forecasts and alerts (in areas with coverage) directly on your handheld display when the Rino is paired with a compatible smartphone¹ and the Garmin Connect™ Mobile app. For added safety, each 700 series Rino handheld features a built-in NOAA weather radio that can help you avoid hazardous weather. The radio supports Specific Area Message Encoding, which allows you to see National Weather Service warnings and watches displayed county-by-county on the map screen.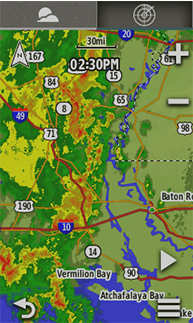 Works with Bluetooth-enabled Headsets
Syncing your Rino with a compatible Bluetooth-enabled headset enhances your radio communications, even under adverse weather or wind conditions. And by syncing your Rino with a compatible smartphone¹, you receive smart notifications (calls, texts, emails and more) right on your display, so you stay focused on the trail ahead while staying connected with friends and family back home.
Think Rugged and Robust
Durable and water-rated to IPX7, the Rino 700 series is built to keep delivering vital mapping and tracking data, no matter what the elements throw at you. Battery life can exceed 14 hours in the field. Plus, the dual battery system lets you use the included rechargeable lithium-ion power pack or AA battery pack (sold separately).
Plan Your Next Trip
Take charge of your next adventure with BaseCamp, software that lets you view and organize maps, waypoints, routes and tracks. This free trip-planning software even allows you to create Garmin Adventures that you can share with friends, family or fellow explorers. BaseCamp displays topographic map data on your computer screen, including contour lines and elevation profiles. It can also transfer an unlimited amount of satellite images to your device when paired with a BirdsEye Satellite Imagery subscription.
Turn Your Computer Into a BaseStation
Garmin BaseStation lets you turn your laptop (loaded with BaseCamp) into a field command center for tracking multiple Rino units. View real-time GPS information on the larger display of your computer while Rino serves as a router/antenna. And because it's Garmin GPS-based, you're in control of more effective search and rescue operations, even when internet or cell phone service isn't available.
For more information go to:
https://americanaoutdoors.com/wp-content/uploads/2016/08/at-a-glance-1.jpg
240
700
Shelley Giesecke
https://americanaoutdoors.com/wp-content/uploads/2023/06/cropped-AO-Logo_512x512.png
Shelley Giesecke
2016-08-02 19:58:51
2017-02-10 15:30:48
Garmin Introduces the Rino 750 and 755t Handhelds with GPS and Two-Way Radio Communication