SAWYER Will Keep You Outdoors This Hunting Season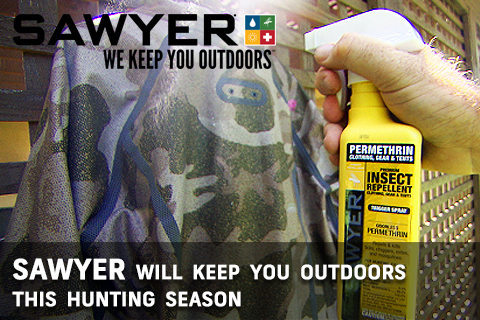 By: Wade Middleton,
(August 9th, 2016) – San Antonio, TX – Hunting season will be here before you know it. For me, that means checking my gear, trips to the shooting range, putting out scouting cameras and prepping all my clothing.   As a hunter you probably do the same things and several other tasks as well.  All of the preparation helps to ensure better and more successful hunts but there are always things that are out of our control. Most of us that hunt early in the year, especially archery hunters, have had those days in the field where gnats and mosquitos are buzzing our ears nonstop making it impossible to sit still as well as being able to enjoy the hunt.  A few years back I found a way to eliminate many of those issues by treating my clothing with Sawyer's Permethrin.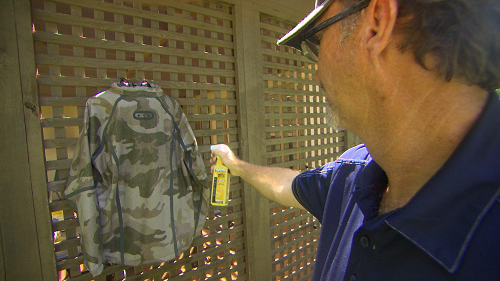 Now, you may quickly think bug spray that's going to smell bad and spook the deer into the next county. That's not the case with Sawyer's Odorless Permethrin Premium Insect Repellant that is applied directly to your clothing and allowed to dry before the hunt. Sawyer's Permethrin is designed for usage on clothing, tents, and other gear. It not only repels insects but it is designed to actually kill ticks, mosquitoes, chiggers, mites, and more than 55 other kinds of insects. With the Zika virus sweeping the globe I don't take any chances. I use Sawyer's Permethrin on my pop up blinds, amongst other things, which seem to be like a magnet for having bugs move into them.  I hunt for a living and I'm here to tell you since I've started using Sawyer's products I have had no issues with bugs distracting my hunt.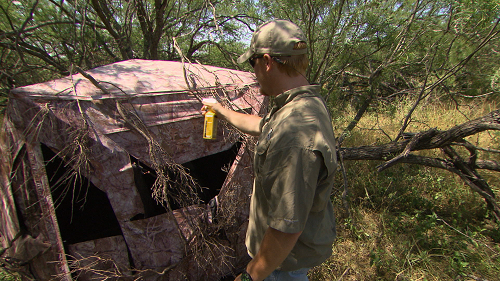 Sawyer's pharmaceutical grade, synthetic Permethrin can last 6 weeks or 6 washings on clothing and other fabrics, making it a fantastic odorless barrier of protection from mosquitoes and ticks which is exactly what we want when hunting in any condition where we have to share the woods with the bugs which is about most the time. Just spend a few bucks on Sawyer's Permethrin and rest easy when you're working or playing outdoors (unless you're in bear country – then you're on your own).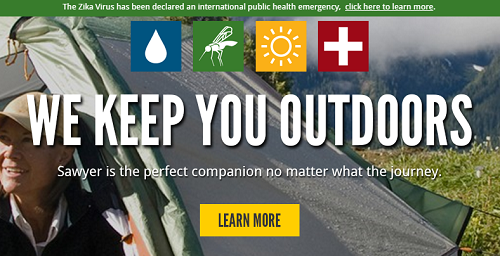 Benefits of Permethrin:
The insect-killing repellent for your clothing is effective against ticks, chiggers, mites and mosquitoes for up to six weeks.
The non-aerosol pump bottle contains enough spray to coat full outfits
Although we consider a full outfit to be one shirt, trousers and socks; we recommend you still pack underwear.
One treatment will last up to six washings or six weeks before clothing has to be treated again
If you treat your tent, you can expect full potency for up to 40 days of direct sunlight. This is a great way to give your entire campsite a barrier of protection
Use it while hunting for an odorless way to protect yourself from common bugs
Effective against ticks that carry Lyme disease and other fairly common diseases like Rocky Mountain Spotted Fever.
Repellent should be applied outdoors and before clothing is worn; after it's treated, hang clothing and let dry two hours (four hours in humid conditions)
Avoid contact with skin and eyes during application phase
Active Ingredient: Permethrin (0.5%)
NOTE: Do not apply to skin. This repellent is for clothing and fabric goods only. Repellents that contain DEET are not recommended for skin. Avoid contact with face, eyes, skin or breathing vapor mist. Keep away from cats.
Be prepared this hunting season and add Sawyer's Permethrin to your to-do list so you will have an enjoyable adventure in the woods.  For more information about Sawyer and their products go to
Find Sawyer on Facebook at: 
https://www.facebook.com/SawyerProducts/?fref=ts

On Instagram: 
https://www.instagram.com/sawyerproducts/?hl=en

On Twitter: 
https://americanaoutdoors.com/wp-content/uploads/2017/02/FABRIC-REPELLANT-3-1.png
281
500
Shelley Giesecke
https://americanaoutdoors.com/wp-content/uploads/2023/06/cropped-AO-Logo_512x512.png
Shelley Giesecke
2016-08-08 18:32:55
2017-02-24 15:55:47
SAWYER Will Keep You Outdoors This Hunting Season