Garmin Xero A1i Pro: Make the Shot
Newest advancement in digital bow sights offers archers an intuitive setup and advanced accuracy features
OLATHE, Kan. – Garmin® International, Inc., a unit of Garmin Ltd. (NASDAQ: GRMN), today introduced the Xero™ A1i Pro, the latest advancement in its revolutionary autoranging digital bow sight Xero series. Amplifying the innovative Garmin Xero A1i, the newly designed Pro version provides archers with micro adjustments and autocalibration for an extremely fast setup, as well as a dovetail attachment and detachable trigger for easy transport. New A1i Pro aiming features, like Dynamic Level, Flight Apex, and XD Mode help archers shoot more accurately than ever before.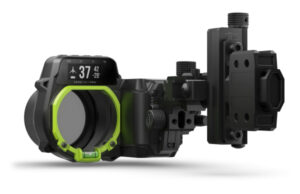 "The Xero A1i changed archery forever with autoranging and precision aiming. Today, with the launch of Xero A1i Pro, we are proud to say our best shot just got better," said Dan Bartel, Garmin vice president of global consumer sales. "The new A1i Pro combines the hunting and archery passions of Garmin engineers with customer feedback and innovative technology to provide archers with new tools they can depend on when needed most."
Xero A1i Pro Redesigned Mount
Archers know fine-tuning adjustments on their sight for accuracy can be time-consuming. Thanks to the newly designed, micro adjustable rails on A1i Pro, archers can now make quick, precise (.35 MOA) changes to elevation, windage, pitch and yaw—allowing for both faster first pin setup and laser alignment when sighting in. The A1i Pro now offers adjustments for sight roll (2nd axis) correction and a removable dovetail with two position options for better sizing to a user's peep sight when mounting to the bow.
Traveling hunters or archers shooting multiple bows will find the new "quick detach" system on the A1i Pro dovetail rail mount particularly useful. To remove the Xero A1i Pro, simply remove a single screw from the bow riser and unplug the new quick release trigger cable from the sight housing.
Xero A1i Pro Auto Calibration
With the new Xero A1i Pro autocalibration feature, archers can calibrate the sight out to max range of their setup with only a few arrows. After mechanically setting a 20-yard pin, archers can enter or estimate their bow's chronograph speed, and the sight will autogenerate a pin stack. The archer then validates the stack by shooting a few arrows at a distance of 40 yards or more, and setup is complete. This validation step ensures a true ballistic match of the arrow, and it's fast and easy to revalidate if the setup changes later.
New A1i Pro Aiming Features
Using real-time accelerometer data, the A1i Pro's new dynamic level feature provides indicators within the sight window to display if the bow is not sufficiently level to execute an accurate shot at the ranged distance. Designed for hunting environments, this feature allows archers to remain focused wholly on target, instead of having to take their eyes off their pin to check their level.
If hunting in heavier cover with potential obstructions such as branches, the Flight Apex features provides a flashing dot indicating the arrow's highest point during flight to help the archer know if their arrow will fly above or below a potential obstruction.
During practice, A1i Pro makes punching targets out to extended distances easier than ever before through the new Xtra Distance (XD) Mode. Once XD Mode is enabled, the archer simply loosens the set screw on the vertical rail and dials the sight into a lower position with the micro adjust knobs and follows the instruction steps provided on the sight display. This allows the archer to shoot out to longer distances, provided they still have arrow vane clearance under the sight. Most archers will get an extra 10-15 yards on the sight's max shooting range in this mode. When done, the archer simply puts the sight back into the base position via the on-screen prompts.
A1i and A1i PRO standard features include:
Customizable arrow profiles: Saved pin setting for multiple arrow configurations, so users can change from a practice setup to their hunting setup in seconds
Laser Locate Feature: Waypoint projection feature pairs with a compatible Garmin GPS device (sold separately) to show the target's exact location when the shot or range was taken
Dual-color LED Pins: Allows users to easily identify preset distances by using alternating pin colors for fixed pins
Silent trigger: Mount the silent aiming button in the most convenient spot for your grip. With minimal movement, at rest or full draw, you can range up to 100 yards on game or up to 300 yards on reflective targets
Ambient Light Sensor: Controls the pin brightness per the user's preferences so pins appear consistently sized no matter the lighting conditions
The Xero A1i Pro operates up to a year on two AAA lithium batteries and comes in both right and left-handed configurations. Ruggedized and water rated to IPX71, the Xero can withstand the rigors of bowhunting while weighing only 18 oz. The Xero A1i Pro has a suggested retail price starting at $1299.99 and is available now. For more information, visit garmin.com/xero.
Engineered on the inside for life on the outside, Garmin products continue to revolutionize life for adventurers, athletes and outdoor enthusiasts everywhere. Committed to developing products that enhance experiences and enrich lives, Garmin believes every day is an opportunity to innovate and a chance to beat yesterday. For more information, visit Garmin's virtual pressroom at garmin.com/newsroom, email media.relations@garmin.com, or follow us at linkedin.com/company/garmin, facebook.com/garmin, twitter.com/garminnews, instagram.com/garmin or youtube.com/garmin.
1See Garmin.com/waterrating for more details
###
About Garmin International, Inc. Garmin International, Inc. is a subsidiary of Garmin Ltd. (Nasdaq: GRMN). Garmin Ltd. is incorporated in Switzerland, and its principal subsidiaries are located in the United States, Taiwan and the United Kingdom. Garmin is a registered trademark, and Xero is a trademark of Garmin Ltd. or its subsidiaries.
All other brands, product names, company names, trademarks and service marks are the properties of their respective owners. All rights reserved.
Notice on Forward-looking Statements:
This release includes forward-looking statements regarding Garmin Ltd. and its business. Such statements are based on management's current expectations. The forward-looking events and circumstances discussed in this release may not occur and actual results could differ materially as a result of known and unknown risk factors and uncertainties affecting Garmin, including, but not limited to, the risk factors listed in the Annual Report on Form 10-K for the year ended Dec. 26, 2020, filed by Garmin with the Securities and Exchange Commission (Commission file number 0-31983). A copy of such Form 10-K is available at http://www.garmin.com/aboutGarmin/invRelations/finReports.html. No forward-looking statement can be guaranteed. Forward-looking statements speak only as of the date on which they are made and Garmin undertakes no obligation to publicly update or revise any forward-looking statement, whether as a result of new information, future events, or otherwise.
https://americanaoutdoors.com/wp-content/uploads/2021/10/dc60818e-efc2-4f3b-a366-930d62fded69_600x388-1.jpg
388
600
Angel Middleton
https://americanaoutdoors.com/wp-content/uploads/2023/06/cropped-AO-Logo_512x512.png
Angel Middleton
2021-10-14 16:46:49
2021-10-14 16:46:49
Garmin Xero A1i Pro: Make the Shot