Sign Up for Yamaha Power Pay for a Chance to Win an Extra $2,000 at the 2022 Championship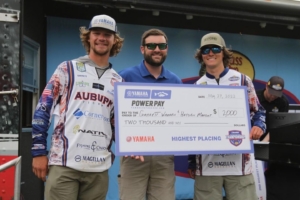 College anglers are eligible to participate in the Yamaha Power Pay Program at all Association of Collegiate Anglers events in 2022!
To participate in the Yamaha Power Pay Program, an angler must own (Original owner) a Yamaha outboard motor. The Yamaha outboard motor must be purchased from a Yamaha dealer, within the last 60 months, 115-425 HP. Yamaha outboard motor must be warranty registered in participant's name, and must be used on Program participant's boat while fishing supported Power Pay tournament events.
At the 2022 BoatUS Collegiate Bass Fishing Championship presented by Bass Pro Shops, the highest placing eligible entrant will earn an extra $2,000. Additionally, the 2nd highest finishing eligible entrant will receive $1,000.
Yamaha and Yamaha Power Pay representatives will be on-site at the upcoming ACA Championship to register eligible anglers for the program, as well as answer any questions that anglers might have. Yamaha Power Pay winners will be recognized with a photo opportunity and media availability following the conclusion of Day 2 weigh-in.
How do you earn the Yamaha Power Pay Program payout? Participate in a contingency paying tournament, and post the highest placing finish of those who have registered for the Yamaha Power Pay Program. Highest finishes must fall within the top 33% of the field, with a minimum field size of no less than 50 boats.
In order to claim the Yamaha Power Pay Program payout, submit the official Yamaha Power Pay Awards form within 30-days of your finish. Upon verification and approval, your contingency payment will be sent via U.S. mail. Winners should allow a minimum of 8 weeks for approval, processing and distribution.
About the ACA

The Association of Collegiate Anglers (ACA), a division of CarecoTV, is a tournament organization created to facilitate growth, development, and structure within competitive collegiate bass fishing. The ACA created the original BoatUS Collegiate Bass Fishing Series,17 seasons ago, which has evolved into the Bass Pro Shops Collegiate Bass Fishing Series which is now recognized as the longest-running consecutive collegiate bass fishing series in existence. The ACA also provides support to dozens of smaller schools operating regional events nationwide which help to grow the exposure of college fishing. The ACA owns the Bass Pro Shops Collegiate Bass Fishing Series, Bass Pro Shops School of the Year presented by Abu Garcia Program, and associated assets. The ACA lineup of major college fishing events includes a variety of events nationwide that are multi-day events all of which are televised on several networks as well as streamed on a variety of connected platforms.

Thanks in part to the large diversity of media exposure the ACA provides the largest amount of televised and streaming coverage of any collegiate fishing series to include a dedicated television series on several television networks as well as additional coverage of select events inside other programs. This combination includes coverage from Discovery Channel, CBS Sports, NBC, Pursuit Channel, as well as other regional and national networks.

For more information on the ACA or the Bass Pro Shops Collegiate Bass Fishing Series, visit www.CollegiateBassChampionship.com. For more information on Bass Pro Shops, visit www.BassProShops.com. For more information on CarecoTV, visit www.CarecoTV.com.
https://americanaoutdoors.com/wp-content/uploads/2022/06/284894034_433959312068287_1975841829943481733_n-1.jpg
960
1440
Angel Middleton
https://americanaoutdoors.com/wp-content/uploads/2023/06/cropped-AO-Logo_512x512.png
Angel Middleton
2022-06-12 21:23:42
2022-06-12 21:23:42
Sign Up for Yamaha Power Pay for a Chance to Win an Extra $2,000 at the 2022 Championship