SPRO® Has Cranking Covered at All Depths
Kennesaw, Georgia – For twelve-time Bassmaster Classic qualifier John Crews, a crankbait is a money-making tool that triggers strikes throughout the water column, but without the proper vibration and deflecting qualities, you're going to get beaten every time. That's why he relies on SPRO® crankbaits whether he's bumping bottom in a foot of water or dredging offshore structures over 20 feet deep.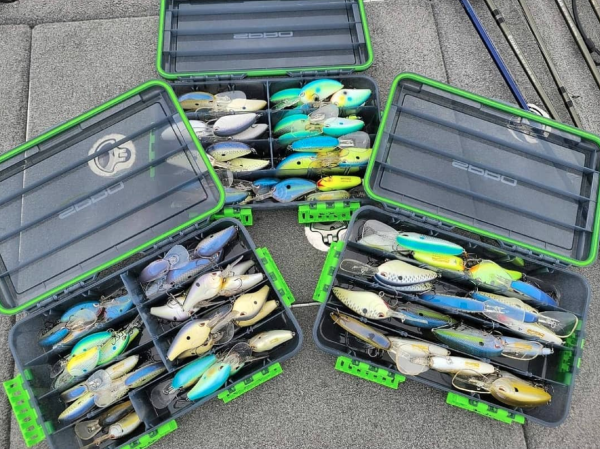 "The biggest thing with a crankbait is that they have a vibration that appeals to the lateral line of a bass unlike any other bait," he said. "There are times when that's the only thing they'll touch." Still, not every crankbait fits the bill for every scenario. That's why the veteran pro employs a full arsenal of diving plugs.
It starts with the hard-hunting Fat John 50 and 60. Although Crews himself has the physique of an athlete, he relies on these wide-bodied "bad dudes" in water less than 3 feet deep. "They move a ton of water and create a bigger presence than other lures their size as you reel. Sometimes that appeals more to a bass, especially big bass."
When bass demand a more subtle crankbait, that's when he turns to the original Little Johns, flat-sided, tight-wobbling lures that embody the best attributes of old-school handmade crankbaits, without their downsides.
"All of the Little Johns were built on the premise of hard plastic with the characteristics of wood. They have the shape, size, bill angle, and that same lively action of the old-school balsa baits, but they still cast extremely well and are more durable."
The original Little John 50 may be compact, but at ½ ounce and with a tungsten weight-transfer system it casts like a bullet and covers the 3 to 5 foot range efficiently. The MD50 has a larger lip that gets it down to the 7 to 9 foot range, but that's not the only difference.
"They're both good year-round, especially in crowded areas," Crews explained. "But the MD has more of a swimming action and comes through cover really well, while the shallower-diving version has more of a pivoting action." Both come in silent versions as well as "Type R" rattling models. "The two times I really like a rattle are when I'm around a whole lot of baitfish and when I'm fishing in grass. The rattle helps the bass find the bait."
The newest addition to the team is the Little John Micro DD 45, featuring an ultra-compact body that still gets down in a hurry.
"I wanted a small, subtle vibration crankbait that would get deeper than anything else that size," Crews explained. "That little rascal will get every bit of 9 or 10 feet down but it's still heavy enough to throw on baitcasting gear. It's great in the early prespawn, and in highly pressured areas. Those fish in that depth range don't see subtle vibrating crankbaits very often."
At the opposite end of the spectrum is the Little John XL, a ¾ ounce large-bodied thumper that calls aggressive trophy bass from a distance.
"Like the original Little John, it has more of a pivoting action," Crews said. It'll get down to 8 feet deep, and thumps in an annoying fashion to trigger even reluctant biters.
Finally, for those committed deep water anglers who want to tempt pressured schools, SPRO offers two models that will touch and even exceed the magic 20 foot mark. The DD 70 is a ¾ ounce beast that "comes through deep brush really well." The ultimate deep diver, however, is the DD 90, which Crews said will easily grind into the bottom at 23 feet on a long cast with the proper tackle. "There are only a handful of crankbaits that'll get that deep, and this one has a lot more subtle wobble than some of the other extra-deep-diving baits.
Of course, even the best cranking tools won't excel if you don't put them in the proper places. Crews said that "you always want your crankbait to be deflecting off cover or close to cover." Because they're often moving at a rapid pace, it's also essential to use a cranking rod with some "give" in it. "That allows the fish to take the bait, rather than you pulling it away."
If you're not cranking throughout the water column, you're not making the most of your time on the lake, and SPRO gives you the full set of tools to get the job done all year long.
We are Sports Professionals. SPRO works with America's best anglers to design the world's finest fishing tackle. Using cutting edge technology and innovation, SPRO leads the way in developing the highest quality premium fishing equipment available.
https://americanaoutdoors.com/wp-content/uploads/2021/05/5b7a04a2-92f1-4160-816d-08b1d7bc3f96_600x449.png
449
600
Angel Middleton
https://americanaoutdoors.com/wp-content/uploads/2023/06/cropped-AO-Logo_512x512.png
Angel Middleton
2021-05-11 13:02:04
2021-05-11 13:02:07
SPRO® Has Cranking Covered at All Depths