Stealth Cam Launches Enhanced Fusion X Wireless Cam
Irving, TX – When Stealth Cam® set out to build a better wireless trail camera, they began with the challenges faced by hunters disappointed with conventional wireless camera technology. Reliable performance, ease of connectivity, simple operation, affordable data plans, and the need for quality customer service ranked highest on the agenda. In 2020, we introduced the Fusion wireless camera. Throughout the year, we listened closely to our customers and vowed to make necessary improvements. You asked, we listened and now the Fusion X truly takes wireless cameras to the next level!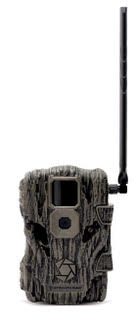 Through in-depth field evaluations, valuable feedback, and expert analysis from our partners and hunting enthusiasts, the Stealth Cam engineers have refined the Fusion X platform and technology. These updates allow the Fusion X to deliver top-notch performance and operation, separating it from the competition.
Topping the list of upgrades is a significant improvement to the image quality which means even sharper, more detailed photos to meet your expectations! In addition to higher quality photos, you can now utilize video downloads to the app that has a 720p resolution on your SD card at 30FPS. Taking it even further, you can also preview the video captures through the new app in a GIF format (640 x 360 – beginning, middle, and end of video frames)!
For coverage and convenience, the Fusion X will continue to run on very budget-friendly data plans, starting as low as $4 per month with the first month provided at the unlimited level completely FREE! If you choose to stick with the unlimited plan, you can pay as low as $15 a month and that includes the new GIF video feature at no additional cost.
The Fusion X will be powered by the all-new Stealth Cam Command Pro app, giving hunters access to the Fusion X anytime, anywhere. The new app is extremely easy to set up and use. With a modernized user interface and advanced software, the Command Pro app will allow hunters to unlock the full potential of Stealth's Fusion X wireless camera, including high resolution download capabilities, night color AI (bring color to black and white images), custom tags and filters, and a global gallery to view all gallery images in one album!
For more details about the Fusion X wireless camera and all of our other new products for 2021, please visit www.stealthcam.com.
For all sales and marketing inquiries, please email us at marketing@gsmorg.com.
Click HERE for more info on all GSM brands!
About GSM Outdoors:
Few American outdoor companies enjoy a mutually respected relationship with their customers that spans over five generations.?GSM Outdoors?is among those few! For over 70 years, the GSM family of brands has been helping passionate hunters and shooters succeed through innovation and the manufacture of high-quality, reliable products that continue to prove themselves in the field and on the range to this day. GSM Outdoors continues to leverage the latest technology and provide customers with the best products on the market. Tradition, heritage, and loyalty to outdoor enthusiasts of generations past and generations to come…that's the GSM Outdoors guarantee!
Stealth Cam Walker's Muddy Birchwood-Casey TekMat Boss Buck New Archery Products (NAP) Western Rivers Hawk Big Game Down & Out Blinds by Hawk HME Coyote Light Scent Slammer SME Bullseye Crossfire Holsters Cyclops Viking Solutions Hunters Specialties TRUGLO APEX Gear Johnny Stewart Cold SteelAmeristep Avian X Bloodsport Evolved Flextone Halo Optics Tenzing Wildgame Innovations Zink
https://americanaoutdoors.com/wp-content/uploads/2021/05/DSC_6394-scaled-1.jpg
1707
2560
Angel Middleton
https://americanaoutdoors.com/wp-content/uploads/2023/06/cropped-AO-Logo_512x512.png
Angel Middleton
2021-05-11 13:26:22
2021-05-11 13:26:25
Stealth Cam Launches Enhanced Fusion X Wireless Cam