Stealth Cam adds New P36NG Camera to P-Series
Grand Prairie, TX- Stealth Cam, introduced in the year 2000, quickly became the leader in scouting camera innovation. Expanding and improving on their wildly popular P-Series cameras and recognizing a need for a quality price point NoGlo camera, Stealth Cam is excited to introduce the new P36NG Trail Cam.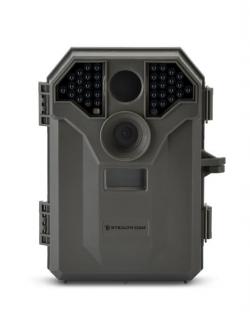 Take your outdoor recording adventures to the next level with the GSM Outdoors Stealth Cam P36NG. This device is for serious hunters who want a higher degree of success at an affordable cost. With less time available for scouting, many trust their trail camera to aid in the time-sensitive activity. Programming the P36NG is easier than ever before as the camera features EZ Dial programming with Quick Set feature preset modes, saving time and frustration as you get your gear into the field. This 8.0 megapixel scouting camera has a 60′ range that is designed to capture wildlife activities even from a distance, and offers both still shots as well as video clips (5, 15 and 30 sec). It is equipped with an energy-efficient design, a rapid fire burst mode, capturing 1-6 images per triggering with a 5-59 second or 1-59 minute recovery time out. When motion is detected, a black flash from the 36 IR NoGlo emitters takes the picture without visible light so it won't spook wildlife or potential thieves. The external LCD status display lets you quickly identify and select the modes of operation. The P36NG incorporates an SD card slot that accepts up to a 32GB memory card and operates on eight AA batteries. The time/date/moon phase stamp helps identify the exact wildlife habits for the hunter and outdoor enthusiast.
P36NG Features:
• 8.0 Megapixel
• Video recording – 5, 15, & 30 seconds
• 36 IR NoGlo Emitters / 60 ft. range
• EZ Dial programming with Quick Set
• Rapid Fire Burst Mode 1-6 images per triggering
• 5-59 sec / 1-59 min recovery time out
• External LCD display
• Time / Date / Moon Phase
• SD Card slot up to 32GB
• Test Mode
• Mini USB output
• Available in Tree Bark
• Operates on 8 AA batteries
• External power jack for 12V battery box
• MSRP $119.99
Founded in 2000, Stealth Cam, LLC offers a variety of digital scouting/surveillance and specialty cameras, along with a variety of accessories to enhance output of these products. For more information, contact: Stealth Cam, LLC, 3385 Roy Orr Blvd. Grand Prairie, TX 75050, Phone: 877-269-8490, info@gsmorg.com. Stealth Cam is a division of GSM Outdoors. Learn more about their brands at www.gsmoutdoors.com.
https://americanaoutdoors.com/wp-content/uploads/2017/02/unnamed.jpg
333
400
Shelley Giesecke
https://americanaoutdoors.com/wp-content/uploads/2023/06/cropped-AO-Logo_512x512.png
Shelley Giesecke
2015-06-02 13:24:57
2017-02-24 13:41:58
Stealth Cam adds New P36NG Camera to P-Series