TenPoint Introduces Lightweight Carbon Phantom RCX™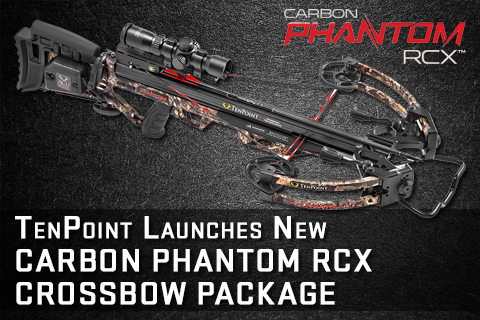 Wednesday, March 1st, 2017
Mogadore, OH.
Industry leader
TenPoint Crossbow Technologies'
introduced its NEW
Carbon Phantom RCX
model at the January 2017 ATA Trade Show.  One of TenPoint's three new crossbows for 2017, the Carbon Phantom RCX generates maximum efficiency in combining a newly engineered reverse cam bow assembly with a newly engineered stock and carbon fiber barrel combination.
"The goal from the outset was to truly push the envelope and create the easiest-to-handle bow with the lightest draw weight that still generates top-end speeds," said Rick Bednar, TenPoint CEO. "The combination of speed, weight, size, efficiency, and adjustability make the Carbon Phantom RCX the most technologically advanced crossbow we have ever produced.  All indications point to it being the ideal high-end crossbow on the market."
At the heart of the crossbow's efficiency is the bow assembly's new RCX Cam System™. Measuring 13.375-inches axle-to-axle when cocked, the bow assembly creates an increased power stroke, at 16-inches, for a crossbow measuring just 35.5-inches long.  In addition, it allows the lightweight 160-pound bow assembly, equipped with 10.5-inch RCX limbs and new Brownell Rhino string and cables, to generate speeds up to 385 feet per second. Its newly designed, machined aluminum riser features Over-the-Top™ limb pocket and Zytel® Limb Suspension System both separates and isolates the limbs from direct contact with the riser to reduce sound and vibration, as well as pre-installed String Dampening Rods (SDR) that further reduce noise and vibration.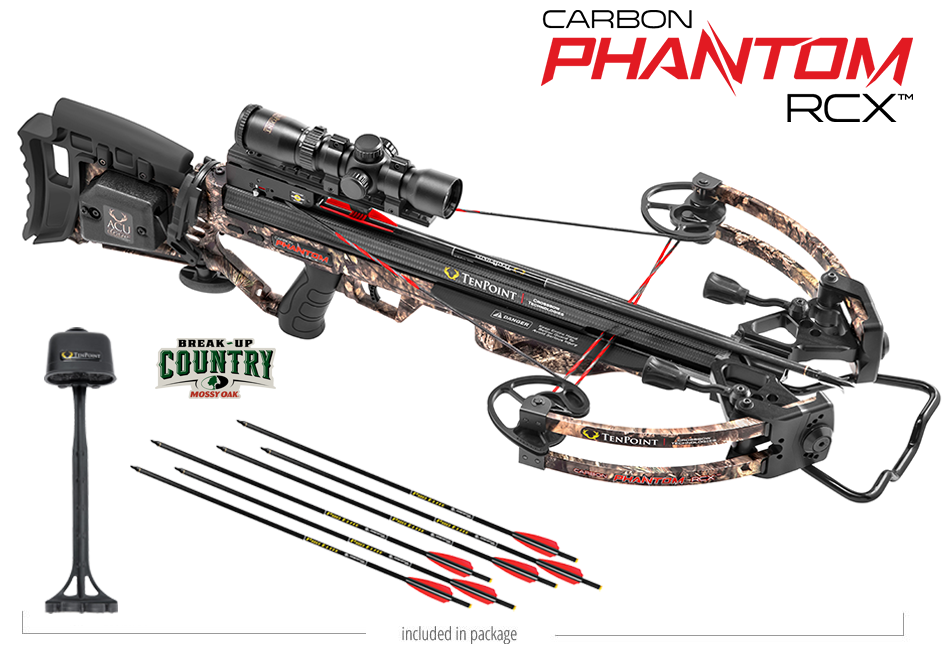 The Carbon Phantom RCX's newly engineered ACX (Adjustable Comfort Crossbow) stock is molded from PolyOne™ OnForce™ polypropyleneand features a one-piece adjustable cheek and butt plate. The butt plate simply slides along a rail and can be secured in any position within a 1-inch range to match the shooter's length-of-pull. In addition, the stock is equipped with larger, newly designed rubber safety wings that include finger reminders when the shooter's fore-hand is in the proper position on the fore-grip, further helping to prevent the fore-grip fingers and thumb from moving above the flight deck while shooting the crossbow. A fully enclosed trigger guard provides added safety as well.
Its 19.9-inch wrapped carbon fiber barrel dramatically reduces weight, noise, and vibration. It is equipped with a 4 ½-inch bullpup version of the company's 3 ½-lb. auto-engaging safety trigger housed in a lightweight machined aluminum trigger box. Like all TenPoint models, the trigger assembly is equipped with a DFI™ (Dry-Fire-Inhibitor). Its weaver-style dovetail is fitted with a nylon-filament arrow retention brush that improves arrow grip and alignment to further reduce noise and vibration.
Assembled, the Carbon Phantom RCX weighs 6.9-pounds, measures only 35.5-inches long, and shoots a blistering 385 feet per second.
Equipped with the patented ACUdraw™ or ACUdraw 50™, and illuminated RangeMaster Pro™ Scope, the Carbon Phantom RCX is double-dip fluid imaged in Mossy Oak Break-Up® Country™ camo.
The model sells only as a complete package that includes the cocking mechanism, scope, six Pro Elite™ carbon arrows, String Dampening Rods (SDR), and a quiver.
Carbon Phantom RCX MSRP: $1,699 with ACUdraw 50 or $1,799 with ACUdraw.
TenPoint Crossbow Technologies is 100% USA owned, operated, and all its crossbow models are manufactured in Mogadore, OH. Follow us on Facebook, Instagram and Twitter.
https://americanaoutdoors.com/wp-content/uploads/2017/02/unnamed.jpg
333
400
Shelley Giesecke
https://americanaoutdoors.com/wp-content/uploads/2023/06/cropped-AO-Logo_512x512.png
Shelley Giesecke
2017-03-01 17:43:17
2017-03-02 18:16:21
TenPoint Introduces Lightweight Carbon Phantom RCX™