Yamaha Outdoor Access Initiative Awards More Than $80,000 in First Quarter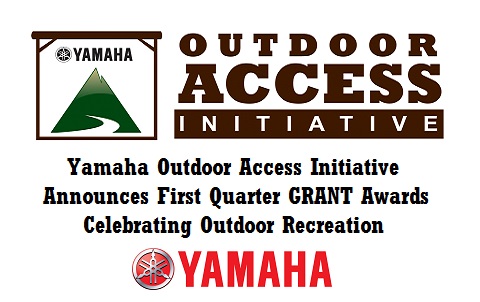 Yamaha Outdoor Access Initiative Awards More Than $80,000 in First Quarter
Eighth Year of Yamaha Program Providing Critical Resources to Protect and Expand Access to Land
KENNESAW, Ga. – July 6, 2016 – Yamaha Motor Corp., USA, today announces the Yamaha Outdoor Access Initiative awarded more than $80,000 in funds and equipment to nine grant applicants in the first quarter of 2016. Yamaha's Outdoor Access Initiative is the leading resource dedicated to those who work and play outdoors including, but not limited to, those who rely on off-highway vehicles (OHVs) to ride, camp, hunt, fish or farm.
"We continue to see projects in need of support from diverse outdoor and land interest groups, which is an encouraging response to the Yamaha Outdoor Access Initiative's expanded mission," said Steve Nessl, Yamaha's ATV and SxS group marketing manager. "Today, outdoor enthusiasts from field and farm to trail and stream know Yamaha is there supporting projects and programs that directly build and maintain quality access to land for work and play."
This marks the eighth year of the program which continues to seek projects and applications at local, state and federal levels. The 2016 Q1 Yamaha Outdoor Access Initiative grant recipients are:
Aitkin County Land and Parks, Minnesota
Great Lot Sportsman's Club Corp., New York
Indian Creek Valley ATV Club, Pennsylvania
Knott County ATV & Motorcycle Rider Training Center, Kentucky
Mohave County Parks, Arizona
North Country ATV, New Hampshire
North Country Snowmobile Club, Minnesota
Texas Trails Education and Motorized Management (TXTEAMM), Texas
Trail Riders Enthusiast Alliance of Marquette County (TEAM), Michigan
For more information on the Outdoor Access Initiative, or to submit a grant application, visit www.yamahaoai.com. Follow Yamaha Outdoors at www.facebook.com/yamahaoutdoors, www.twitter.com/yamahaoutdoors or www.instagram.com/yamahaoutdoors.
About the Yamaha Outdoor Access Initiative
The Yamaha Outdoor Access Initiative is the industry leader in guaranteeing responsible access to our nation's land for outdoor enthusiasts. Through this program, Yamaha has directly and indirectly supported thousands of miles of motorized recreation trails, maintained and rehabilitated riding and hunting areas, improved staging areas, supplied agricultural organizations with essential OHV safety education, built bridges over fish-bearing streams and partnered with local outdoor enthusiast communities across the country to improve access to public lands. Each quarter, Yamaha accepts applications from nonprofit or tax-exempt organizations including OHV riding clubs and associations, national, state and local public land use agencies, outdoor enthusiast associations and land conservation groups with an interest in protecting, improving, expanding and/or maintaining access for safe, responsible and sustainable public use. A committee then reviews each application and awards grants to deserving projects. Examples of appropriate projects for grants include, but are not limited to:
•       Trail development, restoration and maintenance
•       Trail signage and map production
•       Staging area construction, renovation and maintenance
•       Land stewardship, safety and education
Updated guidelines, an application form and information on the Outdoor Access Initiative are available at www.yamahaoai.com. For specific questions about the Outdoor Access Initiative, call Yamaha's dedicated hotline at 1-877-OHV-TRAIL (877-648-8724), email OHVAccess@yamaha-motor.com or write to:
Yamaha Outdoor Access Initiative
Yamaha Motor Corp., USA
1270 Chastain Road
Kennesaw, GA 30144
About Yamaha Motor Corp., USA
Yamaha Motor Corporation, USA, (YMUS), a leader in the motorsports market, makes the toughest, most capable and versatile ATV and Side-by-Side vehicles. The company's ever-expanding product offerings also include motorcycles, outboard motors, personal watercraft, snowmobiles, boats, outdoor power equipment, accessories, apparel and much more. YMUS products are sold through a nationwide network of dealers in the United States.
Headquartered in Cypress, Calif., since its incorporation in 1976, Yamaha also has facilities in Wisconsin and Georgia, as well as factory operations in Tennessee and Georgia. For more information on Yamaha, visit www.yamahamotorsports.com
https://americanaoutdoors.com/wp-content/uploads/2017/02/unnamed.jpg
333
400
Shelley Giesecke
https://americanaoutdoors.com/wp-content/uploads/2023/06/cropped-AO-Logo_512x512.png
Shelley Giesecke
2016-07-07 17:51:27
2018-05-15 18:54:19
Yamaha Outdoor Access Initiative Awards More Than $80,000 in First Quarter