Streaming on Outdoor Action TV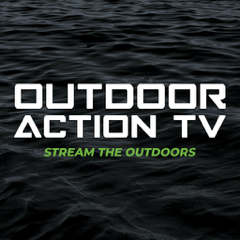 San Antonio, TX 
Outdoor Action TV is a 24/7 streaming network that provides premiere hunting, fishing, and outdoor programming to viewers on demand. This platform was built for the avid outdoorsmen and women who crave adventures, stories, tips, and tricks from the field and on the water!
Featured Episodes This Week
Hobie Outdoor Adventures: Northeast Bass Bonanza with Mike Iaconelli – Kayak Fishing in the middle of Winter? YES, and you'll see why. AJ and Jay visit Cedar Creek Lake in Kentucky for their annual bass trip. Tossing large swimbaits and fishing deep produces BIG bites! Watch online here!
Americana Outdoors Presented by Garmin: Air Bows & Air Guns for Hunting – This week on Americana Outdoors presented by Garmin, we're diving into a whole new world of hunting using air bows and air guns! We've had the opportunity to take both the Umarex Airsaber Air Archery Rifle and the .50 Caliber Umarex Hammer Hunting Rifle out to the field on multiple hunts and witnessed firsthand the sheer power of these hunting applications. Watch online here!
Outdoor Scholars TV: Archery Shoot & Christmas Hunt – This week we are back in the deer woods as Katelyn Howard goes on her first ever deer hunt and Grant Deavers tries to get his first deer hunt on film. Also, find out who is the best bow shot in the Outdoor Scholars Program. Watch online here!
Collegiate Bass Fishing Series: Barnett Reservoir Rumble – Day 2 – Day 2 of the Barnett Reservoir Rumble promises to packed full of great fish catching action as this elite field of college anglers competes for over $20,000 in prizes and contingencies! Watch online here!
Download the FREE App to Stream These Shows & More Today!
Outdoor Action TV
Currently available via Roku, Amazon Fire, Apple TV, iOS, and Android as well as www.OutdoorAction.com, this is the go-to place for desired outdoor content on-demand at no cost to the viewer. For more information on the channel or to get emails about new content postings reach out to us at hello@outdooraction.com. Be sure to follow us on Facebook, Twitter, and Instagram to be the first to know when new, must-see programming is available here! Outdoor Action TV is a division of CarecoTV LLC.
https://americanaoutdoors.com/wp-content/uploads/2022/07/dfd5042c-6e71-4173-a8cb-b26f305d1258_240x240.png
240
240
Angel Middleton
https://americanaoutdoors.com/wp-content/uploads/2023/06/cropped-AO-Logo_512x512.png
Angel Middleton
2022-07-26 14:54:56
2022-07-26 14:54:56
Streaming on Outdoor Action TV