Pursuit Channel Saturday Strong
Glenwood, AL – Pursuit Channel invites viewers to tune-in to Cuddeback's Get Out and Hunt Saturday.
Strong weekend programming and viewership has always been the case on Pursuit Channel.   The Cuddeback sponsored line-up is a shining example as it showcases some of the industry's best outdoors shows.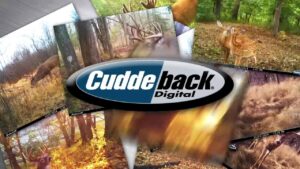 "We've advertised with Pursuit for years now because we believe in the platform" said Dan Schultz VP Sales & Marketing, at Cuddeback.  "The timing of our block runs mid-morning through lunch time and is a prime time for Saturday viewers.  We are proud to be presenting such a strong line-up of shows".
Tune in Saturdays beginning at 9:30AM for Cuddeback's Get Out and Hunt Saturday! #wearepursuit.
Team 200 (Saturdays 9:30am ET) – Leading off the block, viewers can join Adam Hays and the team to witness how commitment, preparation, and dedication can result in being consistently successful in harvesting the biggest, most mature whitetails that North America has to offer. Don't miss an episode of TEAM 200!
Bring the Heat (Saturdays 10:00am ET) – Following some the best outdoor television personalities on earth, Tom Schaal has created this commercial-free program that is just straight up action packed from beginning to end.
Struttinbuck (Saturdays 10:30am ET) – This long-running Pursuit gem features three avid hunters with down-home personalities. Tune in to catch Heath Graham, Brandon Hunt, and Matt Cowell as they creatively capture and share awesome hunts that provide their viewers with a "right there with you" feel.
DSC's Trailing the Hunter's Moon (Saturdays 11:00am ET) – Hosted by Blake Barnett and lifelong outdoorsman, Larry Weishuhn, this program is just a straight-up celebration of a big game hunting lifestyle! Experience the challenges, thrills, and joys of pursuing big game with rifle and pistol throughout the world. With the look, feel and sound of a classic cinematic production, Trailing the Hunter's Moon entertains, but also informs and leaves you wanting more!
The Edge (Saturdays 11:30am ET) – Join hosts Steve Ecklund and Joe Eppele for action packed adventures where everything is on the menu! Big-game hunts from all over the world include everything from Bear, Bison, Red Stag, Stone Sheep, Mule Deer, Whitetails and much more.  You don't want to miss an episode of The Edge!
Open Season TV – (Saturdays 12:00pm ET) – Wrapping up the block is one of Pursuit's longest running series. Join James, Chuck, and Open Season crew as they travel the entire North American continent in search of the ultimate big game hunts! Witness 100% fair chase hunts and a dedication to conservation, education, and preservation of wildlife so that generations to come can enjoy Open Seasons!
Pursuit Programs Available This Quarter Include: Dean Partridge's Canadian Whitetail, Red Arrow TV, The High Road with Keith Warren, Americana Outdoors, The American Way with Tony & Angie Walker, Wallhanger TV, Red Arrow TV, Bear Whisperer, Spiritual Outdoor Adventures with Jimmy Sites, Deer & Deer Hunting TV, Just Kill'n Time, Full Draw Adventures, Team 200, Louisiana Outdoor Adventures, MOJO Outdoors, Elusive Wildlife, Doug Koenig's Championship Season, The Grind Waterfowl TV, Yamaha's Whitetail Diaries, Carnivore with Gary Roberson, Shoot Straight TV with Chad and Martha Shearer, Higdon Outdoors, Les Johnson's Predator Quest, Outdoor Edge's The Great Outdoors, Gunwerks Long Range Pursuit, The Summit, Mark Peterson's Triple Threat, Trigger Time TV, Whitetail Frenzy, McWhorter Rifles' Precision Hunting TV,  Open Season, Final Descent Outdoors, Hunting with HECS, The Ultimate Hunt, On the Road, Timmy Horton Outdoors, Friends in Wild Places, Linder's Angling Edge, Struttinbuck, Martin Archery Outdoor Adventures, DSC's Trailing the Hunters Moon, Dying Breed TV, and many more.
About Pursuit: Pursuit Media, LLC, the industry leader in total home and user delivery, has its linear feed Pursuit Channel, active nationally to 30+ million homes via DIRECTV, AT&T U-verse HD, DISH Network, Sling TV HD, Comcast Xfinity, Fios by Verizon HD, Centurylink Prism HD, Cox Communication HD and the National Cable Television Cooperative (NCTC).  PursuitUP, is active to 100+ million users through Viacom's PlutoTV, Samsung's TV Plus, Sinclair's STIRR, Xumo, Glewed TV, Vidgo, Kloud TV, Select TV, Vizio Smart TVs, and many more. Additionally, PursuitUP's VOD library is readily available online to anyone at pursuituptv.com, or by downloading the PursuitUP app available on most devices.
Media Contact:
Pursuit Media, LLC – 334.544.0701 – media@pursuitchannel.com
https://americanaoutdoors.com/wp-content/uploads/2021/11/28423695_2005657142839603_3686736694789396480_o.jpg
720
1280
Angel Middleton
https://americanaoutdoors.com/wp-content/uploads/2023/06/cropped-AO-Logo_512x512.png
Angel Middleton
2021-11-20 12:17:07
2021-11-26 14:55:13
Pursuit Channel Saturday Strong